The best low-carb and keto chicken recipes
Chicken is a wonderful source of protein and it's a delicious option on a low-carb or keto diet. It's versatile and often loved by eaters of all ages. By itself, chicken is way too lean to be keto (especially chicken breast without skin), but with added fat and some vegetables, you're able to make fantastic ketogenic meals.
When you buy chicken, it's often a better deal to buy a whole chicken and divide it into pieces yourself. Chicken breast is usually the most expensive part and also the leanest. We suggest leaving it in the store and opt for thighs, with or without the bone in, instead. They often come cheaper, have more natural fat, and therefore more flavor. If you can get pieces with the skin on, it's even better! You'll find more tips on how to cook chicken below.
If you have some leftover chicken skin, there's no need to throw it away. Did you know that baked chicken skin is an excellent crispy snack? Check out our Crispy chicken skin recipe to find out how to make these delicious little bites.
Are you looking for inspiration for an amazing lunch or dinner? Here's our low-carb and keto selection of chicken recipes, there are casseroles, crispy alternatives and juicy wings.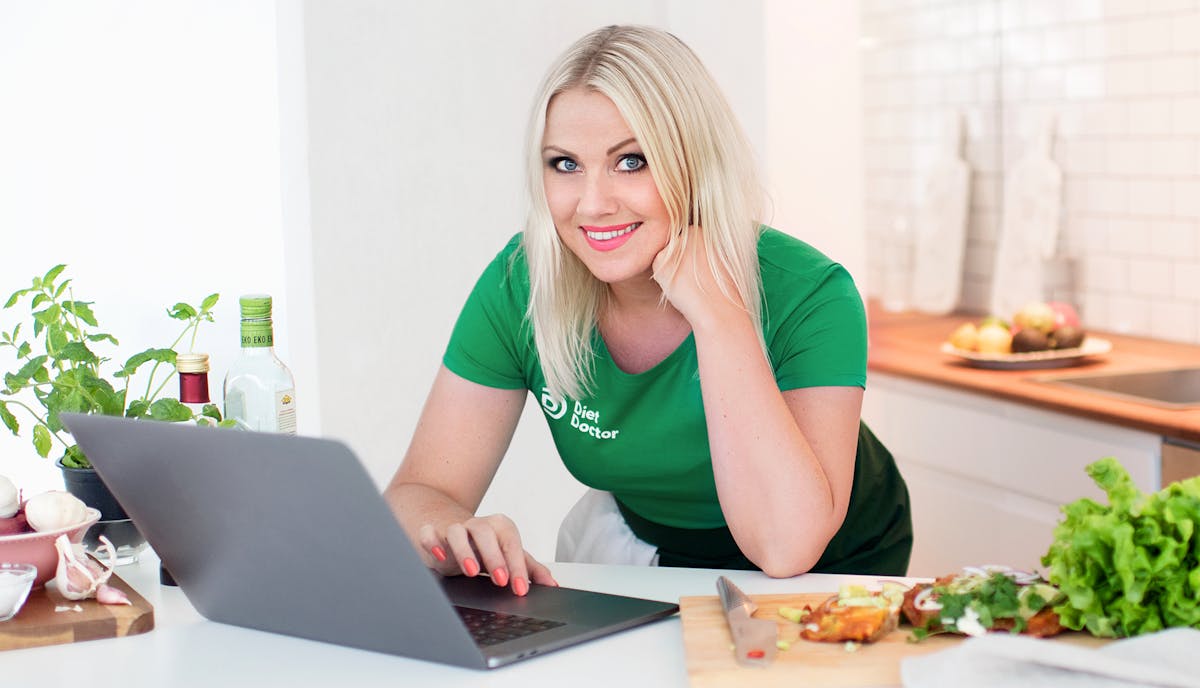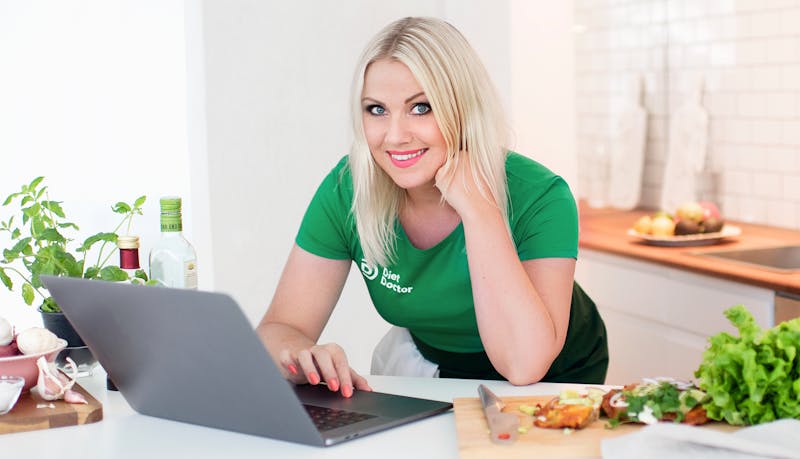 Try our keto & low-carb meal plans for free!
Our popular meal plans are customizable and include shopping lists and nutritional information. Now you can try them out one month for free! Sign up for Diet Doctor Plus today to make your low-carb journey even more simple, fun and delicious. The full Diet Doctor experience also includes exclusive videos, support, programs and more.

Start free trial
Crispy & delicious
Juicy and flavorful. No wonder these are many people's favorite parts. These recipes are the perfect way to prepare juicy and tender chicken that your whole family will love. Enjoy them coated in a flavorful marinade, covered with crispy bits or simply as they are, baked to perfection. Don't forget the napkins!
Creamy and cheesy chicken casseroles
Casseroles are a real timesaver. Creamy and delicious. These recipes are simple to make, family-friendly, and can feed a crowd. Any night of the week! If you're feeling adventurous, why not conquer the whole world? Travel to India with our Keto chicken garam masala, explore Italy with a Keto chicken Caprese casserole and get a taste of Greece with a succulent Low-carb moussaka. If you want to try an unusual Swedish curiosity, check out the Flying Jacob casserole!
How to roast chicken to perfection
When cooking poultry you need to make sure that the meat is fully cooked or you risk getting sick. To be on the safe side, it's wise to use a cooking thermometer. When cooking chicken breast, you place the thermometer in the middle of the thickest part. When the temperature reaches 162°F (72°C), it's ready.
When cooking a whole bird it's usually best to place the tip of the thermometer right next to the bone in the thigh. Make sure it reaches 180°F (82°C) before serving it.
Like any other meat, poultry benefits from resting for 10–15 minutes before serving.
Our satisfying chicken soups and stews
Like a warm hug for those chilly evenings. Or if you're looking for something simple yet satiating to bring to work, these options are perfect. Easy to reheat, so you can focus on enjoying a warm meal whenever you need it. We have a lot of Indian curries and South American delicacies, packed with tons of flavor and nutrition. You can also use your slow cooker to make the preparation process even smoother.
Quick and easy chicken salads
This is the perfect use for chicken leftovers. Pair them with some fresh leafy greens and a good
dip or dressing
and your low-carb and keto lunch or dinner is served. There are many traditional salads with a modern keto twist featuring the mighty chicken. Check out the Keto Caesar salad, the Keto chopped hoagie bowl, the delicious Keto Cobb salad with an amazing ranch dressing, and of course our popular Keto chicken BLT salad.
Meal plan
Is chicken your favorite meat? Well, we've got the meal plan just for you. Get ready for crispy chicken wings, quesadillas, tacos, Italian-flavored casseroles, and Indian butter chicken. We even have a pizza crust made of ground chicken. And no chicken meal plan is complete without eggs, right? They're the perfect way to kick off your keto day. With choices like this, there's no risk you'll ever get bored.

For extra variation, though, we did provide a couple of vegetarian meals. And, if you want, you can replace the ground chicken, breast, or thighs with turkey or any other meat of preference.

This meal plan is ketogenic and will keep you below 19 net carbs per day.

All meal plans Keto meal plans

Start your FREE 30-day trial!

Get instant access to healthy low-carb and keto meal plans, fast and easy recipes, weight loss advice from medical experts, and so much more. A healthier life starts now with your free trial!

Start FREE trial!