High protein recipes
for weight loss
We've got easy meals that you can make in under 20 minutes as well as recipes for breakfast, lunch, dinner, and dessert. The best part? They're all packed with protein and designed to help you achieve your weight loss goals.
DD+ MEMBERSHIP
Easy high protein meals
What are high protein, low carb meals? Our medical team defines high protein meals as having at least 30 grams of protein and a protein percentage of at least 25% of total calories per meal.
To get you started on a high protein diet for weight loss, here are our top 10 easy high protein meals, ready in 20 minutes or less.
A zesty dressing, crunchy green tomatoes, and delicious turkey make this high protein, low carb salad a perfect meal. 42 grams of protein

---
Real food on a plate. Chicken, green beans, creamy butter. Because a healthy dinner doesn't have to be complicated. 75 grams of protein

---
This quick and easy keto meal is packed with nutrients and flavor. 63 grams of protein

---
A fresh, crunchy, cucumber salad, dressed with delightful Indian flavors. 48 grams of protein

---
One of the easiest and quickest brunch recipes, so that you can make the most out of your weekend. 30 grams of protein

---
This pork scallopini is easy to prepare but it will look and taste like you spent hours in the kitchen. 35 grams of protein

---
A Mediterranean feast, combining the classic flavors of basil, tomato, and feta in a fresh and delicious salad. 36 grams of protein

---
Croque Monsieur sounds so much more up-market than a fried ham and cheese sandwich, non? Either way, our keto version will have you enjoying every bite! 42 grams of protein

---
A one-skillet wonder: real food, affordable ingredients, simple prep, and easy cleanup. 47 grams of protein

---
This salad is quick, healthy, and packed with flavor. Juicy steak bites, fried to perfection in garlic butter, served with fresh veggies, and a dressing you'll want to put on everything. 52 grams of protein

DD+ MEMBERSHIP
High protein breakfast recipes
We define a high protein low carb breakfast as having at least 25 grams of protein and a protein percentage of at least 25% of total calories per meal.

Our top 10 high protein breakfast ideas for weight loss:

The quickest high protein keto breakfast. Ready in 3 minutes. 31 grams of protein

---
Scrambled eggs with sautéed mushrooms and peppers are topped with Parmesan cheese and chopped green onions. 32 grams of protein

---
A lightning-fast keto scramble with sophisticated flavors. 32 grams of protein

---
Egg-free? No problem. You can still enjoy a high protein savory breakfast that will keep you satisfied for hours. 39 grams of protein

---
All of the flavors of a lox bagel, without the carbs. 28 grams of protein

---
Delicious, savory egg muffins are convenient, easy to make, and perfect for on-the-go adults and kids. 26 grams of protein

---
A light, fresh breakfast that you can make in less than five minutes. 29 grams of protein


Crispy prosciutto is the perfect protein-packed crust, filled with a creamy egg, mascarpone cheese, and chives on top. 32 grams of protein

---
This is an ideal healthy keto breakfast, no cooking required. 31 grams of protein


Ham, cheese, eggs with cottage cheese, and egg pancakes. All the protein, low in carbs. 43 grams of protein

---
High protein lunch ideas
When it comes to midday meals on the go, high protein, low carb lunch options may seem tricky. However, we have some delicious and simple recipes for you.

What are high protein, low carb lunches? Our medical team defines high protein lunches as having at least 30 grams of protein and a protein percentage of at least 25% of total calories per meal.

Some of these high protein lunch recipes are best prepared in advance and some can be assembled on the go. Here are our top 10 high protein lunch ideas for weight loss.

Our juicy cheeseburger wraps are quick, inexpensive, and loaded with all of the best cheeseburger flavors. 58 grams of protein

---
Delicious for breakfast, brunch, or lunch! Crispy prosciutto is the perfect protein-packed crust, filled with a creamy egg, mascarpone cheese, and chives on top. 32 grams of protein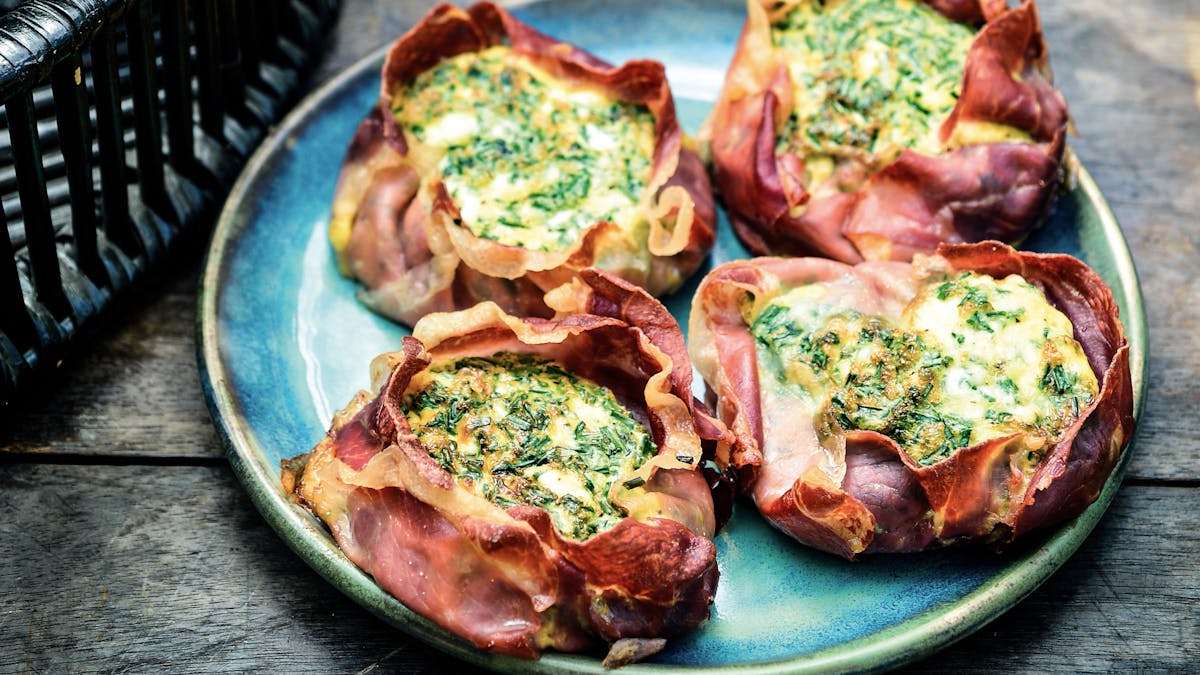 Keto mini quiche with ham
---
Make a double batch of this bright, fresh, low carb soup. Tender chicken and crispy zucchini are the stars of this coconut-infused dish. 45 grams of protein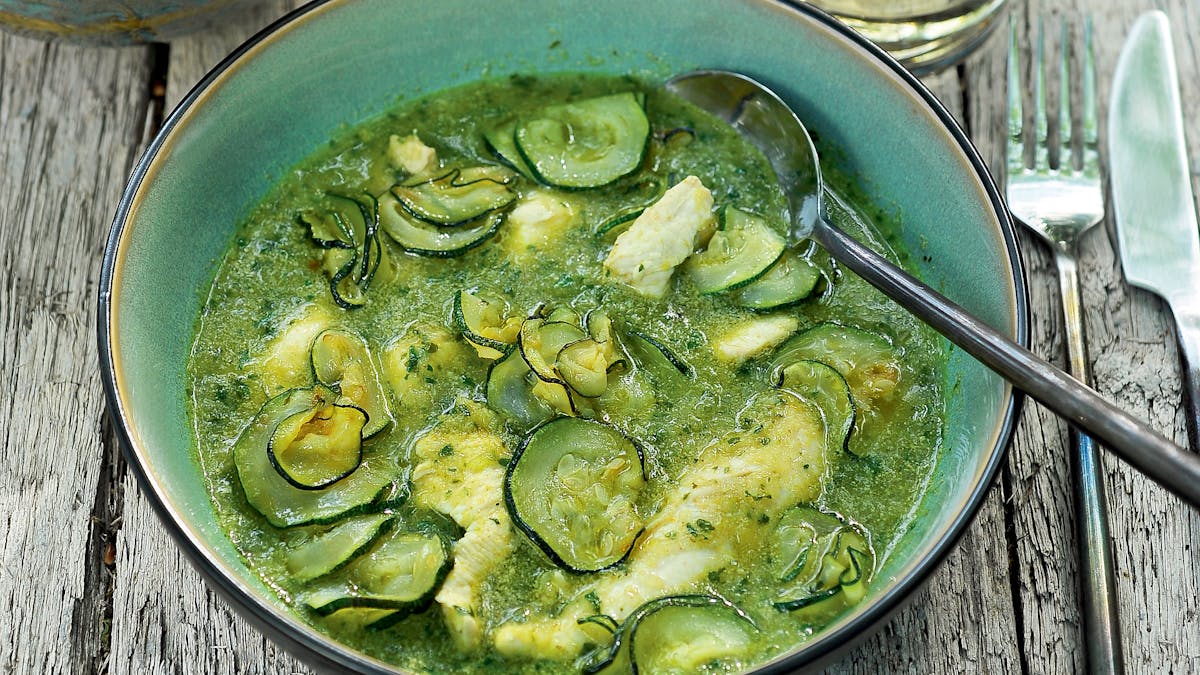 Chicken and zucchini curry soup
---
This cold chicken dish is marinated in a flavorful dressing together with olives, sun-dried tomatoes, and basil. It will have you dreaming that you're lunching on a sunny terrace in Italy. 47 grams of protein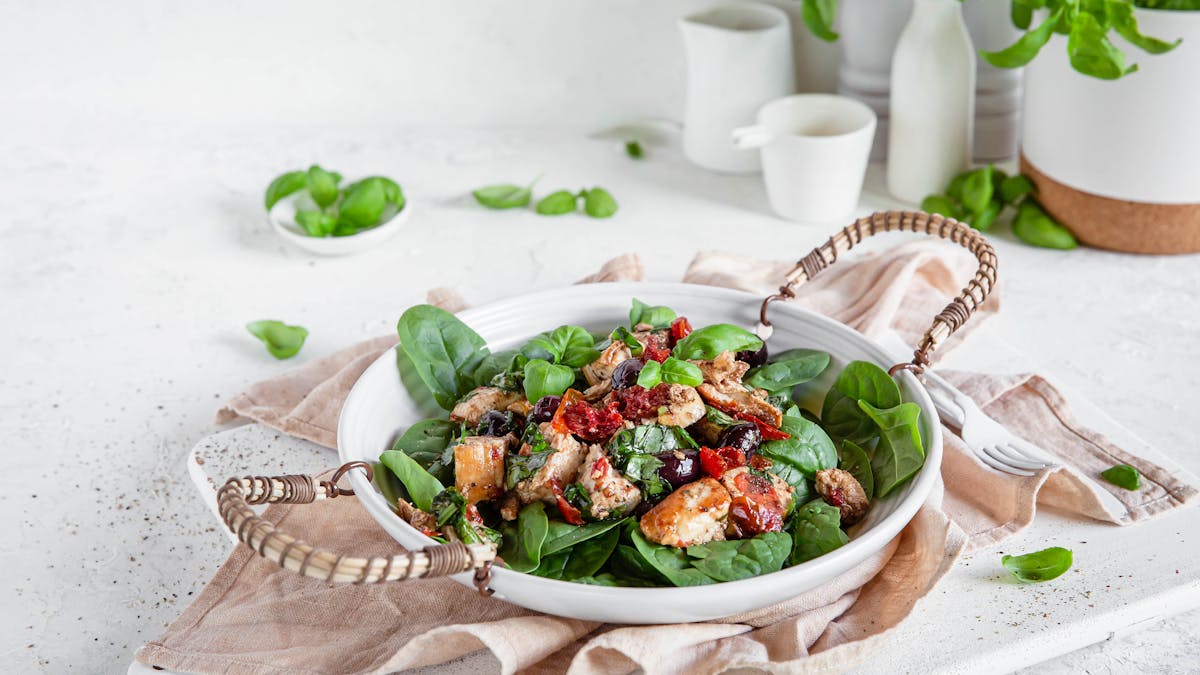 Keto Italian chicken with basil and olives
---
A perfect protein, low carb marriage of eggs and beef. Whip up this tasty gem anytime—breakfast, lunch or dinner—and dig in. 41 grams of protein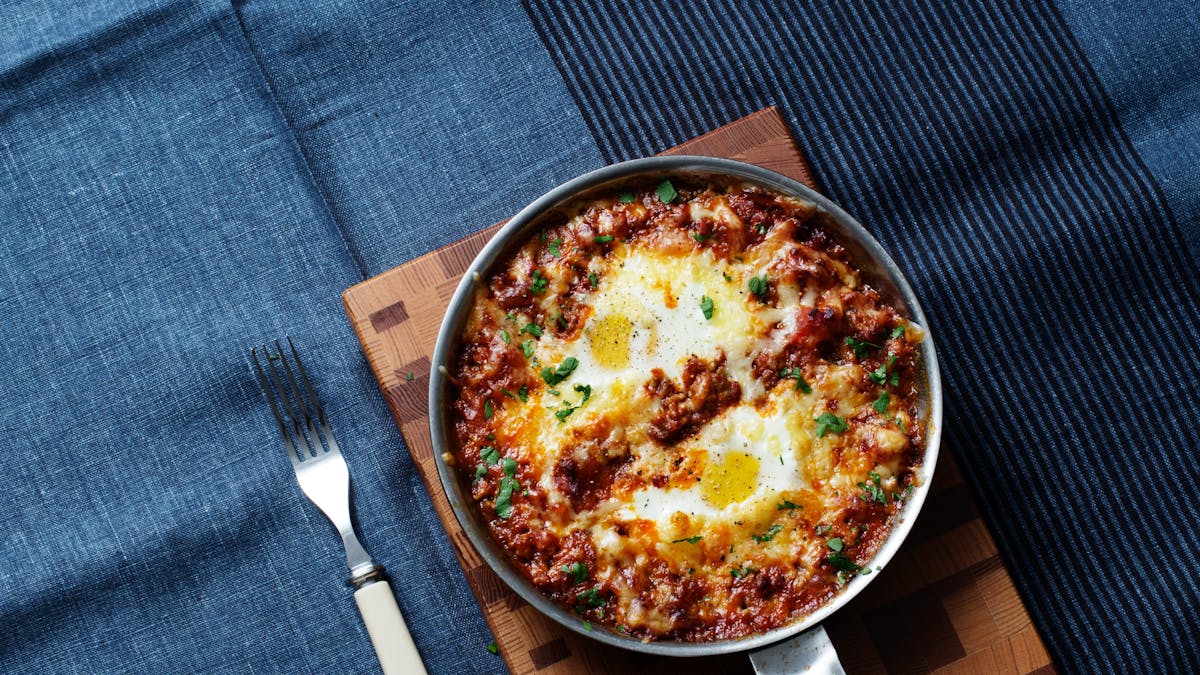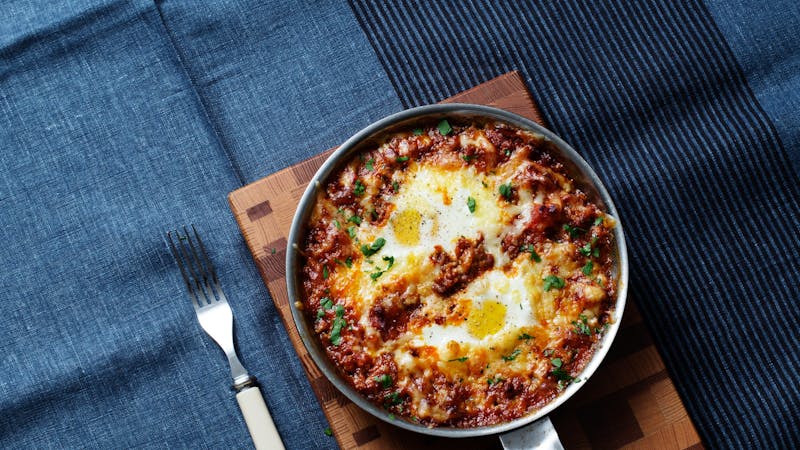 Keto baked eggs
---
This simple no-cook keto plate is bursting with flavor and protein to help you power through your day. 31 grams of protein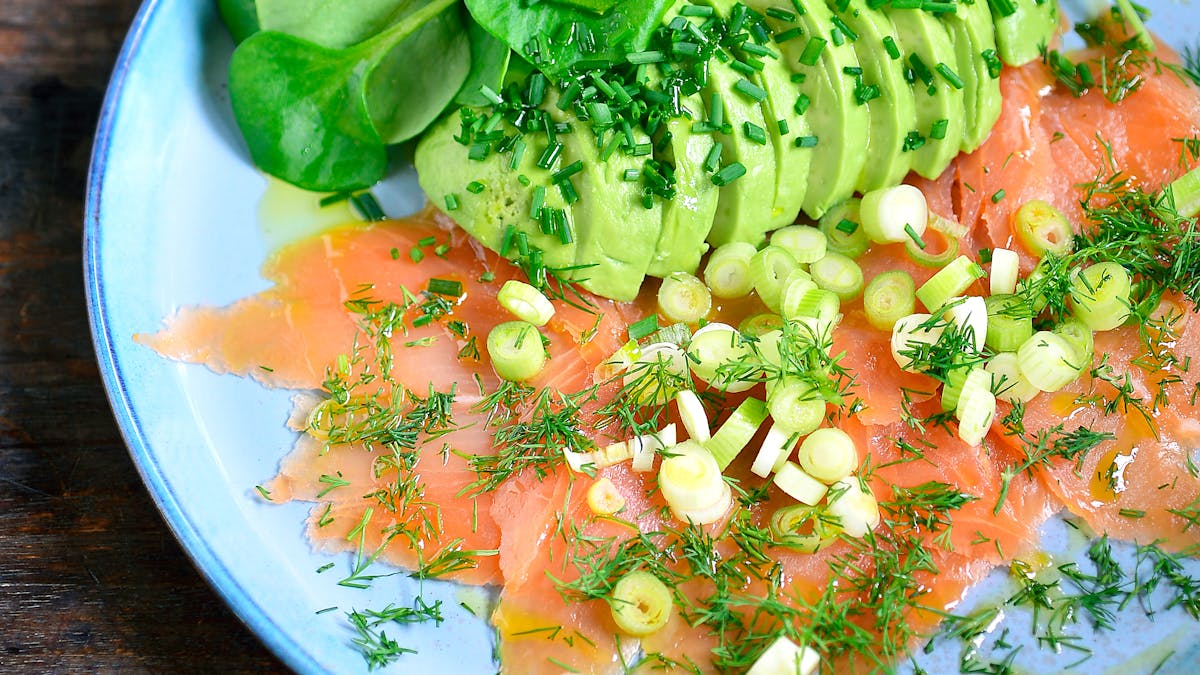 Smoked salmon with avocado and watercress
---
An elegant yet easy-to-prepare hot soup with tasty lobster chunks. Always better the next day, just reheat and enjoy. 33 grams of protein

Keto lobster bisque
---
This delicious umami dish brings an infusion of Asian flavors and takes just minutes to prepare. 34 grams of protein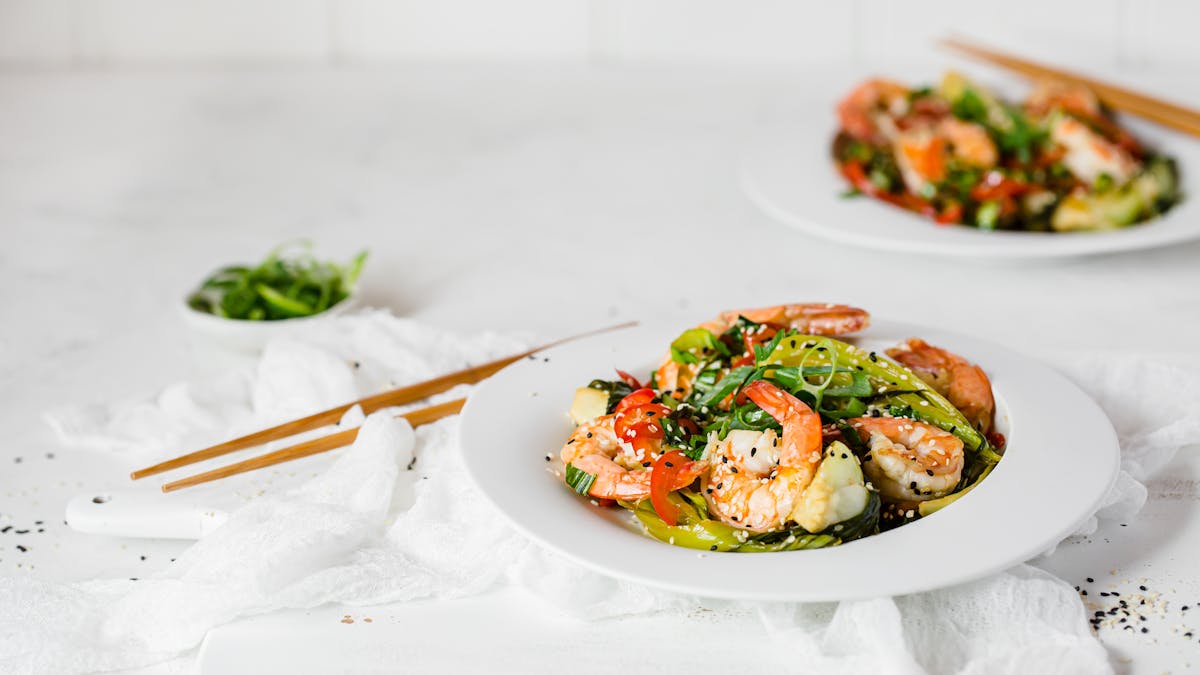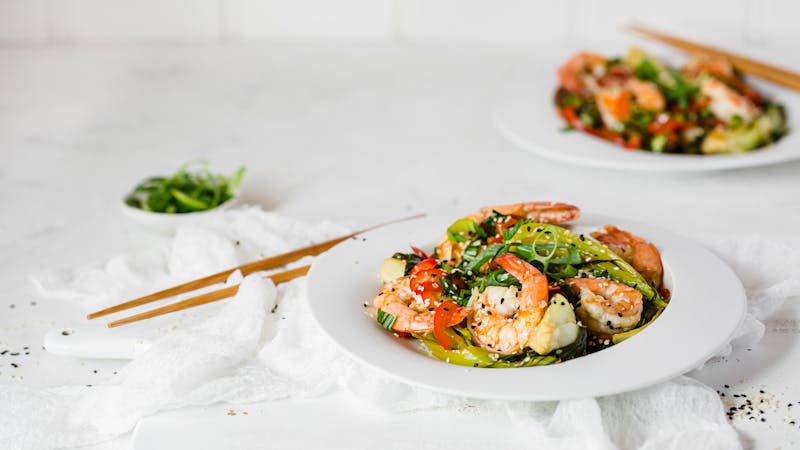 Keto garlic and sesame prawns
---
Losing weight has never been more pleasurable! This protein-packed keto burger will keep you satisfied for hours. Enjoy it for lunch, breakfast, or dinner. 59 grams of protein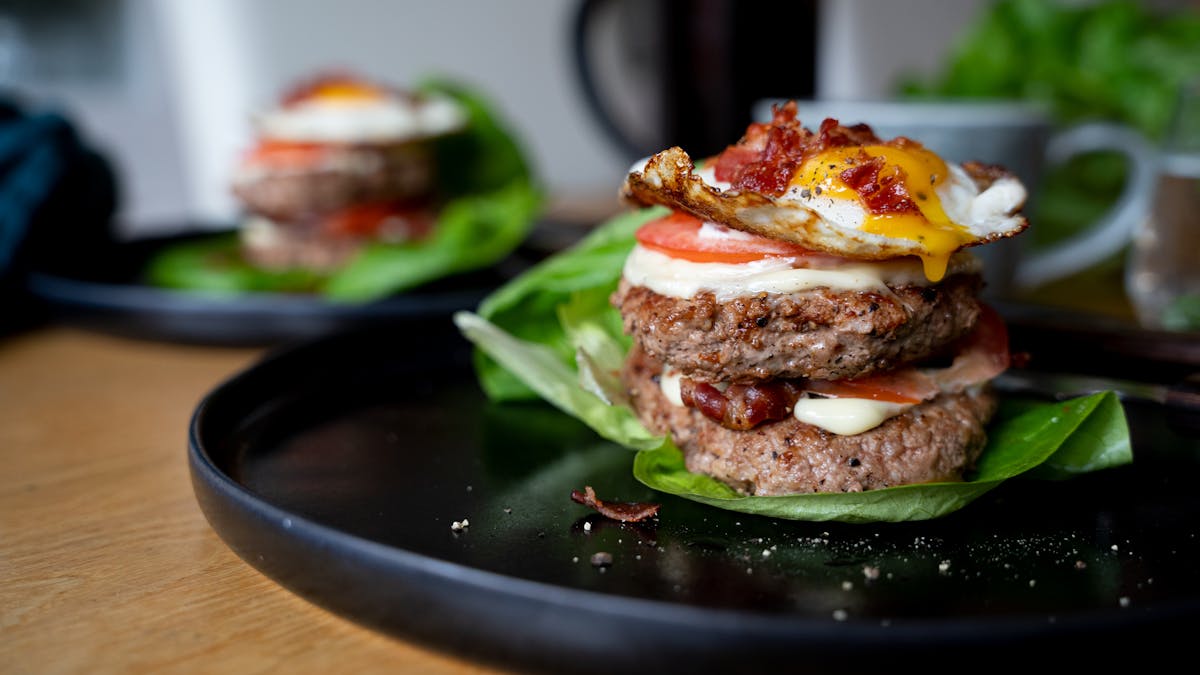 High protein turkey breakfast burger
---
This sheet pan sesame chicken is flavorful, family-friendly, and comes together in 30 minutes. 36 grams of protein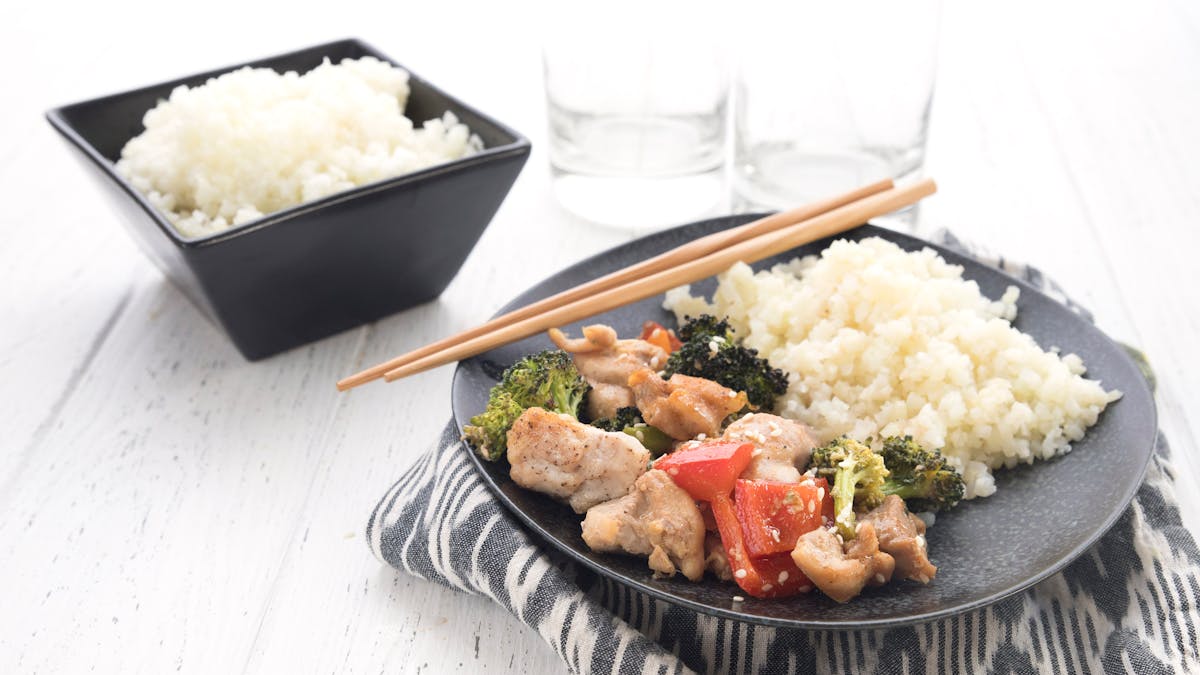 Sheet pan sesame chicken with cauliflower rice
---
Easy high protein dinners
Whether you're cooking for one or a family, we have dozens of healthy, high protein low carb dinner ideas for you.

Each of these high protein dinner recipes has been created specifically by Diet Doctor's Recipe Team to ensure that you have a well-rounded dinner, full of satiating protein, healthy fats, filling fiber, and of course, low in carbs.

What are high protein, low carb dinners? Our medical team defines high protein dinners as having at least 30 grams of protein and a protein percentage of at least 30% of total calories per meal.

Enjoy our top 10 high protein dinner recipes for healthy weight loss.

Dinner doesn't get much easier than this Caprese chicken. It has all the fresh and light flavors of summer but it's a winner all year-round. 52 grams of protein

---
There's gumbo and then there's jambalaya, but we've taken the best bits from both and it's delicious. 36 grams of protein

---
Cod loin with horseradish and browned butter, a Swedish classic appreciated worldwide. 33 grams of protein

---
Chicken parmesan is a classic, so moist and so full of flavor. Our low carb version skips the breading without sacrificing flavor. 64 grams of protein

---
A simple, creamy chicken parmesan dinner with the added tang of sundried and regular tomatoes. 46 grams of protein

---
Pork tenderloin, when cooked right, is tender and juicy with maximum flavor. This olive tapenade takes this dish to the next level. 32 grams of protein

---
Baking fish in a parchment packet is a simple technique for a quick dinner. We've baked our fresh salmon with spinach and egg for a colorful keto result. 38 grams of protein

---
It's no surprise that this fuss-free and hearty Keto crack chicken has gone viral. The classic combination of cream cheese, ranch seasoning, and bacon is always a hit. 50 grams of protein

---
Chicken thighs and flavorful vegetables are marinated in Moroccan spices and cooked together in the air fryer. Served with a cool Tzatziki yogurt sauce, this dish is perfect for busy weeknights. 52 grams of protein

---
Sheet pan meals are so easy and require minimal clean-up. Delicious chicken fajitas are no exception. Just slice, mix, spread, and into the oven it goes. 40 grams protein

---
High protein desserts
Yes, you can enjoy also enjoy a high protein dessert on a low carb, high protein diet.

What are high protein, low carb desserts? Our medical team defines high protein desserts as having a protein percentage of at least 25% of total calories per dessert.

This high protein dessert takes less than 5 minutes to make and tastes like vanilla custard mixed with sweet strawberries. 19 grams of protein

---
Light and flavorful because of the whipped egg whites. Enjoy it plain or top it with berries, fresh cream, lemon curd, or our milk chocolate sauce. 12 grams of protein

---
Whip up our simple, high protein lime smoothie in mere minutes for a fresh treat. 20 grams of protein

---
This healthy, instant frozen yogurt is the perfect sugar-free dessert. This ice cream takes you less than 5 minutes to prepare. 4 grams of protein

---
Warm, softly spiced with cinnamon, these keto chaffles are topped with a deliciously creamy, sweet maple cream cheese. 19 grams of protein