Low carb and keto for doctors
Are you a doctor or do you know a doctor? Are you interested in
low carb
and
keto
diets? Then this resource could be something for you to use or share!
Note that this page will include information for doctors about how to handle medications etc. on low carb. This is not meant for the general public (
full disclaimer
). Discuss any changes in medication and relevant lifestyle changes with your doctor.
Contents
1. Introduction
Something is clearly wrong. While our medical knowledge improves every year, and while the world gets richer and healthier every year, wiping out infectious diseases and perfecting our treatment of acute trauma… one thing moves in the opposite direction.
The word-wide epidemic of obesity keeps getting worse, and the epidemic of type 2 diabetes follows. Soon half a BILLION people will have type 2 diabetes, and every second American born today is predicted to get it too. What follows is complications like heart disease, increased cancer risk, kidney disease, blindness, amputations, dementia and more.
Somehow this new epidemic is considered more or less incurable and progressive. Perhaps only major surgery can slow it down, a surgery where we partially remove healthy organs. When we consider amputating healthy organs the only treatment that works, it's clear that we lack understanding of the disease.
Something is clearly wrong. While medical science and progress continue to eradicate older diseases and improve treatments, this single epidemic threatens to wipe out all medical progress, in all other areas. Already there are signs that the younger generation will live shorter lives than their parents, to a large extent because of complications and disease due to obesity, type 2 diabetes and metabolic syndrome.
Something is deeply wrong, and the resulting suffering and disease is unacceptable, especially if it's the result of a mistake. Fortunately more and more smart doctors and researchers have figured out the mistake we've made.
The mistake
This epidemic started in the 80s, at the same time as well-meaning American politicians started to push low-fat diet advice to every man, woman and child in the nation. This was based on unproven theories about the health effects of natural fats, that have since been disproven. But by then these theories had become dogma and official policy, not just in the US but around the world.
Less fat in food means less taste and less satiety. The food industry quickly added cheap and addictive sugar and other processed carbs instead… carbs that become blood sugar as soon as they are digested, raising blood glucose and blood levels of the fat-storing hormone insulin. That's how he obesity epidemic started, that's how the type 2 diabetes epidemic started.
As doctors, we can't fix this problem with a drug, or a surgery. We can't cure a dietary disease with a drug, and we shouldn't surgically remove healthy organs in the majority of the population. It's not a solution, because it simply does not work.
A better way
Something else is desperately needed. A treatment that works. A simple way that doctors can help their patients, empowering them to revolutionize their health. Not with lifelong drug treatments to mask some of the symptoms, but with lifestyle interventions that work, to reverse the disease and remove the need of medications. To return the patients to health and wellbeing.
Dozens of randomized controlled trials – the gold standard of nutrition science – now demonstrate that a lower-carb diet is more effective for losing excess weight, reversing type 2 diabetes and improving metabolic risk factors.
The problem is that a low-carb diet is still hard to do for patients, and it's hard and time-consuming for doctors to learn and implement it with their patients.
On this page we want to solve this problem. At zero cost to you as a doctor, and at zero cost to your patients, we aim to make low carb simple. We'll provide everything, all the resources you need to safely, quickly and effectively treat your patients with obesity, type 2 diabetes and other metabolic disease.
Diet Doctor is founded and led by a medical doctor, and we're working with some of the top low-carb doctors and researchers in the world to provide this service. We show no ads, sell no products and take no industry money. We're 100% owned by the people who work here, and completely funded by the people, via an optional membership.
Our only obligation is to the people we aim to empower, doctors like you and people struggling to improve their health. Thus, we can look objectively at the science, to provide the best possible lifestyle advice that works.
How low carb can improve your effectiveness and happiness as a doctor
Are you frustrated with managing risk factors and increasing daily medications for chronic disease every year? Would you like to empower your patients to instead make themselves healthier long-term, allowing you to remove medications instead of adding it? Plus get the satisfaction and happiness that comes from doing the successful medicine that you were always meant to do?
More preliminary findings indicate that low carb may also be worth suggesting to people with IBS (no carbs, no fermentation, no pain or swollen stomachs), Alzheimer's, acne patients and more.
3. Doctors' stories
Perhaps you'd like to benefit from the experiences and insights of fellow doctors, who've already become confident at using low carb to benefit their patients?
Here are several such stories:

4. Misconceptions to break free of
While the promise of significantly improved patient outcomes on low carb may be attractive to doctors, there is often some fear involved.
Isn't fat dangerous, after all? Isn't weight loss only about calories? And isn't low carb or keto just another fad diet? Here we answer those misconceptions and more.
The calorie dogma
We've all heard it. A calorie is a calorie. It does not matter what you eat as long as you burn it off. It's Coca Cola's favorite argument, taking all the blame from the producers of junk food, and blaming the victims.
Unfortunately it's not true. An avocado is not the same thing as a soft drink for your body, no matter what the calorie count says. The hormonal effects are quite different, and let's not even mention the vast difference in nutrient levels.
Furthermore, you can't outrun a bad diet. While some exercise will always be good for you and your patients, studies demonstrate that it's not an effective way to lose weight or reverse type 2 diabetes.
While calories do count, most patients do not have to count them. On a low-carb diet appetite is reduced and the ability to burn body fat is vastly increased, reducing hunger and eliminating the need to eat every three hours. People spontaneously eat fewer calories when they stop eating sugar and other bad carbs, and according to some studies they may even burn more calories.
The proof is in the pudding. Low-carb diets without calorie counting, recommending ad libitum food intake, regularly outperform low-fat diets with calorie restriction.
Isn't weight loss about calories? Doctors answer
Saturated fats, cholesterol, heart disease etc.
The foundation of the low-fat hysteria was the unproven theory that natural saturated fats increased the risk of heart disease, via its effect on cholesterol levels.
We now know that this has been a mistake. Multiple RCTs and meta-analyses conducted over the last decades have shown no relationship between intake of saturated fats and heart disease.
What can explain this is that cholesterol levels are in some ways consistently improved on a low-carb, high-fat diet, with higher level of the "good" HDL cholesterol, and lower levels of triglycerides (both of these correlate with a lower risk of heart disease).
One randomized trial even demonstrated a hard endpoint, reduced signs of atherosclerosis in blood vessels after two years of advice to eat a strict low-carb, high fat diet.
It's clear that the fear of natural fat in real foods has been a mistake, and it's now high time to let it go.
Is saturated fat bad? Doctors answer
Isn't low carb just a fad diet?
The true fad is the last 30-40 years of low-fat hysteria, that has been disproven by modern scientific studies, and now remain as dogma and belief, despite the lack of evidence or effectiveness.
Low carb has been popular for at least 150 years, and it's backed up by modern science. That's not a fad, it's simply something that works.
But don't take our word for it. Check the scientific studies and then perhaps try it yourself for a week or two. You'll quickly notice the results. Then you may want to learn some more and try it on your patients with weight issues and type 2 diabetes. Once you try it there'll be no going back. Because it's so much more fun to be a doctor when your patients actually get better.
5. Video course
9,715 views
Our video course for doctors features Dr. David Unwin, a family physician in England, who's involved in educating doctors and has been treating patients with
low-carb diets
since 2012.
The course covers very practical tips for doctors, like how to effectively discuss the low-carb lifestyle with patients, how to handle medications, safety, patient motivation and much more.
We hope this will encourage even more doctors to learn how to use low carb in a simple, safe and effective way to empower their patients. For Dr. Unwin it not only helped his patients and saved money for his clinic, it made being a doctor feel rewarding and meaningful again.
The first part of the course can be watched above (transcript). There are 15 more, jump straight to the overview or choose any part below.
For more on how to use low carb as a doctor, use the resources below.

4. Science
More than 20 high-quality randomized controlled trials support the use of low-carb diets for treating obesity, type 2 diabetes and other symptoms of metabolic syndrome or insulin resistance.
See the link below, or the Public Health Collaboration summary of RCT evidence.
Q & A
Here are a number of short and simple Q&A videos with doctors, on the science and experience supporting low carb:
In-depth
For more in-depth discussions of the science supporting low-carb interventions, see the videos below.
5. Safety, medications and resources
Most people can safely start a low-carb diet right away. But patients on certain medications, plus breastfeeding women, may require more additional preparation or adaptation:
More resources for physicians
6. For patients
Here's a folder with basic low-carb advice, that you may want to print and hand out to patients. It can help speed up and simplify your consultations: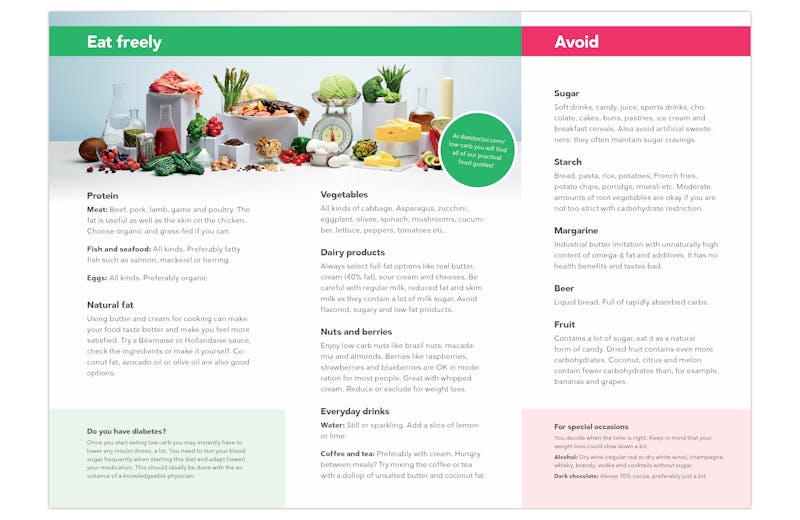 Other low-carb resources that you may want to share with your patients:
Below you'll find visual guides that many doctors find useful to show to patients, during discussions about what a low-carb diet is.
Eat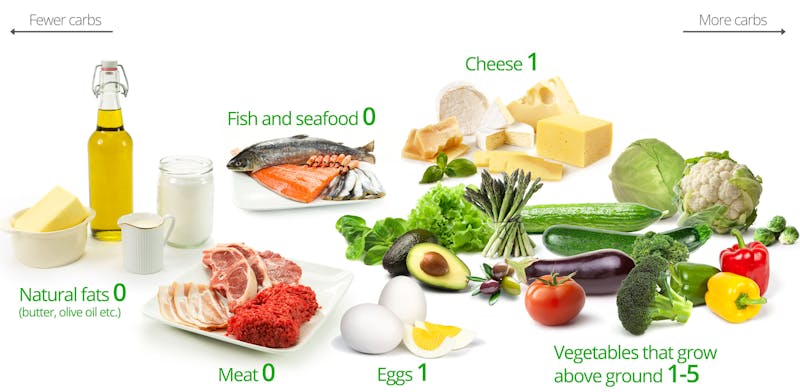 Let's start with a quick visual guide to low carb. Here are the basic food groups you can eat all you like of, until you're satisfied. The numbers above are grams of digestible carbs per 100 grams (3½ ounces). Fiber is not counted, you can eat all the fiber you want. Detailed low-carb foods list
Avoid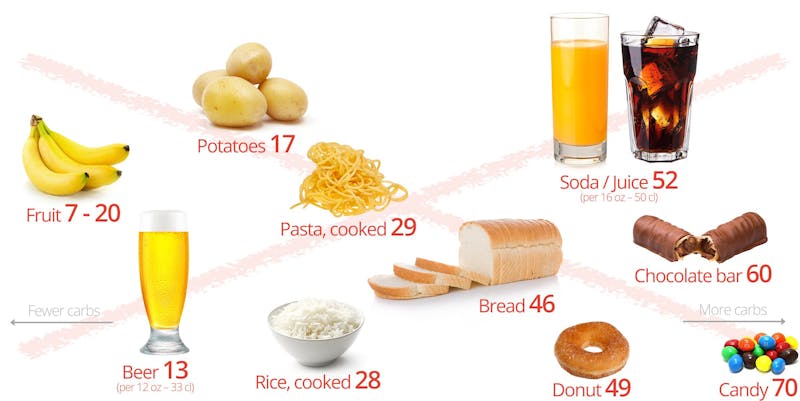 Above you see what you should not eat on low carb – foods full of sugar and starch. Detailed list of foods to avoid
More visual guides
Comments
What do you think about this guide? Do you have any suggestions on how to improve it? Anything you'd like added to it? Please let us know in the comments below.
This is a longer discussion with Dr. Unwin and his wife Jen Unwin, who's a psychologist. ↩