Low carb and keto for doctors
Are you a doctor or do you know a doctor? Are you interested in
low carb
and
keto
diets? Then this resource could be something for you to use or share!
Note that this page will include information for doctors about how to handle medications etc. on low carb. This is not meant for the general public (
full disclaimer
). Discuss any changes in medication and relevant lifestyle changes with your doctor.
Contents
1. Video course
8,897 views
Our video course for doctors features Dr. David Unwin, a family physician in England, who's involved in educating doctors and has been treating patients with
low-carb diets
since 2012.
The course will cover very practical tips for doctors, like how to effectively discuss the low-carb lifestyle with patients, how to handle medications, safety, patient motivation and much more.
We hope this will encourage even more doctors to learn how to use low carb in a simple, safe and effective way to empower their patients. For Dr. Unwin it not only helped his patients and saved money for his clinic, it made being a doctor feel rewarding and meaningful again.
The first part of the course can be watched above (transcript). We'll keep publishing new parts every week here. Jump straight to part 2 or choose any part below.
For more on how to use low carb as a doctor, use the resources below.

2. Doctors' stories
Perhaps you'd like to benefit from the experiences and insights of fellow doctors, who've already become confident at using low carb to benefit their patients?
Here are several such stories:


Below you'll find more stories, in a video format.

3. Science
More than 20 high-quality randomized controlled trials support the use of low-carb diets for treating obesity, type 2 diabetes and other symptoms of metabolic syndrome or insulin resistance.
See the link below, or the Public Health Collaboration summary of RCT evidence.
Scientific studies on low carb and keto
Q & A
Here are a number of short and simple Q&A videos with doctors, on the science and experience supporting low carb:

In-depth
For more in-depth discussions of the science supporting low-carb interventions, see the videos below.

4. Safety, medications and resources
Most people can safely start a low-carb diet right away. But patients on certain medications, plus breastfeeding women, may require more additional preparation or adaptation:
More resources for physicians
5. For patients
Here's a folder with basic low-carb advice, that you may want to print and hand out to patients. It can help speed up and simplify your consultations: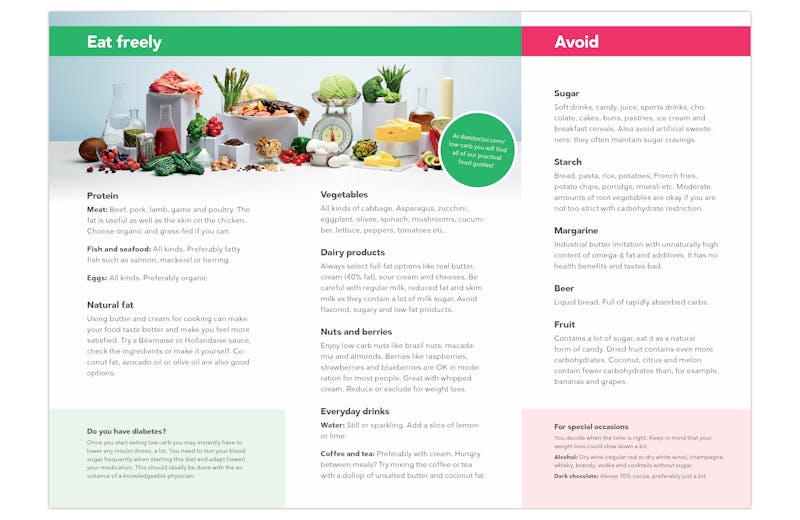 Other low-carb resources that you may want to share with your patients:
Below you'll find visual guides that many doctors find useful to show to patients, during discussions about what a low-carb diet is.
Eat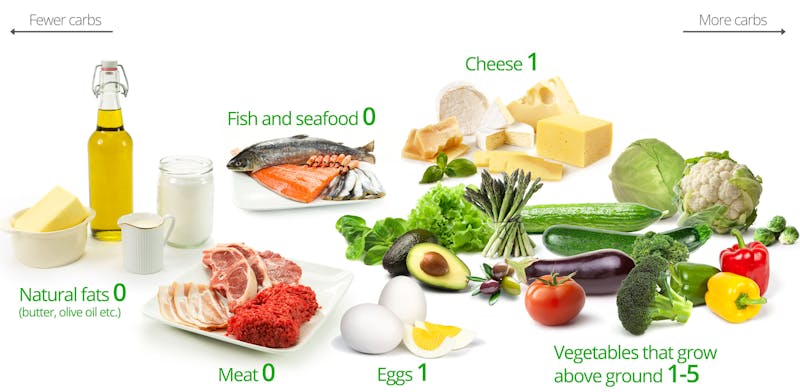 Let's start with a quick visual guide to low carb. Here are the basic food groups you can eat all you like of, until you're satisfied. The numbers above are grams of digestible carbs per 100 grams (3½ ounces). Fiber is not counted, you can eat all the fiber you want. Detailed low-carb foods list
Avoid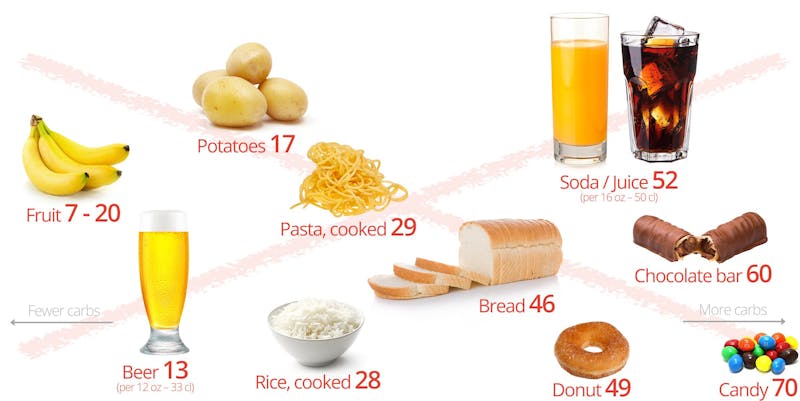 Above you see what you should not eat on low carb – foods full of sugar and starch. Detailed list of foods to avoid
More visual guides
Comments
What do you think about this guide? Do you have any suggestions on how to improve it? Anything you'd like added to it? Please let us know in the comments below.