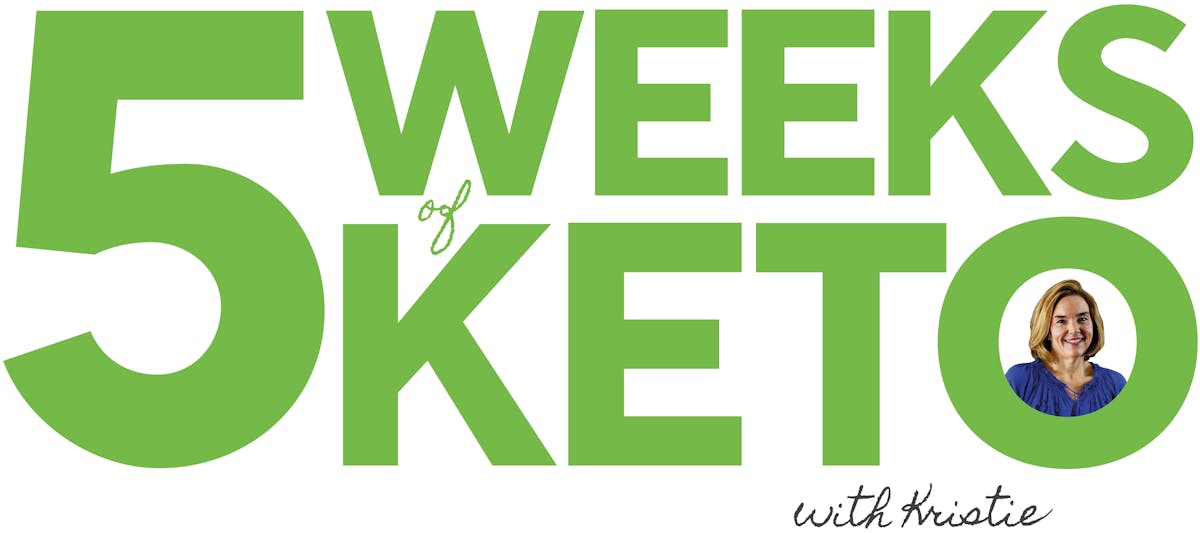 Maybe you've tried keto before or you're currently following a ketogenic diet, but you would like some company along the way?

I'd like to invite you to join me for 5 Weeks of Keto with Kristie — we'll spend a focused five weeks thinking, talking, and eating keto together! This program is available only for Diet Doctor members. Enroll today by
signing up for a free 30-day membership trial
! My five-week plan includes delicious, satisfying meals and teaches you how to create your own favorite keto meals. Together we will fine-tune your keto habits to make this lifestyle better and easier. My goal is to help you to learn more about how and why keto works using the very best content on Diet Doctor.
If you're brand new to a ketogenic diet, then you might want to start with the 2-week Get started challenge, but be sure to join me afterwards for an additional five weeks of keto support. With a full seven weeks of guidance, you'll be well on your way to better health!
Ready for five weeks of focused keto?
Why join me?
We may have a lot in common. I was morbidly obese as a child and for most of my adult life. Like many others, I failed at every diet I'd ever tried. My 'diet career' mainly included caloric restriction, eating low-fat foods, embarrassing exercise, attempting fad diets that involved unlimited soup, and counting "points" down to decimals!
Each time I began with high hopes, dogged determination, and money plunked down for whatever plan, pills, or potion was the new promise of the day. Each time I found short-term success that left me even more frustrated with my body. Each failure compounded into desperation and left me wondering what was wrong with me. Why couldn't I succeed?
It wasn't for lack of wanting. It wasn't because I enjoyed the difficulties of being obese — the stylish clothes that wouldn't fit, the name-calling, the fat-shaming, the being out-of-breath walking even a short distance, and the constant worry about fitting in chairs.
In June 2013 when I first started a ketogenic diet, I was cautiously hopeful. Not 100% confident this would work, but desperate enough to try, I committed to a two-week trial. The science was clear, and a friend cautioned me, "Even one little Hershey Kiss can throw you off plan." No Kisses for two weeks!
I had done crazier things. For two weeks, I would eat protein, fat, and low-carb veggies. No sugar, no starch… no kidding. Two weeks seemed like a small commitment. I had eaten really disgusting 'diet' cabbage soup for that long. At least this time I was eating bacon. I dove in.
And finally, my weight started dropping. Keto was the beginning to a whole new life for me! And a brand new, healthier relationship with food.
In the more than six years since I started keto, I've learned a lot. I've been fascinated not only with the changes in my physical health, but in my new attitude towards food. My "diet career", has gone from failure after failure to long-term success.
Not only do I get to share my success with others, but every day I get to help others to realize their own success. My career really is a diet career these days!
---
We can do this together!
Join me as an apprentice. I'll teach you all the tricks to being successful — eating the best ketogenic foods, understanding macronutrients, eating out, addressing the concerns of others (maybe even your own physician!), shopping, managing cravings, and troubleshooting!
Together, we'll enjoy the best of making keto simple, and we'll address potential obstacles head-on. Plus, other than groceries, there's nothing to purchase — no plans, no pills, no products, and no counting calories. We will simply eat real food!
---
What you can expect
Together we will prepare for our five weeks of keto living. Once you sign up, you'll receive links to our Welcome and Prepare pages for some action items that will help you get ready. And wait to you see the first three weeks of meal plans! The food I've planned is truly delicious.
While the activities are optional, I encourage you to do as many as possible so that you can make the most of our time together.
Preparation for the five weeks includes getting into the right mindset, preparing our kitchens, shopping for staples, and thinking about why you want to follow the program and what you want to accomplish.
---
Our weekly routine
Each Friday, I'll provide you with an overview of the following week. For the first three weeks, I've put together meal plans full of recipes that are my personal favorites. The meals I've chosen have keto macros, and are generally easy to make with ingredients most people like, and are exceptionally tasty!
Here's what the first week of dinners look like:
DD+ MEMBERSHIP
If you're dairy-free or vegetarian, or have different food preferences, I've put together some ​additional options so you will always eat keto in the way that is right for you! If you don't want to follow my meal plans, you can create your own and generate your own grocery shopping list!
In Week 3, I'll help you learn how to use the meal planner tool to create your own custom plans tailored to your lifestyle, your budget, and your tastebuds.
In Weeks 4 and 5 you can create your own meal plans or you can choose from the dozens of keto meal plans available with DD+ membership.
---
You'll hear from me each day
Each day I'll greet you with an email. Just like a message from a good friend, I'll send my thoughts for the day along with information to help you succeed.
I'll also give you a "One thing to do today" to help you stay focused for success. And I'll share some of the best content from our site! By the end of our five weeks together, you will feel like a keto expert! And who knows what personal goals you might also achieve!
Warm wishes,