All meal plans
Keto & low-carb
Here you can find all of our delicious low-carb and keto meal plans in alphabetical order. Just choose the meal plan you like and then press the pink "Edit in My meal plans" button to save it and make adjustments. Enjoy!
Not yet a member?
A free one-month membership trial
is available, that gives you instant access to our amazing meal planner tool and tons of keto meal plans, including dairy-free and vegetarian version, meal plans adapted for intermittent fasting, quick-and-easy as well as budget keto meal plans.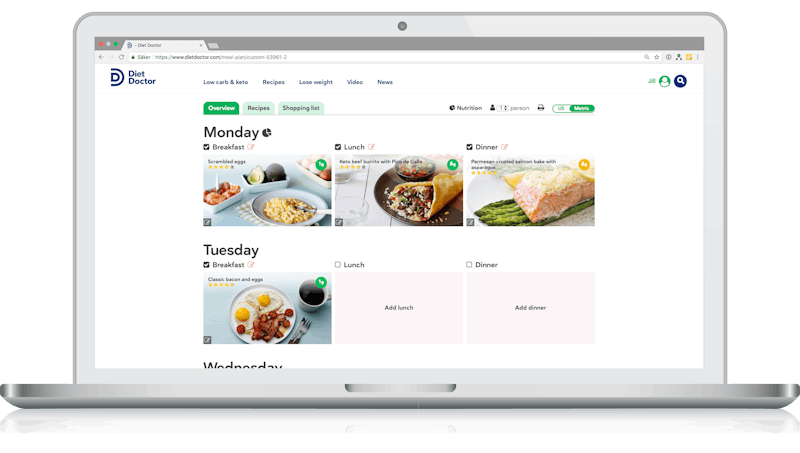 Meal plans include practical shopping lists. You can also tailor your own meal plans, using any of our 300+ keto recipes, and save them for later.
Try membership for free
Already a member? Log in
A little sneak peek…
Are you curious and want to try low-carb or keto, but feel insecure about how to do it? Do you want help to optimize your health or lose weight? With Diet Doctor Plus you get access to tons of keto and low-carb meal plans and recipes. Below, see our five most popular meal plans.
---
Are you tired of complicated recipes, odd ingredients, and long shopping lists? Well, with this week's 5-ingredient meal plan, keto has never been easier or more delicious.
With just a few ingredients, plus some basic pantry items, we have put together this convenient ketogenic meal plan, which is as kind to your wallet as it is to your waist.
---
This week's meal plan really has it all! It's fresh, varied, filling and also affordable. It will help you stay below 25 grams of carbs as well.
---
This meal plan includes nourishing, minimally processed keto foods, such as fatty fish and vegetables, which may help improve acne. Also, these meals are sugar-free and avoid the use of any breakout-promoting foods like dairy.
What's more, these recipes are delicious, easy, and provide 20 grams of net carbs — or less — for the day.
It's important to note that you'll likely need to continue eating like this for several weeks to see noticeable results. However, this first week's worth of recipes can help kick-start your journey to clear skin.
Enjoy!
---
You won't find any kangaroo or crocodile meat in this meal plan, but you will find a taste of Australia. The recipes included in the Aussie Vibes plan are created by the talented and Australian born, Naomi Sherman.
Enjoy zesty lemon baked chicken, savory keto bagels and prawns with an infusion of umami flavors. Finally finish your week with a succulent and warming Sunday roast lamb. Just like an Aussie would put it, 'wrap your laughing gear 'round that!'
---
OMAD is short for "One Meal a Day" and it's an increasingly popular way of doing time-restricted eating or intermittent fasting. This meal plan helps you do it in a safe and effective way, ensuring you get enough calories and protein each day while helping you meet your low-carb and weight loss goals. The plan has you alternating OMAD one day followed by two meals, lunch and dinner, the next day. It is simple and no fuss. And you'll be eating delicious, nourishing meals. Do make sure you drink lots of water (tea or black coffee is fine, too.) And get enough salt to minimize side effects like headaches and keto flu.
Check out our in depth guide, What you need to know about OMAD, here >>
---