No-cook low carb and keto meals — plus, no-bake desserts!
People often think eating
low carb
and
keto
is complicated and time-consuming. But it really doesn't have to be. Check out our recipes below for meal ideas that either require minimal cooking (aka, "low-cook") or no cooking at all.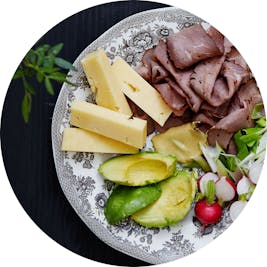 Whether you are often short on time, a frequent traveler, or just fancy a night off cooking, we have lots of great ideas for meals that do not require you to stand behind your stove.
With a few key tips and tricks, you can easily keep to a low carb or keto diet with minimal cooking requirements, leaving you with a good chunk of time to dedicate to other fun hobbies and activities.
How to limit your time in the kitchen
Keep it simple. A meal doesn't have to consist of many different elements. The fewer ingredients you need, the less time you'll usually spend in the kitchen.
Use fresh vegetables that do not require cooking, or ones that you enjoy lightly steamed (low carb vegetables guide). Many vegetables can be lightly cooked at the beginning of the week and stored in an airtight container for around five days. Just select those that you wish to add to your meal without the need for daily cooking.
Buy a whole cooked rotisserie chicken and cut it into pieces. Then, store it in an airtight container in the fridge, and take pieces as needed to add to meals.
Look for sliced meats in the deli section of your supermarket. Stock your fridge with your favorite meats and cheeses for quick accessible sources of protein. Just be sure to check the ingredients first for hidden sugars.
Take advantage of pre-prepared fish, such as tinned tuna and smoked salmon. Vacuum-packed fish also has a good shelf life when kept in the fridge, while tinned fish has an almost infinite shelf life — making them a great go-to protein option.
Boiled eggs are also a quick, easy-to-make way to get more protein and fat into your diet. Plus, you can boil up a dozen eggs at a time and eat them throughout an entire week. Refrigerate, peel, and use as needed by incorporating them into meals (on salads or for breakfast) or having them as a quick snack.
Keep your fridge stocked with our top 10 instant no-cook meal ingredients (below) to help you whip up a balanced keto or low carb plate with minimal thought or effort.
Top 10 no-cook or 'low-cook' keto and low carb ingredients
Avocados
Eggs
Olive oil
Feta cheese
Mozzarella
Deli meats
Tinned tuna
Tomatoes
Zucchini
Below, we have listed some of our most popular no-cook and low-cook recipes. These will have you feeling full with minimal time and effort.
What are your best ideas when it comes to preparing no- or low-cook meals? Please let us (and your fellow readers!) know in the comments below. Thanks to everyone sharing their great ideas.

No-cook (and low-cook) low carb breakfasts
Eggs
are always a great choice for breakfast. By using our time-saving tip to pre-boil a dozen eggs at the beginning of the week, it's then quick and simple to peel and toss them with your favorite deli meat and salad. Here are some more low- and no-cook alternatives. We suggest
cheese roll-ups
or why not a cup of
coffee with full-fat cream?
No-cook (and low-cook) low carb meals
Keeping meals simple is the best tip for achieving no- and low-cook meals. That doesn't mean eating boring or bland food. How about

keto salad Niçoise

,

roast beef and cheddar plate

or

salmon filled avocados

? These dishes also make for great lunch boxes. Why not pack tomorrow's lunch at the same time you prepare your dinner? Bam! Even more time saved.
No-cook (and low-cook) low carb sides
Sides can be kept super simple — and may only require the twist of a lid. Munch on a bowl of olives. Snack on some fresh mozzarella and pair it with ripe tomatoes and basil to make the most devine, simple caprese salad.
No-bake low carb and keto desserts
You don't even have to turn on the oven or stove top to make these low carb treats. How awesome is that?