Low-carb vegetables – the best and the worst
What vegetables are low carb?1 There's a very simple rule:
Vegetables growing above ground are usually low carb and can be eaten freely.
Vegetables growing below ground contain more carbs, so you'll have to be more careful with them (especially potatoes).
Like any rule it is not perfect, so have a look below.

PREMIUM MEMBERSHIP
What's your main health goal?
---
Above ground
All numbers are net carbs per 100 grams (3½ ounces).2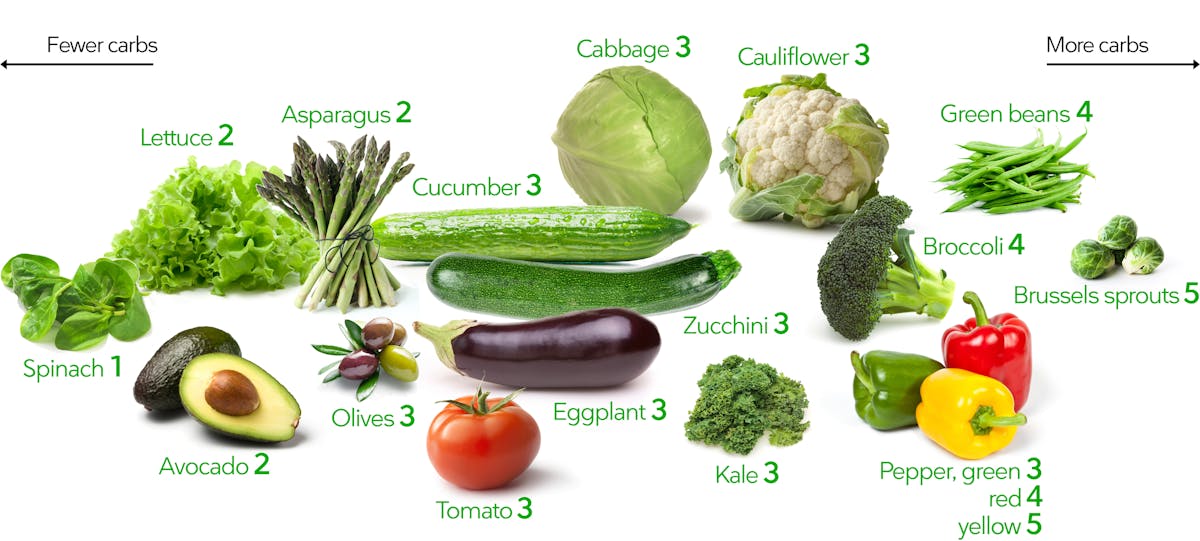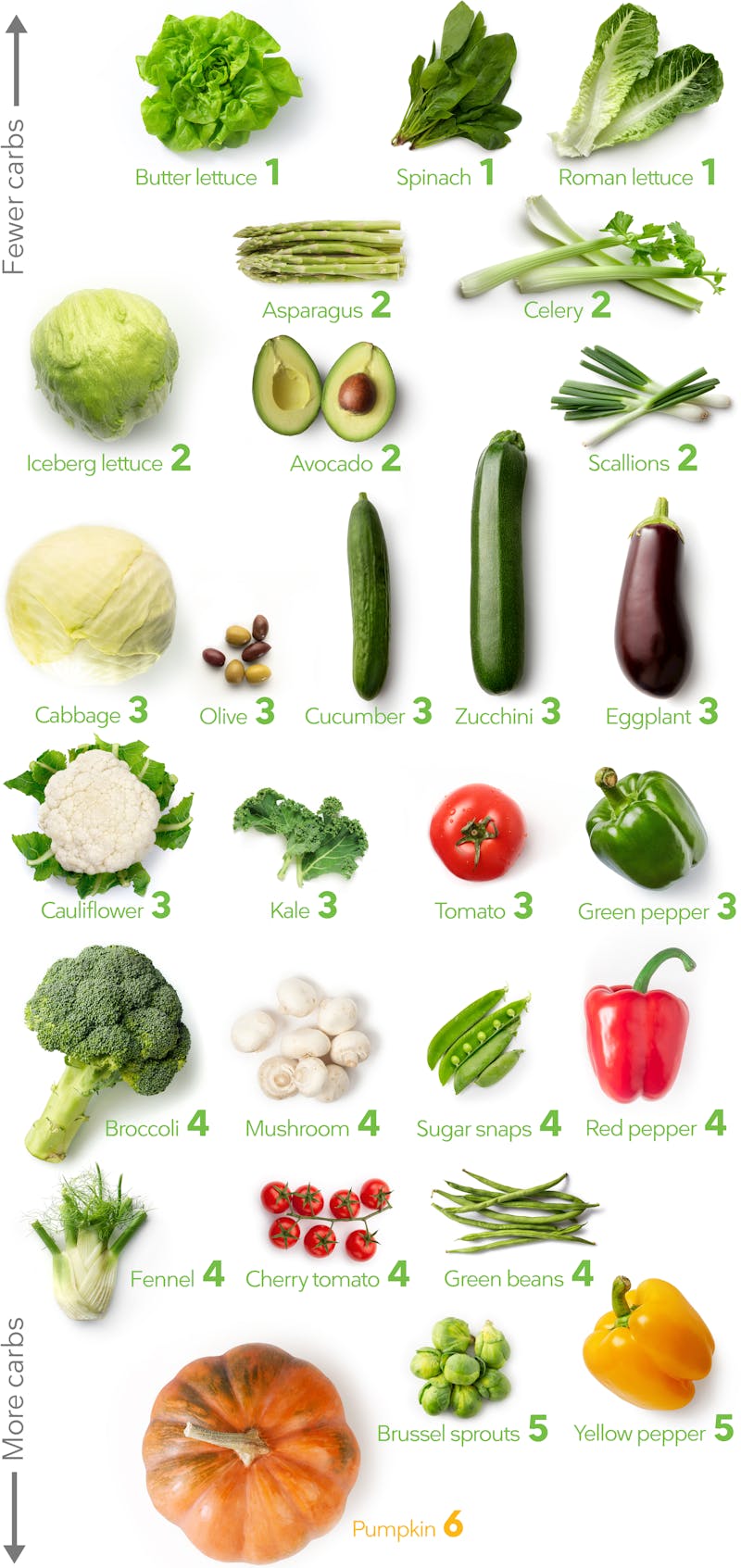 Below ground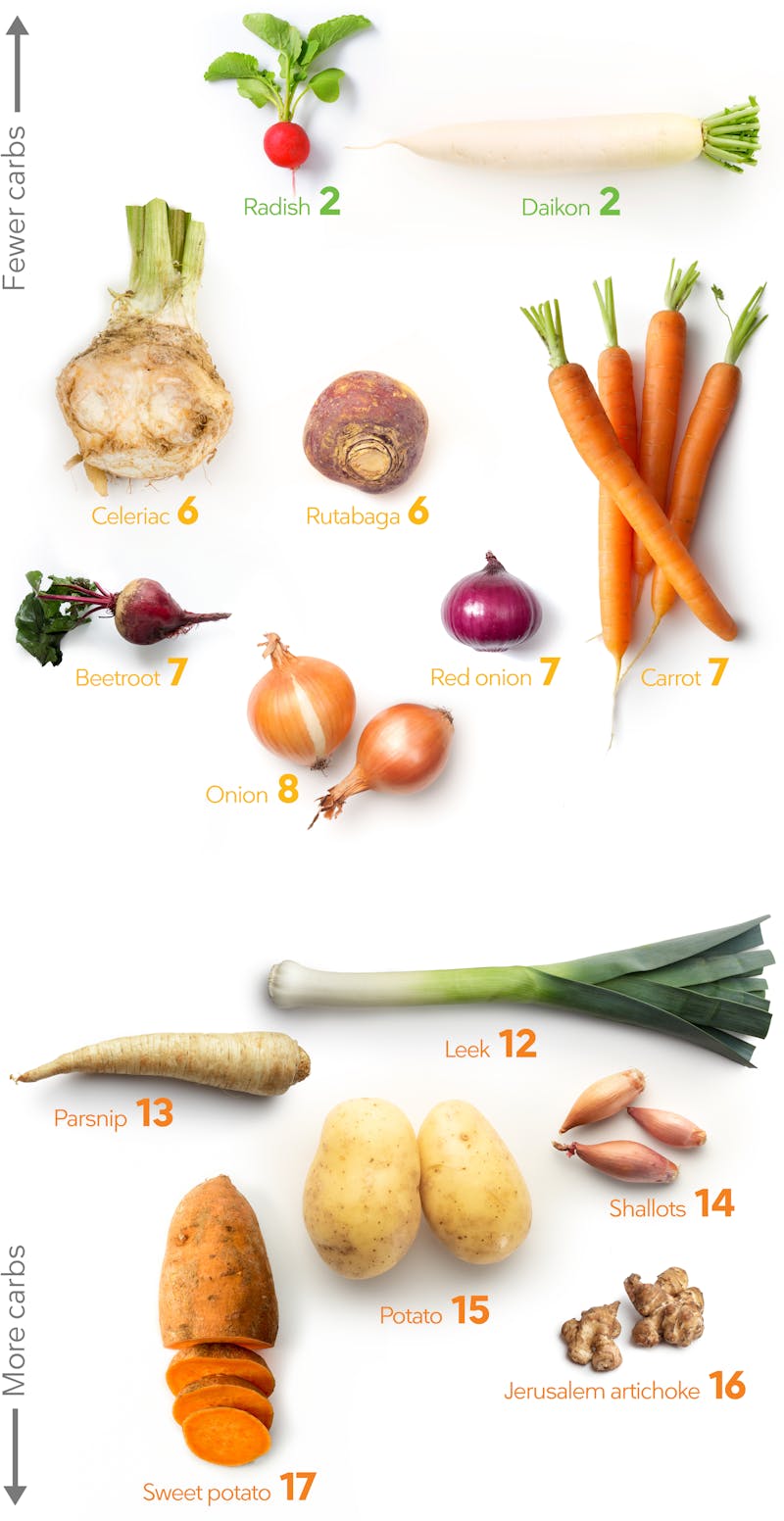 All numbers represent percent of net carbohydrates.
3
This means that a hundred grams (3½ ounces) – the weight of an average tomato – of any vegetable will contain this number of grams of carbs.
E.g. an average tomato has about 3 grams of carbs. A large cauliflower head weighs a lot more though, potentially ten times more, and may thus contain about ten times 3 grams, i.e. 30 grams of carbs.
Please note the difference between above-ground and below-ground vegetables.
Vegetables with less than 5 grams of carbs may be eaten relatively freely.4 If you're on a not-too-strict low-carb diet (more than 20 grams per day), you can probably eat all you want of all these low-carb vegetables.
If you're on a keto low-carb diet (below 20 grams a day), you may need to be a bit careful with some of the vegetables. You should probably be especially careful with bell peppers or tomatoes – these carbs quickly add up towards the 20 grams-a-day limit. Just one medium-sized bell pepper may contain 4-7 grams of digestible carbs.

Medication with warfarin and vegetable intake:
Warfarin (Coumadin, Jantoven) is a medication that is sometimes used to treat or prevent blood clots, and it can be affected by changes in your vegetable intake.
Specifically, the effect of warfarin can be reduced if you significantly change your intake of vitamin K, e.g. if you start to eat large amounts of vegetables like kale, spinach, Brussels sprouts, broccoli or asparagus (often green and leafy vegetables). Warfarin prevents the
blood from clotting by interference with coagulation proteins that are dependent on vitamin
K. Hence, eating vegetables with large amounts of K vitamin decreases the effect of warfarin
Learn more
Discuss any changes in medication and relevant lifestyle changes with your doctor. Full disclaimer
Top 10 low-carb vegetables


Here are ten great low-carb vegetables, tasty and rich in nutrients but with very few carbs.
5
We've attempted to sort them by how popular and useful they are in low-carb cooking.
6
All numbers are net carbs per 100 grams (3½ ounces).7
Vegetable sticks and dip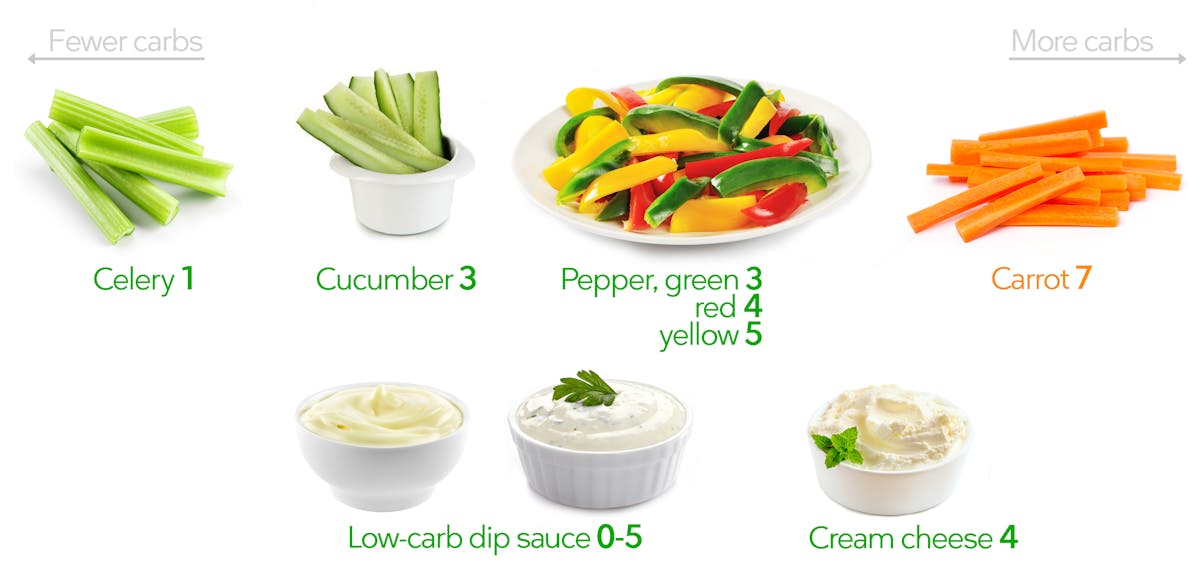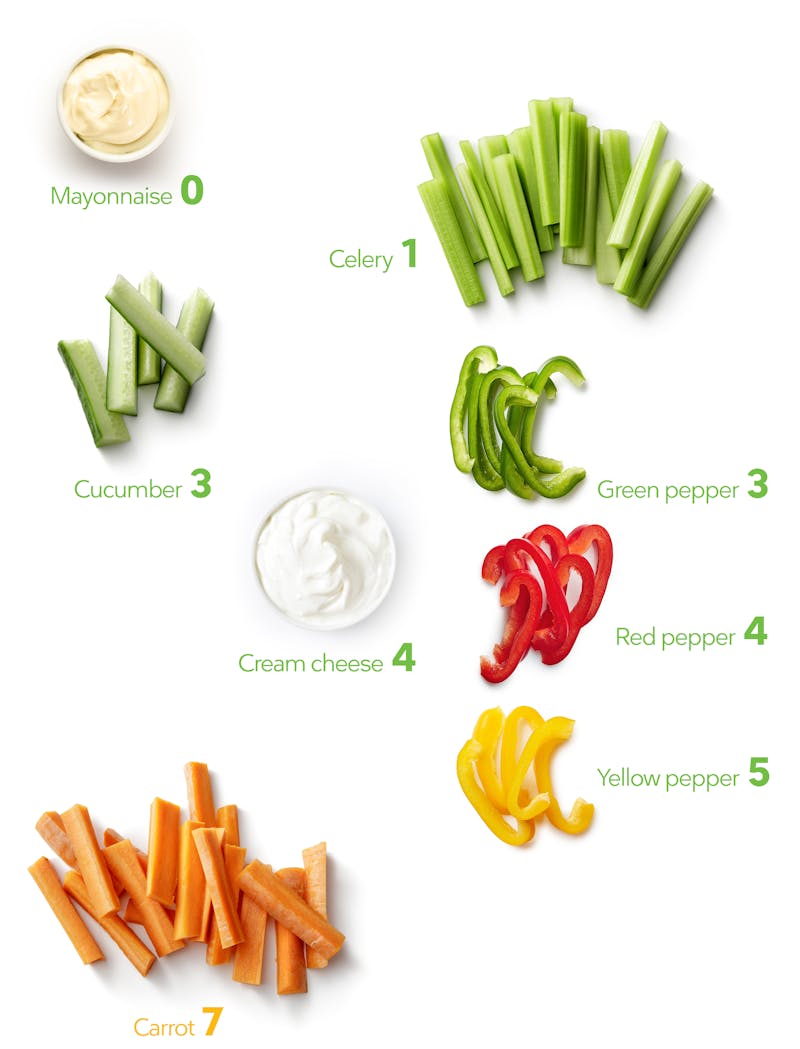 Numbers are digestible carbs per 100 grams (3½ ounces).
Vegetable sticks are relatively low carb, except for carrots that have slightly more carbs.
Dip: Add cream cheese or any really low-carb and high-fat dip sauce. Here are our top recipes:
Peas, corn, beans, etc.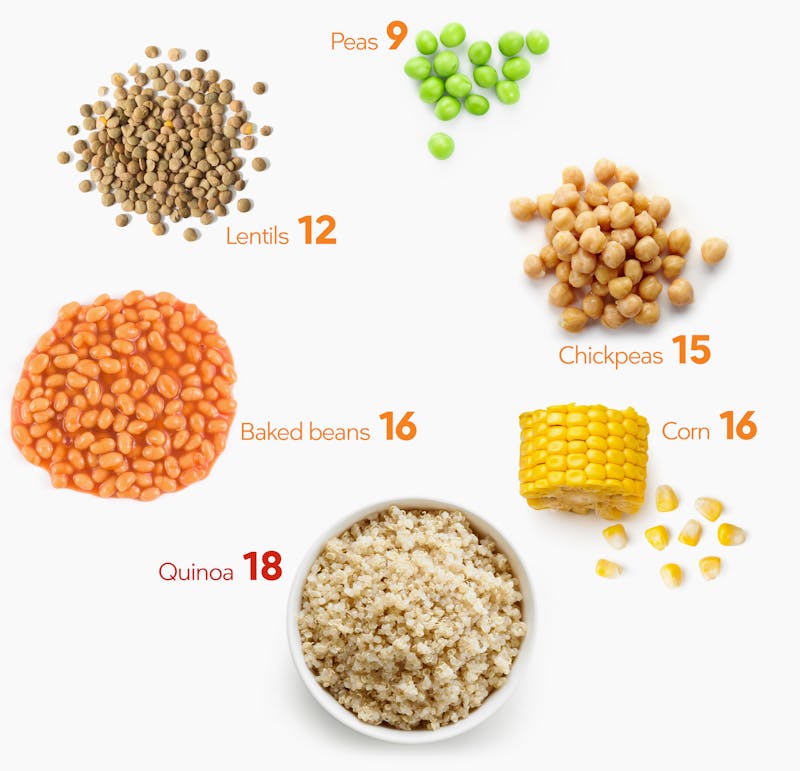 Peas, corn, beans, lentils and quinoa are relatively high in carbs, and so are not good options on a keto low-carb diet. On a more moderate or liberal low-carb diet, you may be able to include some peas and lentils.
On a side note, grains like corns and quinoa are usually not considered vegetables.17
Refined grains and sugar

Wheat is not a vegetable – it is a grain.
18
And anything made with wheat flour contains lots of rapidly digested carbs.
19
Avoid this when on a low-carb diet. When it comes to their effect on blood sugar, whole-grain products have a slightly slower impact than refined grains, but the difference is surprisingly small.
20
Bread, pasta, rice, cookies etc. are not vegetables, and they are full of carbohydrates.
High-fructose corn syrup – the sweet ingredient in many sodas – comes from plants (corn), but it is not a vegetable and it is certainly not low carb.
Low-carb vegetable recipes
Top cauliflower recipes
Cauliflower may be the most popular low-carb vegetable of all. Here are our top cauliflower recipes:
Top cabbage recipes
Cabbage is another very versatile low-carb vegetable. Here are our top cabbage recipes:
Food for thought
Q&A
Here are a few common questions about low-carb vegetables. For all kinds of questions, have a look at our full low-carb FAQ.
Can you eat tomatoes on a low-carb diet?
Yes. Tomatoes contain about 3 grams of net carbs per 100 grams (about 5 grams per cup). But if you're eating a strict keto low-carb diet (below 20 grams per day) it's worth keeping in mind that the carbs do add up, and you can only eat a moderate amount of tomatoes to stay under that limit.21
Are cucumbers low in carbs?
Cucumbers have about 3 grams of net carbs per 100 grams, so they are fairly low carb – as you can see in the visual guide above. You can absolutely eat cucumber on a low-carb diet.
Are carrots OK on low carb?
Carrots contain about 7 grams of net carbs per 100 grams. On a keto low-carb diet (below 20 grams per day) you may want to avoid carrots completely. But they can be OK on a moderate or liberal low-carb diet (if you're aiming to stay below 50 or 100 grams of carbs per day).
Visual low-carb guides
DD+ MEMBERSHIP
Cut carbs on a plant-based diet
Want low-carb or keto vegetarian meals? We've got 'em! Check out our delicious plant-based meal plans today.