Low-carb snacks – the best and the worst
What low-carb snacks are good? There's a simple rule: The best low-carb snack is no snack.1
That's right. Snacks are usually not needed on low carb, as the hunger should be reduced when doing it right.2 If you're still hungry, you may want to add more healthy fat, protein, or fibrous low-carb veggies to your meals.
That said, we know that everyone wants a snack once in a while. So here are some great options, and a few common mistakes to avoid.
---
Start your FREE 30-day trial!
Get instant access to healthy low-carb and keto meal plans, fast and easy recipes, weight loss advice from medical experts, and so much more. A healthier life starts now with your free trial!
Start FREE trial!
---
No preparation needed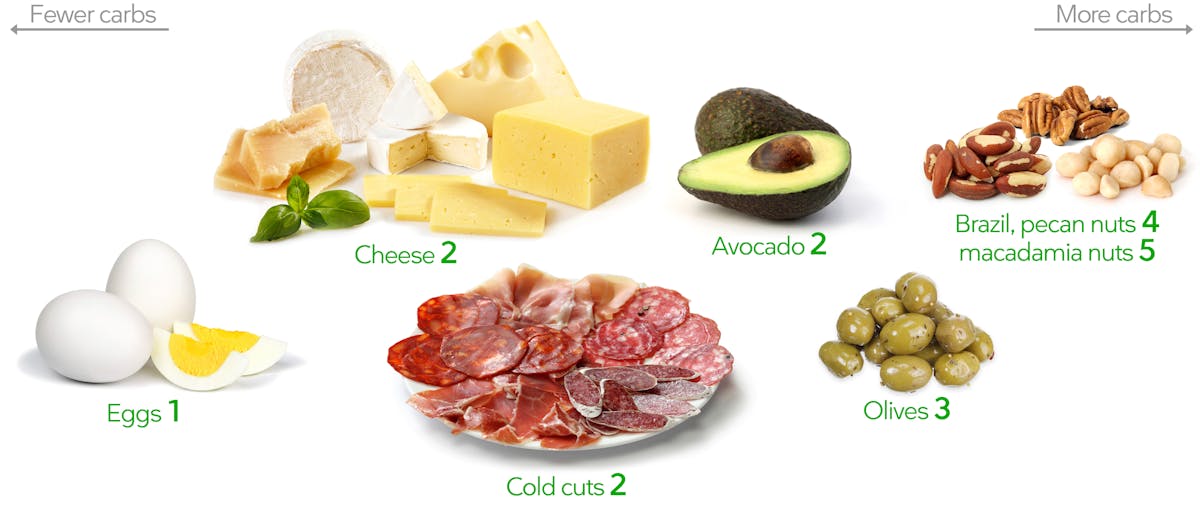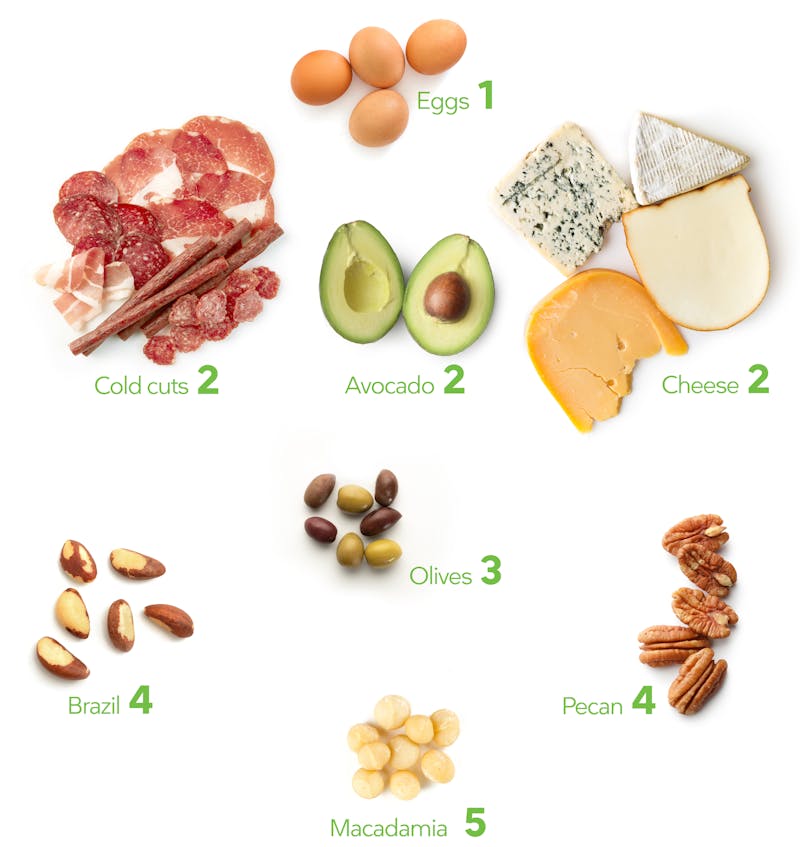 The numbers are net carbs (total carbs minus fiber carbs) in 100 grams (3.5 ounces.)3 That means that 100 grams of cheese contains 2 grams of net carbs.
Eggs are a great low-carb option.4 Keep a few hard-boiled eggs ready for when you need a perfect snack. Feel free to add mayonnaise.
Nuts are a low-carb snack favorite. But be careful as the carbs quickly add up, especially if you eat cashews. Choose lower-carb macadamia, Brazil or pecan nuts instead. Low-carb nuts guide
Snack recipes
Are you ready to do some preparations for an awesome low-carb snack? Check out our fantastic low-carb snack recipes, like these top choices:

Vegetable sticks and dip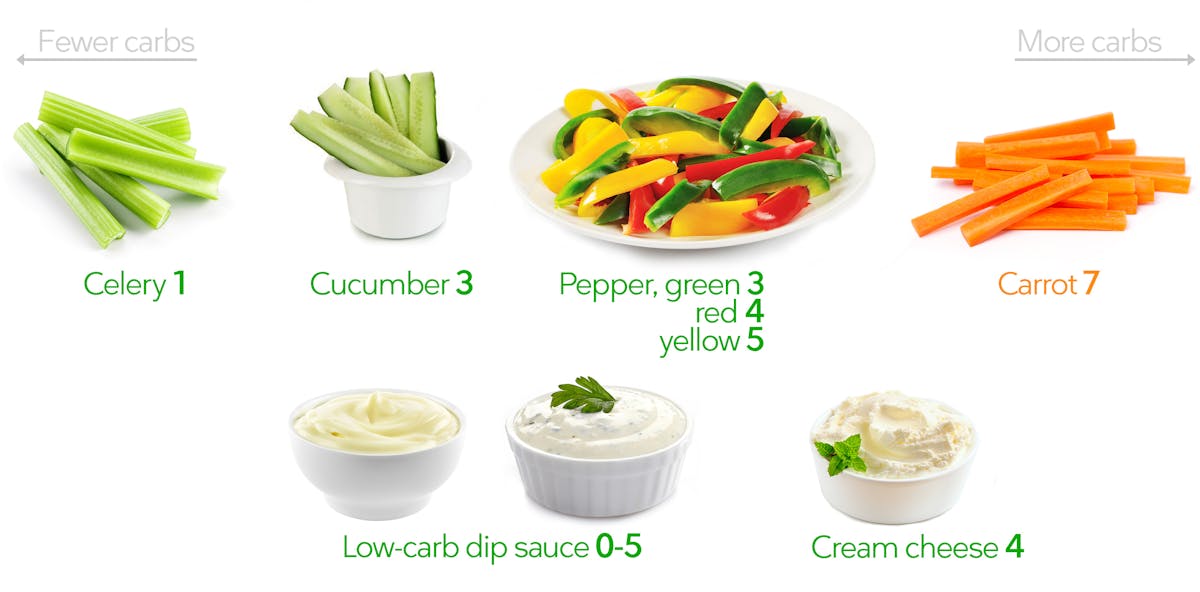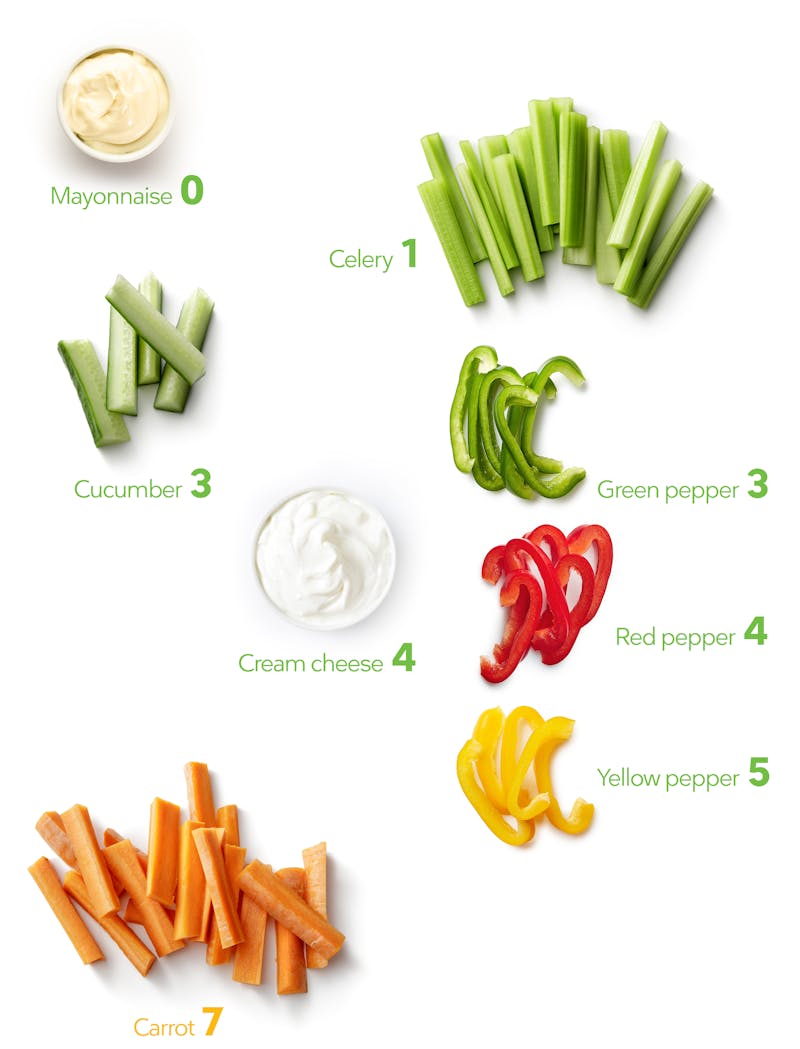 Berries and cream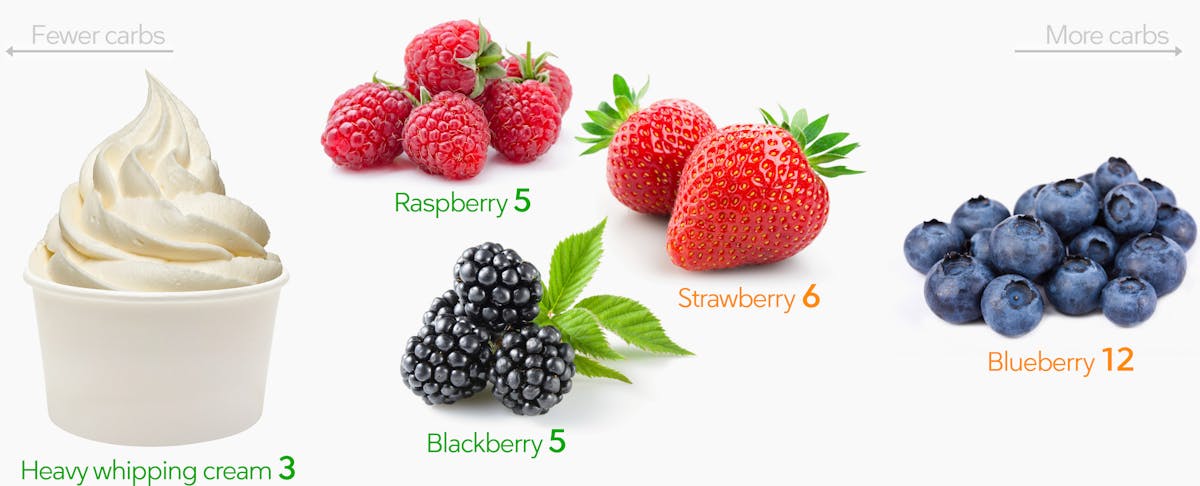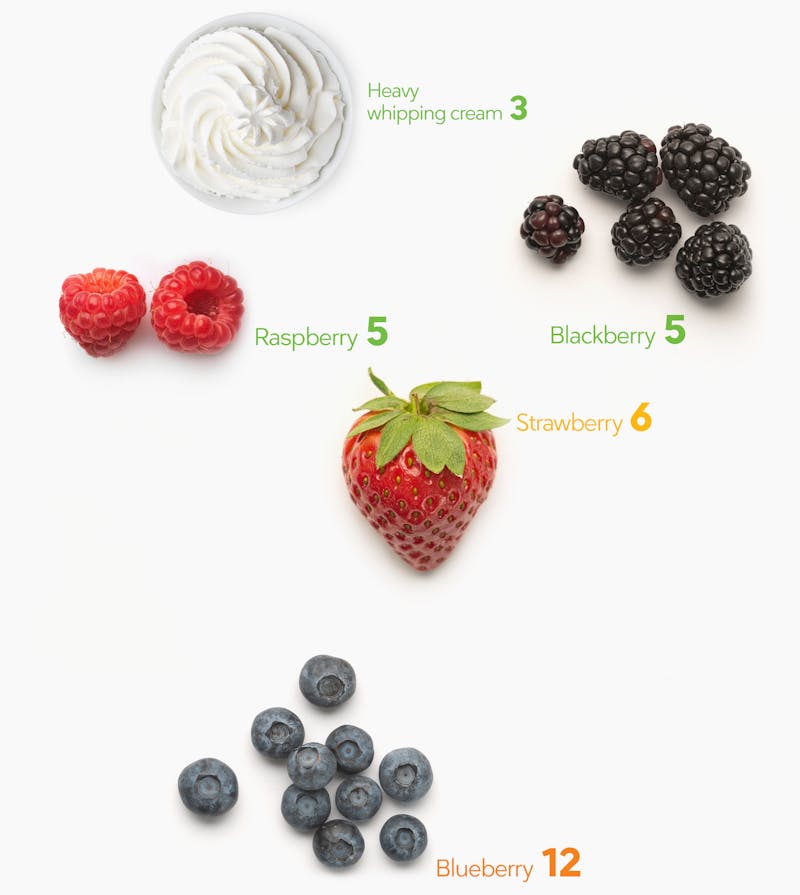 Berries
are decently low-carb sweets. But if you're on a
strict low-carb diet
you may need to make them an occasional treat. Blueberries have the most carbs.
Low-carb fruits and berries guide

Heavy whipping cream –
forget low-fat fake cream. Get real heavy whipping cream, ideally at 40 percent fat and definitely unsweetened (the natural sweetness is quite enough once you get used to it). Whip and have it with your berries. Note however that this is absolutely delicious, and it's easy to eat a lot of it when not hungry, slowing down weight loss. So try to not overdo it.
Recipes
Chocolate
Digestible carbs per 100 grams (3½ ounces)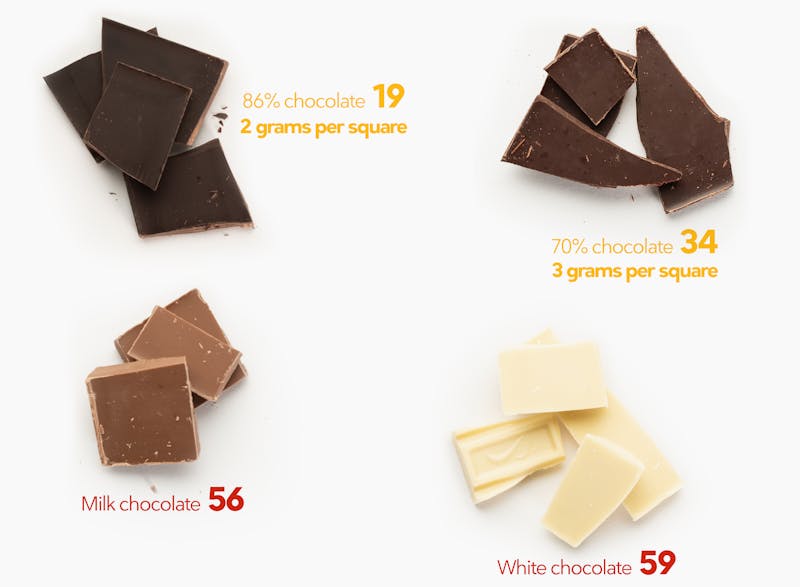 [/portrait]
Chocolate is not low carb. However, you can occasionally get away with one or two thin squares of high-cocoa chocolate (70%+) even on a strict low-carb diet. On a more liberal low-carb diet you could do it regularly.
One small thin square (10 grams or less than half an ounce) of 86 percent chocolate contains about 2 grams of carbs.
Switch to 70% chocolate and you get about 3.5 grams per square.
Regular chocolate can be 6 grams of carbs or more per square – not an option if you want to stay low carb.
[/text_left]
More options

Beef jerky: Note that almost all available commercial options have added sugar, which is why a normal carb count is 9 grams per 100 grams (3½ ounces). Preferably mostly avoid this, look for brands with no added sugar, or make your own. 
Chips
Common mistakes on low carb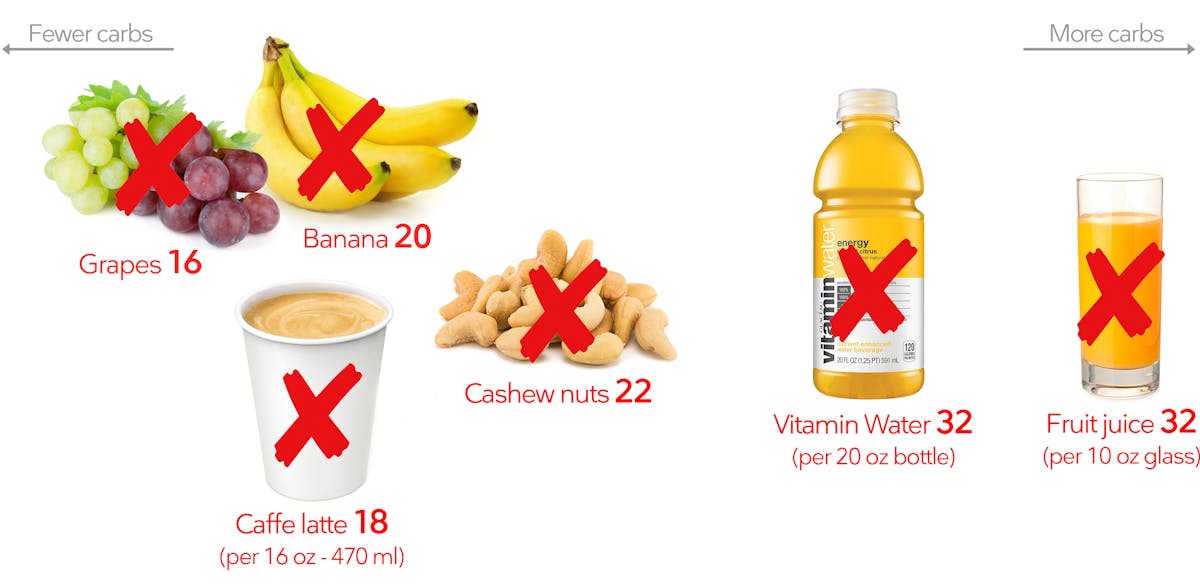 Caffe Latte: Note that there is a quite a lot of milk in this, and milk is around 5 percent carbs (from lactose, or milk sugar). To keep the carbs low drink black coffee instead, or add (if you need to) a few teaspoons of milk or cream.
Juice and functional waters: Juice and many flavored waters contain a lot of sugar. Preferably avoid them.
Fruit: Fruit is candy from nature and contains plenty of sugar. It's not nearly as bad as drinking juice, but because it's high in carbs, fruit will still mostly have to be avoided on a strict low-carb diet. A more liberal diet allows the occasional fruit. Bananas and grapes contain the most sugar of all fruit. Check out the best options in our low-carb fruits guide
Cashew nuts: These contain a lot of carbs (other nuts are a lot lower). Learn more in our low-carb nuts guide
Really terrible options

These options are all bad on a low-carb diet, as they are high in refined carbs and sugars. Avoid whenever possible.
Also be very skeptical of "low-carb" versions of chocolate, cookies etc. They are usually full of sugar alcohols, some of which may raise blood sugar, make it harder to lose weight and maintain sugar cravings.6 Learn more
Instead, choose from the great simple options closer to the top of this page, or check out our awesome low-carb snack recipes below!
21 great low-carb snacks
Sweet things – caution recommended
While the sweet recipes below are low carb, they are also very rewarding and tempting.7 They may encourage eating when not hungry, and that can slow your weight loss. So be a bit careful.
However, these low-carb recipes are still likely better for your weight and health than high-carb versions of similar recipes.8
More low-carb guides
Visual guides
Meal plans