Low-carb fats and sauces – the best and the worst
What are the best and the worst fats and sauces on a low-carb diet? It's an important question as a low-carb diet needs to be high in fat to be sustainable (here's why). For more information on fat's role in the body, what happens to the body when you eat it and whether to worry about cholesterol, take a look at our written guide to fat on a low carb or keto diet.
There are tons of great options for adding more fat to your diet, but there are also some not-so-good ones. For more details, please check out this visual guide. The lower-carb options are to the left: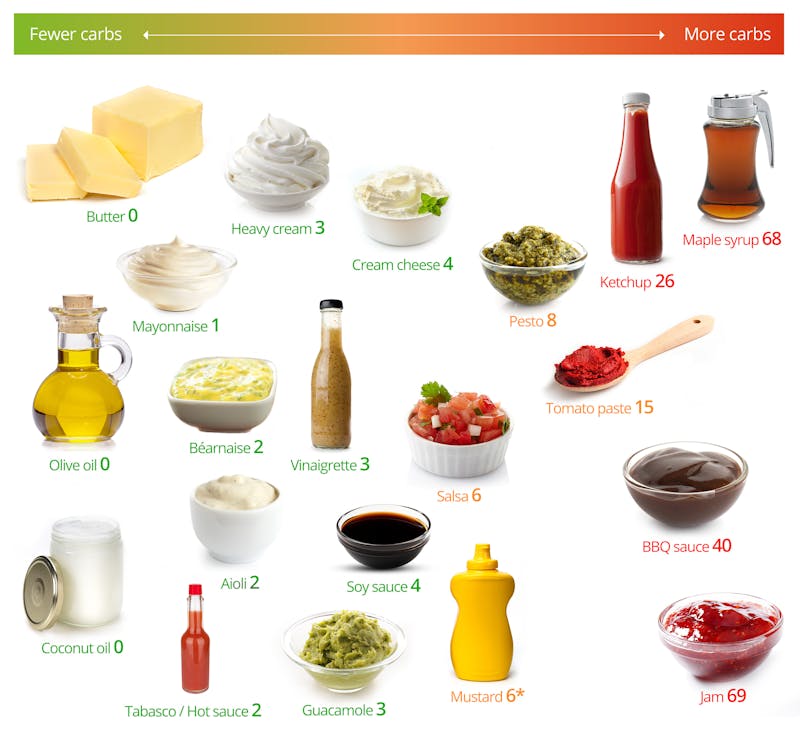 The numbers represent grams of net carbs per 100 gram (3½ ounces).1 The green foods contain less than 5 percent carbs – a good basic rule of thumb for a keto low-carb diet.
Note: these are general numbers so please keep in mind that they may vary between different brands. To be on the safe side, read the nutrition facts label on the back.
Mustard vs. ketchup
Should a low-carber choose mustard or ketchup?
Well, ketchup generally contains a lot more carbs than mustard does, but some kinds of mustard also have a lot of sugar added, so choose sugar-free mustard, like for example Dijon. Check the nutrition facts to make sure.
BBQ issues
Please note that store-bought BBQ sauce is loaded with sugar. Those glazed ribs may look nice, but there's quite a load of sugar on them. Remove to stay low carb. Or decide to eat anyway, knowing what you're doing.
How to eat more fat
Fat is satiating, and it makes food taste great. But how do you make sure that you eat enough on a keto diet… and not too much? A basic rule is to eat what you need to feel satisfied, but not much more.
Here are the top 10 ways to eat more fat
Oils
What about vegetable, nut and seed oils? This is a bit more complicated. Natural oils that have been around for thousands of years should generally be safe. Use pure olive oil, ghee, avocado oil, almond oil, peanut oil, sesame oil, fish oil — anything for which it is easy to extract the oil with simple pressing, grinding, churning or low heat separating.
Industrial seed or vegetable oils created within the past 60 years — such as corn oil, soy oil, safflower oil, sunflower oil, cottonseed oil – should probably be avoided or consumed with caution. Here's why:
Similar low-carb guides
Meal plans
Net carbs = digestible carbs, i.e. total carbs minus fiber. ↩