Low-carb fats and sauces – the best and the worst
What are the best and the worst fats and sauces on a low-carb diet? It's an important question as many commercial fats and sauces may have hidden carbs and sugars that can make it difficult to stay on a low-carb diet.
There are tons of great options for adding more fat or sauces to your diet, but there are also some not-so-good ones. For more details, please check out this visual guide. The lower-carb options are to the left: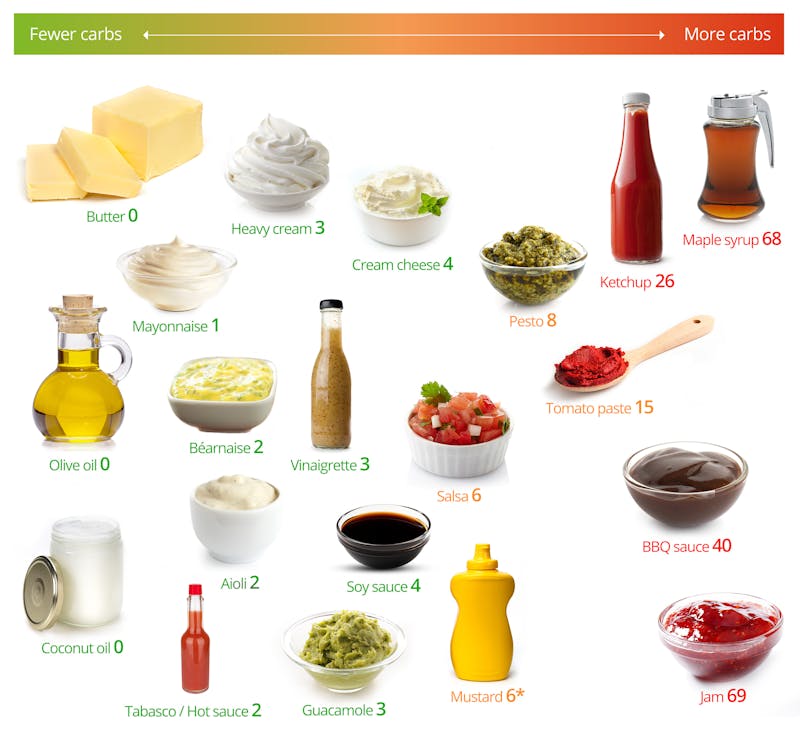 The numbers represent grams of net carbs per 100 gram (3½ ounces).1 The green foods contain less than 5 percent carbs – a good basic rule of thumb for a keto low-carb diet.
Note: these are general numbers so please keep in mind that they may vary between different brands. To be on the safe side, read the nutrition facts label on the back.
DD+ MEMBERSHIP
Mustard vs. ketchup
Should a low-carber choose mustard or ketchup?
Well, ketchup generally contains a lot more carbs than mustard does, but some kinds of mustard also have a lot of sugar added, so choose sugar-free mustard, like Dijon, for example.
Check the nutrition facts label to make sure.
BBQ issues
Please note that store-bought BBQ sauce is often loaded with sugar. Those glazed ribs may look nice, but there's likely quite a load of sugar on them. Remove the sauce to stay low carb. Or decide to eat anyway, with full knowledge of what you're doing.
How to eat more fat
Many of us may still fear dietary fat, and who can blame us after 40 years of being encouraged to eat low fat!
On a low-carb diet, you don't need to fear the fat. Cook in butter, leave the skin on your chicken, and eat the entire egg — yolk and all.2 Drizzle on olive oil.
Fat tastes great! So, don't shy away from fat when eating a low-carb diet. Use fat as needed to enjoy your food.
Here are the top 10 ways to eat more fat
Oils
What about vegetable, nut, and seed oils? This is a bit more complicated. Natural oils that have been around for thousands of years are likely good choices to eat3
The vegetable oils we know today were developed at the end of the 19th century, when technological advances allowed oils to be extracted from other crops.4 Instead, we suggest using pure olive oil, ghee, avocado oil, almond oil, peanut oil, sesame oil, fish oil — anything for which it is easy to extract the oil with simple pressing, grinding, churning or low heat separating.
We recommend minimizing the use of highly-processed seed or vegetable oils created within the past 60 years, such as corn, soy, safflower, sunflower, and cottonseed oils.
These oils are created by chemical extraction and high heat industrial processes.5 They're quite new compared to butter, olive oil, and other fats that have been used for centuries or longer, and it's not clear what kind of effects they might have on health. Therefore, we feel that consuming mostly traditional, less processed fats is best.6
Learn more here: Vegetable oils: are they healthy?