Low-carb drinks – the best and the worst
low carb
? What are the best options, and the most common mistakes?
The quick answer: Water is perfect and zero carb, as is coffee and tea (without sugar, of course). The occasional glass of wine is fine too.
Check out this visual guide for more good options, and what to definitely avoid: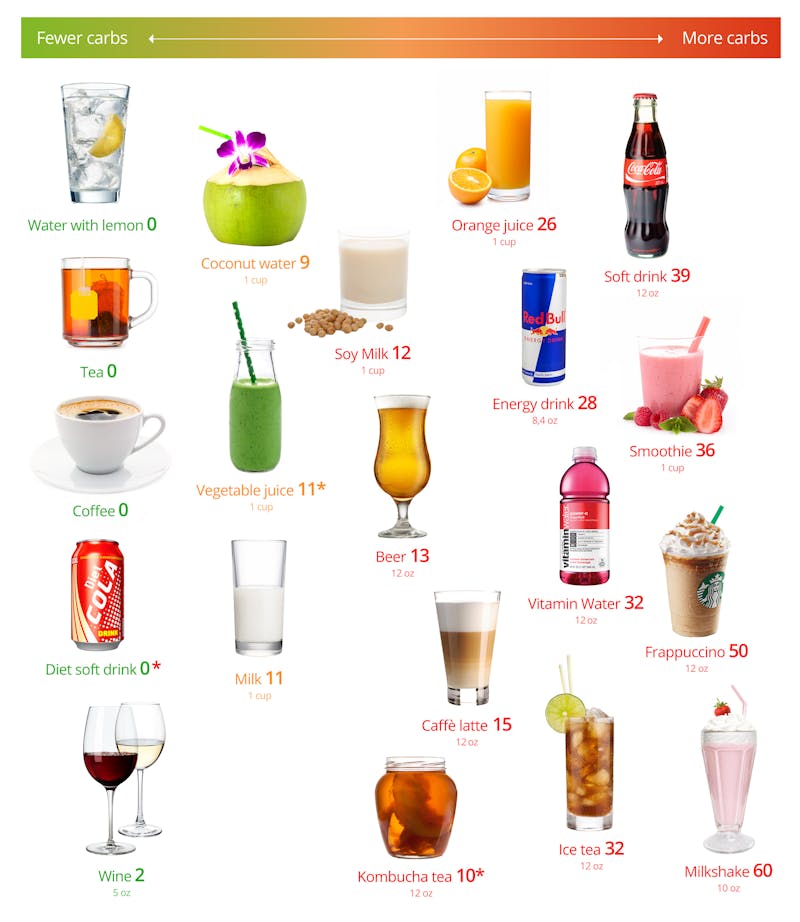 The numbers represent grams of net carbs per normal serving size (like what you get if you order one in a restaurant).1 The green numbers represent decent options on low carb. Keep reading for more details below.
Add a sugar cube to your coffee or tea and you add 4 grams of carbs (not good).
Size does matter
While sugary soda is always a bad idea on low carb, size matters. A large soft drink contains truly astonishing amounts of sugar.
A small soft drink will keep you out of ketosis for a day, the large ones for more like a week…
Diet soft drinks – are artificial sweeteners OK or not?
Diet soft drinks come without carbs or calories. Instead, they contain artificial sweeteners like aspartame, sucralose, acesulfame K or stevia.
Many people believe diet drinks are safe, as they are free from calories. However, it's not that simple, and these non-caloric sweeteners come with their own set of problems.
To start with, these sweeteners maintain sugar cravings, a disaster if you're addicted to sweet foods. They make it harder to appreciate the natural sweetness of real food. Also, studies show that switching from diet soda to water results in weight loss, perhaps as some diet drinks can increase insulin levels (thus increasing fat storage).2
In short, diet drinks are probably less bad than regular sugary soda. But if you can wean yourself off the sweet drinks completely and enjoy water, that's by far the best option. Learn more
Low-carb alcoholic drinks
What are the best low-carb alcoholic drinks? Beer, wine or something else?
Here's the short answer: Wine is good, beer is usually not. However, there's something else with no carbs at all…
Low-carb drinks recipes
We have lots of recipes for great low-carb drinks, like keto hot chocolate or Bulletproof coffee. Here are the most popular recipes right now:
Detailed carb-count list for low-carb drinks
Below is a detailed list of the number of grams of carbs in drinks.
Water 0
Water with lemon 0
Tea 0 (every sugar cube adds 4 grams)
Coffee 0 (adding milk adds about 1-3 grams of carbs)
Diet soft drink 0 (artificial sweeteners have other problems though)
Wine 2 (5 oz – 14 cl)
Coconut water 9 (1 cup – 24 cl)
Vegetable juice 11 (1 cup – 24 cl). The amount of carbs can vary, adding fruit juice adds more carbs.
Milk 11 (1 cup – 24 cl)
Soy milk 12 (1 cup – 24 cl)
Beer 13 (12 oz – 35 cl). The amount varies (low-carb beer guide).
Caffè latte 15 (12 oz – 35 cl)
Kombucha tea 10 (12 oz – 35 cl). This is the average of commercial teas. Homemade Kombucha tea varies with the time it has fermented, and can end up somewhat lower in carbs.
Orange juice 26 (1 cup – 24 cl)
Energy drink 28 (8.4 oz – 25 cl)
Vitamin water 32 (12 oz – 35 cl)
Ice tea 32 (12 oz – 35 cl)
Soft drink 39 (12 oz – 35 cl)
Smoothie 36 (12 oz – 35 cl). Varies depending on contents (low-carb smoothie recipes).
Frappuccino 50 (12 oz – 35 cl). Watch out for all sweet coffee drinks.
Milkshake 60 (10 oz – 30 cl)
Similar low-carb guides
Meal plans
Net carbs = digestible carbs, i.e. total carbs minus fibre. ↩