How to follow a vegetarian meal plan
What is a keto vegetarian diet plan?
A keto vegetarian meal plan features recipes without meat or fish that are very low in carbs. On a keto vegetarian diet plan, protein comes from both animal sources, like eggs and dairy, and plant sources, such as soy and other legumes.

A plant-based-diet meal plan may or may not contain some animal foods, while a vegan diet plan would not contain any animal foods.

Following a keto vegan diet plan can be difficult because all plants contain some carbs. For this reason, we recommend following a keto vegetarian meal plan, which may include some vegan recipes.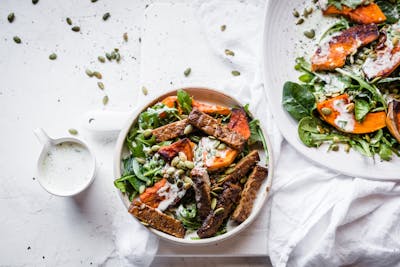 Guide to a plant-based low-carb diet plan
How can I lose weight on a vegetarian diet plan?
A keto vegetarian meal plan for weight loss features nourishing low-carb, meat-free meals that provide adequate protein to help you feel full and satisfied. Eggs, cheese, and soy top the list of the best foods to include on a keto vegetarian weight loss meal plan.
Disclaimer:
If you are taking medications to lower your blood sugar or blood pressure, always check with your healthcare provider before making a significant dietary change. A low-carb, high-protein diet may further lower blood sugar and blood pressure to dangerous levels when combined with medications. If you need to find a clinician familiar with low-carb nutrition, you can start with our
find a doctor map
.
7-day vegetarian keto meal plan for weight loss
Here is a full week of delicious vegetarian recipes for breakfast, lunch, and dinner. You'll save time planning, preparing, cooking, and cleaning up by making two dinner servings and refrigerating half to enjoy for lunch the next day.
Monday
---
Tuesday
---
Wednesday
---
Thursday
---
Friday
---
Saturday
---
Sunday
Read more
How to follow a healthy vegetarian keto diet
GuideAre you both vegetarian and interested in a keto diet? Or already eating keto but thinking about giving up meat? You can be vegetarian and keto. Here's how.