Meal planner tool
We do the planning while you focus on cooking, eating, and enjoying healthy food.
We've planned your breakfast, lunch, and dinner
Get our most recent meal plan and shopping list, through our exclusive meal planner tool (start free trial).
Italy is world-famous for its tempting high-carb foods like pasta and pizza. But don't you worry! In this week's Italian-inspired meal plan, we have "keto-fied" your favorite dishes for you.
On the menu, we have our keto chicken zoodle al Limone, which consists of moist chicken thighs smothered in a creamy sauce with Parmesan, lemon, and thyme served on a bed of spiralized zucchini.
Additionally, we've included our savory turkey meatballs, as well as our keto pizza omelet — a cheesy, omelet-quiche hybrid that's sure to satisfy.
Enjoy the heart of Italy in your kitchen with this flavorful collection of keto meals that will keep you well below 20 grams of net carbs per day.
Buon appetito!
Haven't downloaded our mobile app yet?
Now is a good time! Download Diet Doctor Eat, and use your meal planning tool directly on your phone.
Access all 180+ meal plans, 1,000+ recipes, your saved favorites, and shopping lists — anywhere, anytime.

Start your FREE trial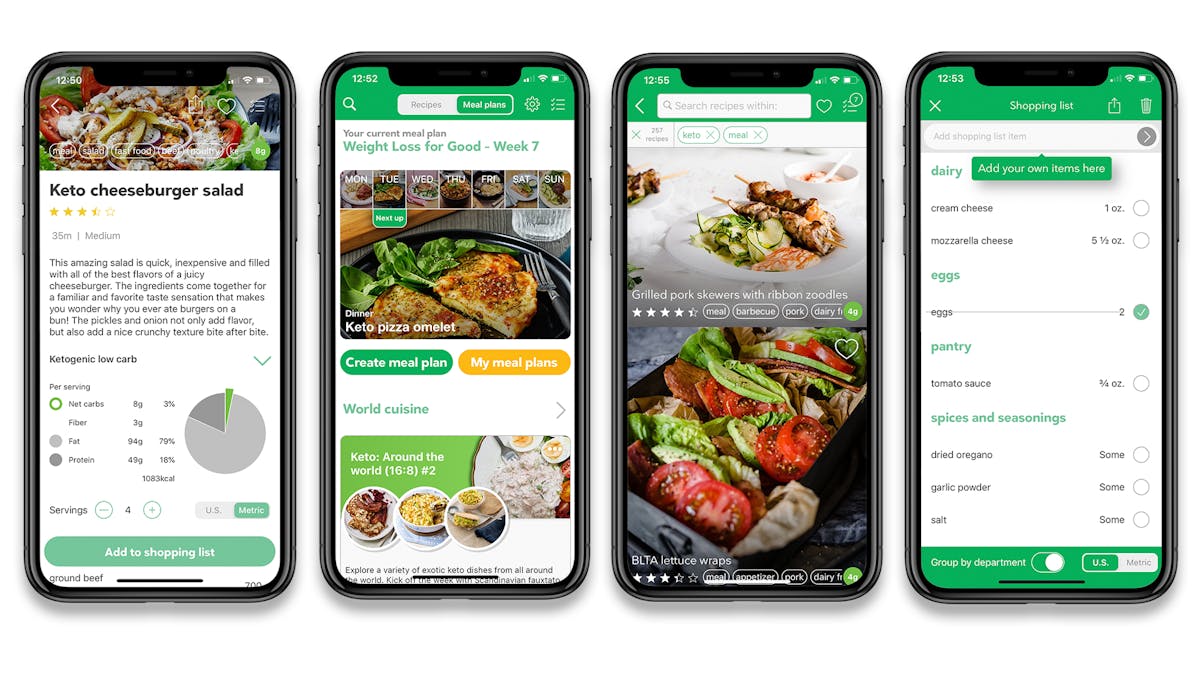 Start your FREE trial
Our latest meal plans
The meal plans below is available through Diet Doctor Plus. Not a member?
Sign up for a FREE 30-day trial
to get all our meal plans and many other membership benefits. After the free trial ends, it's only $9.99/month or $99/year.
Quick & easy
Minimal or "no-cook" meals you can prepare in 20 minutes or less.

Do you love food that looks and tastes gourmet, but is in fact super simple to cook? Who doesn't? Well, we have the perfect low-carb meal plan for you. It's easy to make, yet fancy, too. To make it even simpler, you'll be skipping breakfast on weekdays.
What's on the menu? Creamy chicken dishes, flavourful cod, and a delicious, classic — but of course low-carb — beef stroganoff. On the weekend you'll indulge in a nut-free keto bread that's great for toasting. Bake the whole bread, use what you want, and then freeze the rest. It will also keep in the fridge for four or five days.
This meal plan keeps you below 32 g of carbs per day.
Start your FREE trial
All quick & easy meal plans
Low-carb on a budget
Simple recipes and affordable ingredients that are super delicious and healthy. Here you'll find some more tips on how to enjoy low-carb on a budget.
This week's meal plan really has it all! It's fresh, varied, filling and also affordable. It will help you stay below 30 grams of carbs per day.
Start your FREE trial
All budget meal plans
Family-friendly
Simple and yummy recipes that the whole family will love.

Don't make extra work for yourself by cooking separate meals. Instead, embrace these delicious family-friendly meals.
Everyone, including the kiddos, will clean their plates with this meal plan. Better yet, it will keep you below 28 grams of net carbs per day.
Start your FREE trial
All family-friendly meal plans
Vegetarian
Fabulous lacto-ovo vegetarian meal plans. Lacto-ovo means avoiding meat, poultry, and fish while allowing vegetables, nuts, eggs, and dairy.
This week offers a delicious, colorful, and nutritious mix of vegetarian and vegan low-carb dishes. They will satisfy your appetite and make your taste buds sing. Indulge in vibrant veggies, flavorful cheeses and exciting spices.
This meal plan will keep you below 33 g net carbs per day
Start your FREE trial
All vegetarian meal plans
Dairy-free
Excluding dairy from your diet can be an effective way to speed up your weight loss and help to reverse type 2 diabetes.

Excluding dairy from your diet can be an effective way to speed up your weight loss and help reverse type 2 diabetes. This week offers a selection of tasty dairy-free low-carb dishes such as a low-carb seafood soup with garlic mayo and finger licking good chicken wings.
While limiting dairy, you can, if desired, still enjoy real butter. That's because butter, despite being made from milk, contains only trace amounts of milk protein and sugar. That's why you may find butter in our dairy-free recipes. Feel free, however, to use coconut or olive oil instead of butter if you want to go 100% dairy-free.
This meal plan will make sure that you keep your net carb intake below 33 grams per day.
Start your FREE trial
All dairy-free meal plans