"I'm going to continue keto forever"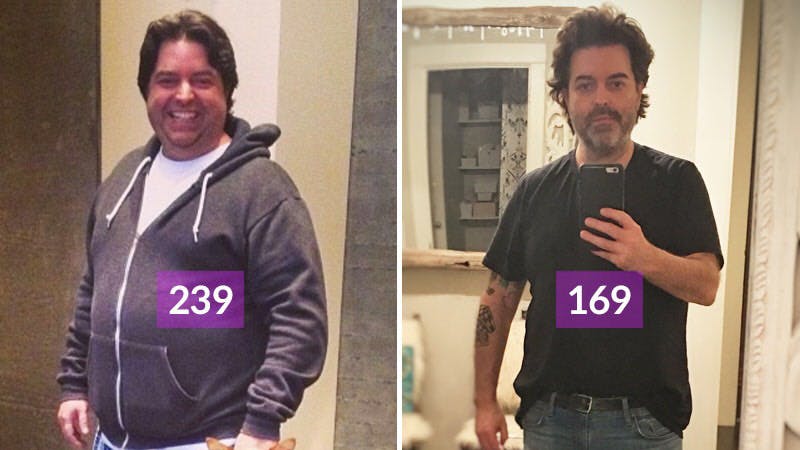 Lance has been on an incredible keto journey, to say the least. He initially started the diet as a way to manage his epilepsy, and ended up losing 70 lbs (32 kg) and reversing pre-diabetes.
Here is his story and inspiring words for anyone who wants to do the same thing:
My weight and health was out of control. My doctor said I was borderline diabetic and sent me to diabetes and nutrition classes. They were interesting and I learned a lot, but a calorie-restrictive diet wasn't working.

I'm a carbohydrate addict. It's a real thing. Corn, potatoes, macaroni and cheese, bread, pasta, Australian licorice – these are drugs to me. I also have a portion-control problem. Growing up in the south I was used to large portions of comfort food all day long. If I was celebrating, I ate. If I was depressed, I ate. If I was bored, I ate.

It got worse. I have a genetic form of epilepsy that didn't kick in until I was 40. I started having very serious seizures. Medication wasn't working very well, and after having to take higher and higher doses of medications that made me dizzy, confused, caused poor memory, gave me blurry vision and caused depression, my neurologist told me that keto might be helpful.

The more I read, the more a keto diet seemed to be the answer to all of my problems. I couldn't find enough information to really get started – until I found dietdoctor.com. The advice here finally kicked me into keto, and I recommend anybody struggling take the info here and continue to read and use the diet plans and videos.

It took me four days to get into ketosis, and I used a keto blood meter to check my levels every few days. It wasn't always easy, and I cheated and had to get back into ketosis 4 times, but I lost over 70 pounds (32 kg) in nine months. I feel amazing. I had two accountability buddies who lost over 90 pounds (41 kg) in the same timeframe. My seizures and epilepsy symptoms are under control. My blood glucose levels stay steady around 95 mg/dl (5.3 mmol/L), and before I started my fasting level was 130 mg/dl (7.2 mmol/L). I think faster, I feel full, and my general health and blood panels are excellent.

I've been meditating and started my new goal – to put on 20 pounds (9 kg) of muscle while losing 8 more pounds (4 kg) of fat, and keto is a great benefit there as well.

I'm still a carb addict and sometimes it's difficult – I actually dream about macaroni and cheese. It was tough to learn my body, and what food effect me differently than they might other people. My advice is to stick with it, it does work. Don't be discouraged when things don't go well, you will find the foods and patterns that get you where you want to be with keto.

I want to thank Andreas and the Diet Doctor team for the info and inspiration I needed and still count on. I'm going to continue keto forever, it's risky if I don't, and the fear of diabetes and seizures outweighs the brief rush of carbohydrates.

Keep it up everyone, if I can do it, so can you.

Lance
Lance on Instagram: inlancewetrust
Lance's website (about to launch in a week): Advanced Biology
Comment
What an inspiring story Lance! Thank you for sharing.
Get started
Do you want to try what Lance has done? Sign up for our free 2-week keto low-carb challenge!
DD+ MEMBERSHIP
More
Keto
Carb addiction
Weight loss
More success stories
Share your story
Do you have a success story you want to share? Send your information, plus before and after photos, to success@dietdoctor.com. It would also be greatly appreciated if you shared what you eat in a typical day, whether you fast etc. More information:
Share your story!