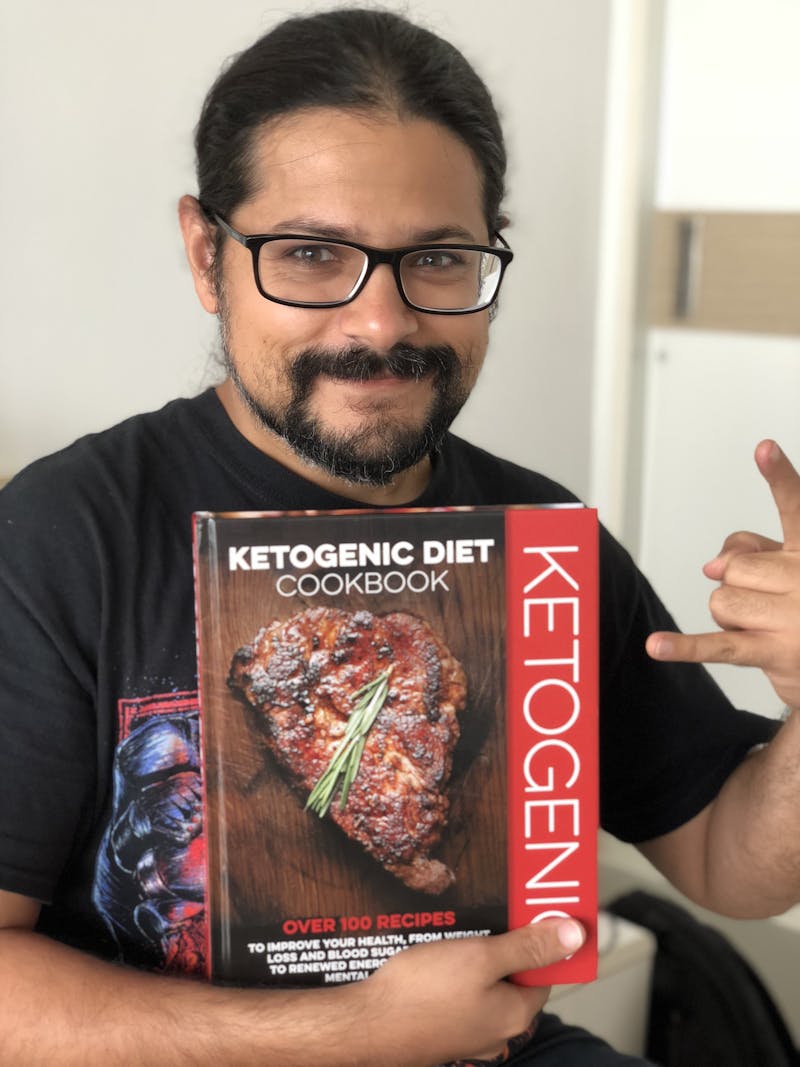 Sahil 'Demonstealer' Makhija is the master chef and heavy metal genius behind Headbanger's Kitchen, who brings you all the irresistible flavors of Indian cuisine with a keto twist.
Headbanger's Kitchen started in 2008 as a YouTube cooking channel featuring primarily Indian cuisine with a heavy-metal spin. Now it has expanded into low-carb recipes celebrating international cuisines from all around the world.
Sahil has always had a passion for food, enjoying cooking from a young age. As a child, he wanted to become a chef; later in life, he found passion in heavy metal music.
Sahil has since dedicated his life to making heavy metal music with his main band, Demonic Resurrection, but he never forgot where he came from, and he never stopped cooking.
In the early 2000s, many touring bands stayed at Sahil's house while visiting Mumbai. "I'd end up cooking breakfast for them, and I got a bit of a reputation as a decent chef," Sahil explains. "They would come here and eat my 'Demonic Omelets'— even my food was branded around my band name."
Sahil worked on his YouTube cooking channel in his spare time, but things really took off when he discovered the keto diet in 2016.
Today, Sahil's hard work and entrepreneurial spirit have cemented his reputation as a musician, record-label owner, author, chef, YouTube sensation, and ketogenic guru for thousands across the globe.
When asked about the keto diet, Sahil explains,
"Keto as a diet, like any other, requires commitment; think of it as a lifestyle. If you're someone suffering from ailments like type 2 diabetes, it's always good to look towards food.

I can see from testimonies of people watching my channel how many of them have been able to get off different kinds of medications, how many have reversed their diabetes, got rid of chronic pain and illnesses," Sahil says. "Diet can be an effective treatment for a lot of things."
Wise words from a man who's successfully united heavy metal and healthy food.
Recipes from Sahil Makhija
---
Meal plan
DD+ MEMBERSHIP
This high-protein meal plan was developed in collaboration with Sahil Makhija, the heavy metal influencer from Mumbai, India, and the man behind Headbanger's Kitchen.
His recipes are inspired by cultures around the world, using simple methods and easy-to-find ingredients. This low-carb meal plan will keep you below 16 grams of net carbs on average each day.
Start losing weight today with this low-carb, high-protein meal plan by Sahil Makhija and Diet Doctor!
Sahil's cookbook
Check out Sahil's
Keto Life
cookbook.
Diet Doctor receives no payment or other considerations from the sale of Sahil's cookbooks or the publishing of this post.
More from Sahil
>> Headbanger's Kitchen
>> YouTube
>> Facebook
>> Instagram
>> Twitter
>> Demonstealer (if you're into heavy metal!)