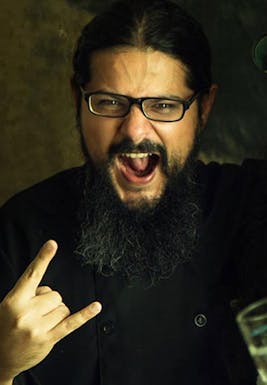 Sahil 'Demonstealer' Makhija is the master chef and heavy metal genius behind
Headbanger's Kitchen
, bringing you all the irresistible flavors of the Indian cuisine.
Sahil is the man behind Headbanger's Kitchen, a YouTube cooking channel that's keto all the way. Starting out as a cooking show that whipped up dishes inspired by heavy metal bands that were interviewed on the show to becoming one of the premier keto recipe channels, it's been a journey from sugar to sugar free. A passionate musician, Sahil dedicated his life to heavy metal music and making music with his main band Demonic Resurrection and various other side projects.
He's always loved good food and enjoyed cooking since a very young age. From wanting to be a chef as a kid and then finding his love for heavy metal and pursuing that, things have come full circle now with him returning to his food roots and whipping up delicious keto recipes on his channel.
This is where heavy metal and food unite.
More
Sahil Makhija interview: Low-carb and keto recipes from India
Recipes from Sahil Makhija
More about Sahil
>> Headbanger's Kitchen
>> YouTube
>> Facebook
>> Instagram
>> Twitter
>> Demonstealer (if you're into heavy metal!)