Why fat is your friend
1984 Fear of Fat →
2014 "Eat Butter"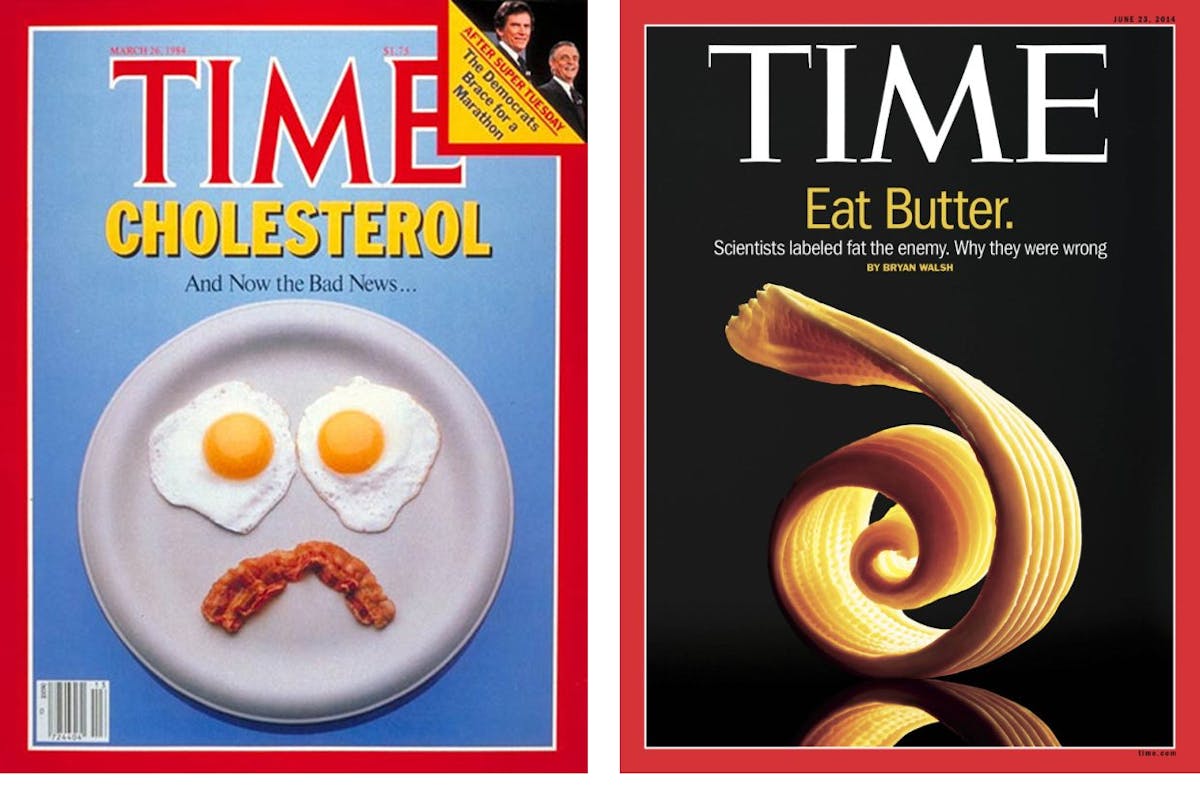 Chances are you've heard that a low-carb diet will kill you. This as a low-carb diet normally means we eat a higher proportion of fat instead.
This old idea is based on the belief that natural fat is not good for us. Even though humans have always been eating fat, somehow it's supposed to mess up our bodies, raising our cholesterol and giving us a heart attack.
The good news is that we now know that this idea was simply wrong. Check out these two covers of TIME magazine. The first one is from 1984 – the start of the intense fear of fat. Instead of natural food we got lots of low-fat products, loaded with added sugar and starch. This, not so coincidentally, marked the start of the modern obesity epidemic.
The second cover is more current, from 2014. It says "Eat butter" and the story is about how scientists are now realizing they were wrong to fear fat.1 What a difference 30 years make!
Just about everybody already knows that low-carb works for weight loss (and some other things). The good news is that we now also know it's safe… and likely even a very healthy way to eat.
Learn more about the obsolete fear of fat
Top videos about fat
Cholesterol
The unnecessary fear of fat and cholesterol started the epidemics of obesity and diabetes. Modern science shows what the mistake was.
We thought that all cholesterol was harmful. That a low cholesterol was always good, and that a high cholesterol was always bad. This was wrong. The truth is – as usual – more complicated.
More important than having a low cholesterol is to have a good cholesterol profile. To have a lot of the good protecting HDL-cholesterol, for example. And how do you get that? Well, the easiest way is to avoid sugar and flour, and instead eat enough fat to feel satisfied.

Avoiding fat and instead eating a lot of easily digestible carbohydrates often causes a dangerous cholesterol profile: small, nasty, dense LDL particles and a shortage of protective HDL-cholesterol. This is probably why low-fat foods seem to cause more heart disease.
Read the science showing how low-carb high-fat improves the cholesterol profile
Top videos about cholesterol
Improve this page
Do you have any suggestion – big or small – to improve this page?
Anything that you'd like added or changed?

Comment below or e-mail me at andreas@dietdoctor.com.