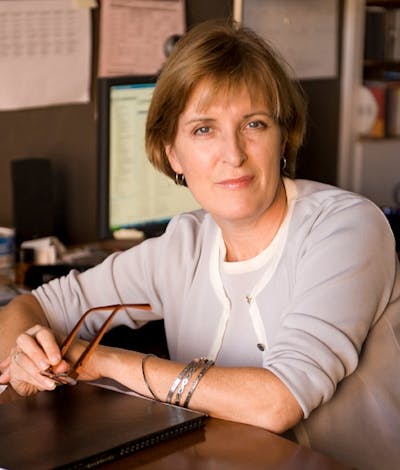 Anne Mullens is an award-winning Canadian journalist and author specializing in health and science writing. She has a Bachelor of Science degree from the University of Guelph and a Bachelor of Journalism degree from Carleton University.  During her more than 30 years as a leading science and health writer in Canada she won more than a dozen Canadian awards for her work, including Canadian Science Writer awards and National Magazine awards for Science Writing. Her articles have been included in anthologies of top non-fiction. She also has been a lead author or co-author on a number of articles and studies published in medical journals.
Anne's pre-diabetes diagnosis in 2015 — despite being of normal weight, exercising regularly and eating what she thought was a healthy diet — was a bewildering shock. It sent her searching the medical literature and the internet for solutions to stave off what she feared was inevitable type 2 diabetes. She discovered Diet Doctor, embraced the LCHF diet, lost 10 pounds, trimmed inches from her waist and returned her blood sugar to normal ranges. Her story about reversing pre-diabetes began appearing in Reader's Digest editions around the world in February 2017.
Her personal experience made Anne a passionate advocate for the health-improving impacts of LCHF. Before joining Diet Doctor, she coached family and friends in the diet, pitched international editors with new LCHF stories, and mades her own variations of LCHF recipes. Her tasty ketopita recipe adds caramelized onions, chia seeds and aged cheddar cheese to our Oopsie bread. She makes big batches and freezes it for easy lunchtime sandwiches.
Anne now works full-time with Team Diet Doctor to help spread the word about the health and science around LCHF, making low carb simple for a global audience.
In spring 2018, Anne also completed the Professional Training in Low Carbohydrate High Fat/ Ketogenic Nutrition & Treatment Online Training program, provided by the Noakes Foundation Nutrition Network.
Most popular guides
Articles
Potential conflicts of interest
Updated August 8, 2019.
Anne Mullens has a full-time contract agreement with DietDoctor.com to write and edit news stories, guides, features and other Diet Doctor content as needed. Like every coworker, she also gets the option to become a co-owner in the Diet Doctor company.
Mullens is the founder and president of Santé Communications Group, a Canadian health communications and media relations firm. While working for Diet Doctor, she has stepped away from her role at Santé to concentrate on helping Diet Doctor empower people everywhere to dramatically improve their health by making low carb simple.
Mullens had her own health transformed by switching to a low-carb diet.
More