For Mark, 50 pounds and digestive distress 'vanished'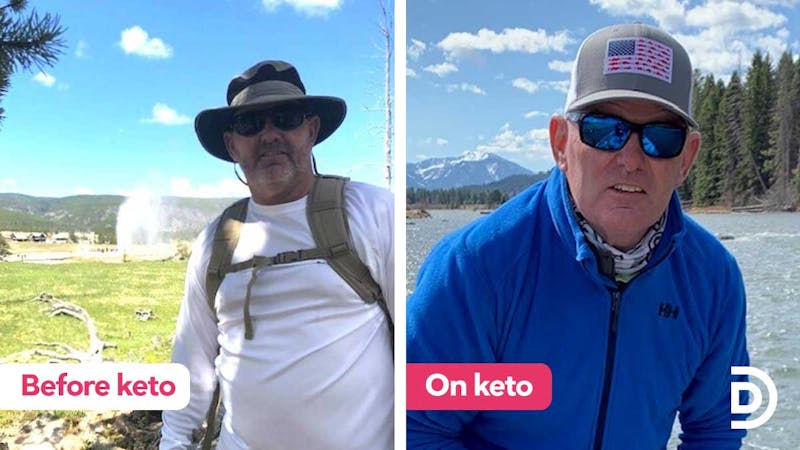 At age 57, Mark knew that at 5'11" (180 cm) and 254 pounds (115 kilos), he was technically obese. But his weight had never really interfered with his active, sporting life.
He knew, however, that it wasn't healthy.
So he started a ketogenic diet in August 2019 in hopes that he might lose a bit of weight.
Sure enough, he lost 50 pounds (23 kilos) within five months. But the diet did much more than that.
What he hadn't expected is that keto eating would completely eliminate his IBS. He had silently suffered from constant digestive upset, like cramping, diarrhea, and gas, for more than 30 years. Within 60 minutes of any meal, he would have to be near a restroom.
"Never in my wildest expectations would I have ever dreamed I'd be free of those digestive issues. I had resigned myself to that part of my life. That improvement is the most amazing to me," Mark says.
Mark's story has been lightly edited for length and clarity.
What's your name, age, and where do you live?
I'm Mark, age 59, I live in Texas, on the Upper Gulf of Mexico Coast.
How did you discover keto or low carb?
I had heard about the keto diet from friends but knew nothing about it. On August 8, 2019, my wife was going into hospital for a number of days and I had time on my hands as she recuperated.
So I did a Google search looking for keto diet recommendations. By the morning of August 9th, 2019, I feel like I had read everything on the Diet Doctor site and was ready to start.
Did you have any health or weight struggles before going low carb or keto?
Before I started my low-carb diet I was a functioning obese person. I was 5'11" (180 cm) and 254 pounds (115 kilos). That said, I had never felt that I struggled with weight issues because I felt I could do almost whatever physical tasks I wanted.
I exercised, hiked, and am a very active outdoorsman. But I knew I was an unhealthy weight and I didn't need a doctor to tell me that.
I was diagnosed with labile (widely fluctuating) hypertension in my early thirties. I have been prescribed blood pressure medication ever since.
As a former competitive athlete into my mid-twenties, I had multiple orthopedic/joint issues that were compounded by my excess weight.
But one of my most significant health issues was my digestive/gut health. Since my late twenties, I had lived with undiagnosed irritable bowel syndrome (IBS).
After any meal I consumed, within 60 minutes, I would have some kind of digestive distress like loose stools, cramps, gas, diarrhea. My IBS was so constant, I simply had to be near a restroom within an hour of most meals. For over 30 years it was my daily norm.
What were you eating before making this lifestyle change?
My pre-keto diet consisted of beef, chicken, and fish but lots and lots of starches and carbs: bread, potatoes (and more bread and potatoes!), pasta, beans, and other grains. I did eat a fair amount of green leafy vegetables as well as corn and squashes.
I was a weekly consumer of beer, about 4 to 6 pints a week.
When did you start low carb or keto?
I started a strict keto diet on August 9, 2019.
In what ways has your health improved?
In the first eight weeks, I lost 25 pounds (11 kilos) and by November 2019, I had lost 40 pounds (18 kilos). In all, since August 2019, I have maintained a weight loss of 50 pounds (23 kilos).
That weight loss is important, but honestly, it is secondary to all the other health benefits I have experienced.
The most significant improvement is in my IBS. As I began to shed some weight, I began to notice a gradual improvement in my gut health. No cramps, firmer stools, more regularity in my bowels.
But within six to eight weeks of strict adherence to the keto diet recommendations I found on Diet Doctor, my digestive problems had vanished!
After 30 years of daily issues, miraculously gone! Never in my wildest expectations, would I ever have dreamed I'd be free of those digestive issues. I had resigned myself to that part of my life. That improvement is the most amazing to me.
Next was improved energy and cognitive processes. I was sharper. I worked out more. My body was simply processing the fuel I was putting in it more effectively and efficiently. And I also saw a reduction in joint swelling and pain.
Although I am still on blood pressure medication, my dosages have been reduced and I now have my blood pressure under control. I have a healthy 132/65 BP with a resting heart rate of 64 bpm. I just completed a major medical physical and all of my tests came back well within acceptable ranges.
What does a typical day of eating and/or fasting look like for you now?
Fasting
I fast daily and have been using intermittent fasting since January 2020. I fast from 8 pm to 11 am daily. I no longer use any kind of carb counter, although I did when I started. I would recommend a carb tracker for those who seriously want to monitor their carb intake. I still try to consume less than 30 grams of net carbs daily.
Lunch
I have meat (sliced roast beef, turkey, or chicken), cheese and almonds, and water with lemon or a Diet Doctor recipe for one of the many egg casseroles. Bacon and avocado are regular items as well.
Dinner
I eat lots of the various keto casseroles found on Diet Doctor. The TexMex keto casserole is great; the zucchini lasagna is amazing; crustless keto skillet pizza is outstanding; and the bacon cheeseburger casserole is fantastic. Because we live on the gulf coast of Texas (and I fish A LOT), we eat fresh fish. We love fresh grilled trout with a butter lemon sauce with a heavy cream and mushroom reduction. We also eat a lot of beef, pork, and chicken with squash, zucchini, and green beans with salads.
What is so relevant are the foods that are now absent and missing from our old eating regimen: bread, potatoes, pasta, cookies, cakes, or sweets of any kind.
And I really want to stress that none of this was hard or restrictive. It felt really easy for me.
DD+ MEMBERSHIP
Have you made any mistakes on your journey (which you've learned from)?
Yes, I made several. Do not try to starve yourself. Your caloric and portion intake is important to understand and monitor. Don't eat too much or too little. Eat enough foods that work for your body's processes. As Diet Doctor says: "Eat when hungry; stop when full."
I went a little crazy when I saw the results of the first two to three months. I became one of those "fanatics." I told everyone about my experience and the benefits I found on Diet Doctor. I was a bit obnoxious with my testimonials. Try not to become "that guy."
The other thing I learned and wished I had read more about was the "keto flu." It was real and affected me for two to three days when I started. It goes away, but I was an ornery person for a couple of days and did not know why until a friend asked me if I had experienced the symptoms.
Do you think exercise is necessary for success on low carb?
Exercise definitely helped me during, and in the maintenance of, my weight-loss process. I chose to exercise routinely. However, I don't think it is necessary for everyone. I have seen similar results to mine in those who have not done a great deal of exercise.
What are your top three tips for people starting low carb?
START.
Simply start. Give it a specific period of time. But START. I started by following the Diet Doctor basics.
Get a buddy.
Find someone who can do the program with you, if possible. I started without my wife, but she has joined me since January 2020 and lost over 25 pounds (11 kilos) herself. If you cannot find a buddy, just do it by yourself anyway.
Set goals.
Don't beat yourself up when you fall off the diet. Just start right back in again. And, most importantly CELEBRATE achievements — not with carby food but with something else you find special.
I am so grateful to Diet Doctor for providing a site with such important information for people. For anyone who is struggling with weight and diet-based problems, it is where we can go to get great advice.
I followed the most basic information on Diet Doctor and it worked wonders.
I really hope anything I say here might assist someone else in achieving an improved health state. If I can do it, I know that others can, too.
---
Thanks for sharing your success story, Mark. We know your experiences, particularly your improvements in digestive symptoms, may help inspire others to give low-carb or keto eating a try.
~ Anne Mullens