'I use my keto experience to help my Arabic community'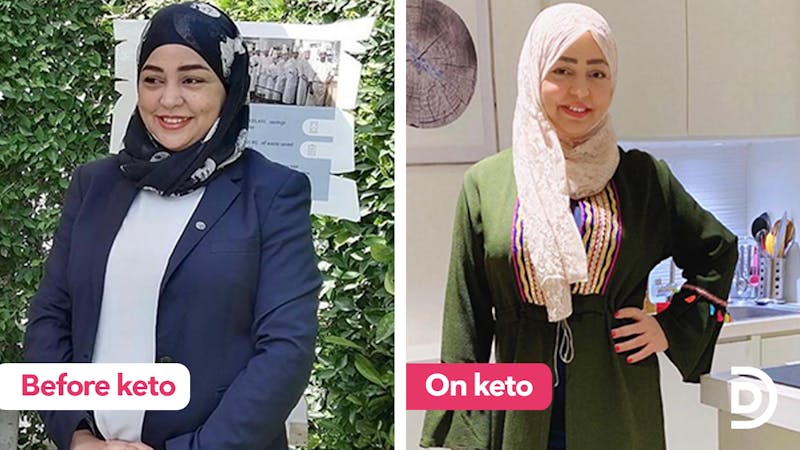 Dorsaf lost weight and got better energy, sleep, and skin quality after starting a keto diet. Now, she pays it forward by teaching her Arabic community about the health benefits of keto.
Way to go, Dorsaf!
In this interview, which has been edited for length and clarity, Dorsaf shares her journey in her own words.
What's your name, age, and where do you live?
My name is Dorsaf. I am 40 years old and from Tunisia, but I live in Abu Dhabi, United Arab Emirates.
How did you discover keto?
In 2018, I faced health issues associated with weight gain and insulin resistance. At the age of 38, I felt very old and sick all the time. I have celiac disease, and I haven't always had the energy to take care of my diet to avoid consequences from the disorder.
In the beginning of 2019, I heard about the ketogenic diet and immediately I started to learn more about it.
My journey has been successful, and surprisingly, it has taken me back to my original profession with nutrition. These days, I use my keto experience to help my Arabic community to learn about this way of eating, because there isn't as much information in Arabic as there is in English.
In what ways has your health improved?
My energy level has increased, I no longer have chronic anemia, my skin looks healthier, and I have a better immune function and sleep quality. I went from 181 pounds (82 kilos) to 146 pounds (66 kilos), and I went from a UK size 18 to 12.
What does a typical day of eating look like for you now?
I mostly focus on fresh, natural food. I avoid eating out and processed foods, even if their label says that they're keto friendly. These days, I eat two meals per day and follow a 16:8 intermittent fasting regimen.
Have you made any mistakes on your journey?
At first, I didn't focus properly on food quality, so that caused hair loss.
Do you think exercise is necessary for success?
I don't recommend exercising at the start of the low-carb journey. However, after our system becomes adapted, then exercising is beneficial to build muscles and strength. I learned to focus on HIIT activities rather than cardio because of its high efficiency.
What are your top three tips for people starting keto?
My top three tips for beginners are:
Don't start your journey with long fasts. Instead, let your body adapt to the new way of eating first.
Commit to eating a lot of leafy veggies every day.
Don't stress out about weighing yourself. It's better to focus on the journey and any size changes.
Keto information in Arabic
Here's a leaflet about the keto diet, in Arabic.
Comment
Congrats on your success Dorsaf! Thanks for sharing your story with us. I appreciate your top three tips — they are great advice for people getting started. Keep up the great work with you own journey and helping others!
Best,
/ Dr. Bret Scher
More success stories
Check out our most popular success stories below, or view all stories we've ever published here.