Johanna's PCOS improved with keto, and she has 'no plans to stop'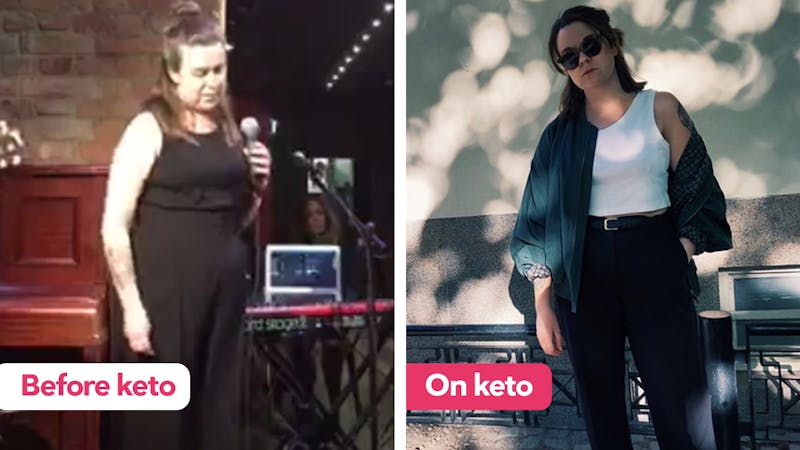 Can a keto diet help with polycystic ovary syndrome (PCOS)? Johanna, who has PCOS, has been eating keto for 11 months and she definitely thinks so.
Johanna, 25, from Sweden shares how making this dietary change nearly a year ago helped her to lose weight and improve her PCOS symptoms. Plus, she sheds light on the reasons why she'd recommend keto to anyone who wants to enjoy better health.
The interview has been lightly edited for length and clarity.
How would you describe your experience with keto so far?
It's been surprisingly good. I feel a lot more alert, less anxious, and way more productive overall! I have no plans to stop.
What has been the greatest benefit of keto?
The best part of my newfound lifestyle has been feeling happier and more energized.
About a year ago, I was diagnosed with PCOS — and oddly enough, this diagnosis felt like a relief.
For several years, I had gained a lot of weight, felt tired, and had problems with anxiety. I had tried other diets but never managed to stick with them in the long term.
After doing some research on PCOS, I found the motivation to give low carb a try. I wanted to improve my lifestyle and health – and going keto definitely did.
Low carb has greatly improved my PCOS. These days, I have less unwanted hair growth, less anxiety, and my sex drive has returned. My body and mind feel lighter in several ways.
Did you lose weight on keto?
Yes, I did! I've lost about 22 pounds (10 kilos). And instead of weighing myself, I measure different parts of my body and take photos to track my progress.
When I suddenly started to gain a lot of weight in 2018 and 2019, I didn't understand why. Although I didn't think that my eating habits were bad at the time, things started to make sense when I went low carb.
Would you recommend keto to other people?
Yes! I want everyone to experience what I did. It's terrible to feel anxious and tired all the time — and if you can fix the problem with diet, why wouldn't you?
What would be your advice for those just starting keto?
Get recipe inspiration from Diet Doctor, as well as, low-carb influencers on social media. Find ideas and inspiration on how to substitute high-carb foods like pasta, pizza, and rice — and don't be afraid to experiment!
What's the most difficult thing about keto?
It's definitely been eating out when there are no good low-carb options. When this happens, it just becomes easier to cheat. For me, it's especially hard when there's sushi or Indian food. That's when it becomes difficult to resist!
During the pandemic and quarantine, for example, I started having about four cheat meals a week. During those times, I'd order sushi and Indian food. After a few weeks, I got back on low carb and realized once again how much I don't like the feeling of overeating carbs. Whenever I do this, my stomach feels too full and heavy.
In addition to how much keto has helped my PCOS symptoms, avoiding this overly "full" feeling is something that motivates me to stay on track.
Comment
Congrats on your success, Johanna. We have written before about the beneficial effect of keto on PCOS, and you are living proof of that. Thanks for sharing your story and keep up the great work!
Best,
/ Dr. Bret Scher
Most popular success stories
All success stories
More
Top 8 reasons to adopt a low-carb diet for polycystic ovary syndrome
Keto
PCOS and fertility