Award for Diet Doctor's Adele Hite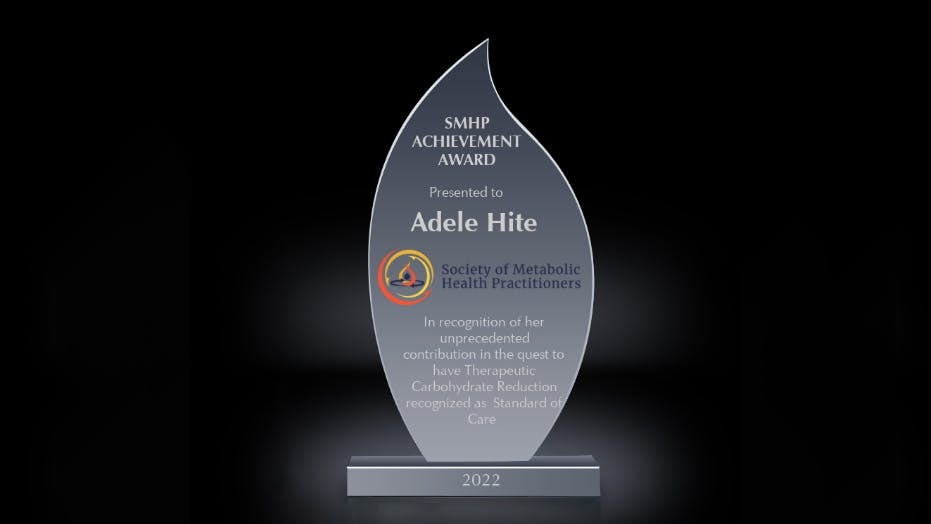 Diet Doctor's senior writer and dietitian, Adele Hite, PhD, MPH, RD, has received an award recognizing her "unprecedented contribution" to furthering the acceptance of low-carb nutrition by health professionals.
The award has been given by the Society of Metabolic Health Practitioners (SMHP), a group of about 400 global clinicians and researchers. The group works to improve metabolic health around the world through education, training, and support of evidence-based nutritional approaches, such as carb reduction.
"Adele has been a fearless and exemplary leader in establishing a standard of care for how therapeutic carbohydrate reduction is done in the clinical setting across specialties. We are so thankful for her many years of study and tireless effort to improve patient outcomes and quality of life," said Dr. Mark Cucuzzella, one of the directors of the SMHP.
The award recognizes how Hite led a global effort to create a general protocol to guide health care professionals in using therapeutic carbohydrate reduction to treat metabolic disease. The guidelines have now been translated into nine languages.
Hite, who has been working for Diet Doctor full-time since 2019, is a registered dietitian with a masters' degree in public health nutrition and a doctorate in rhetoric, communication, and digital media. She also has extensive graduate training in nutritional epidemiology.

In 2018, over less than eight months and while working on her PhD, Hite took the helm of the clinical guidelines process. She brought together clinicians to create a consensus, wrote the first draft, took edits and feedback, and brought the guidelines to publication — a process that others have called "miraculous."
Her work then seeded the creation of the SMHP as the professional community that ensures the guidelines are a living, relevant document that is regularly updated to align with emerging scientific evidence and reflects the current standard of care of knowledgeable practitioners.
"What Adele has done will change the world. She has given medical practitioners and health professionals the hope that they can help people with carb reduction and given them the safety of the consensus of a global community of other providers," said Doug Reynolds, president of the SMHP.
Hite was surprised but delighted by the recognition. "I'm pretty excited about it. Of all of my accomplishments — including my kids and my PhD — I think I may be most proud of the guidelines, because I think it's the one that's going to help the most people."

An adept communicator and precise writer, Hite is passionate about clear, accurate, and inclusive language. In a fascinating and thought-provoking article on the SMHP site, Hite explains why using the terms "carbohydrate restriction or reduction" is so important to increasing the uptake of low-carb diets as therapeutic options among health professionals.

Hite is very gratified that already the guidelines are having their intended effect.
"I get emails and messages from people telling me that they printed the whole thing up and took it to their doctor. They showed their doctor that [carb reduction] wasn't some made-up thing, but that real people and real physicians, all over the world, use this approach. And it's safe, and it's backed by evidence."
Diet Doctor founder and CEO Dr. Andreas Eenfeldt said: "Very few people know more about the science and practicalities of therapeutic carbohydrate reduction than Adele. Having her work with us for the past few years has been an honor, and this award is very well deserved."
You can read more about Adele's more than two decades as a leader in low-carb nutrition in her impressive bio here. Below her bio is a linked list of all her guides and articles she has written for Diet Doctor.
In 2020, she shared her personal journey using a low-carb, high-protein approach as a Diet Doctor success story. She began eating a low-carb, high-protein diet in 1999, as a way to lose the weight she'd gained from her third pregnancy. Not only did she lose 60 pounds (27 kilos), but she also reversed prediabetes and normalized her blood pressure.

In that success story, she also talked about how she loves working for Diet Doctor.
"Every day is another chance to give people all over the world the best information possible about how to improve their health — what could be more inspiring than that?"
Congratulations, Adele, for a well-deserved award.
---