"I feel the best I've felt for 25 years"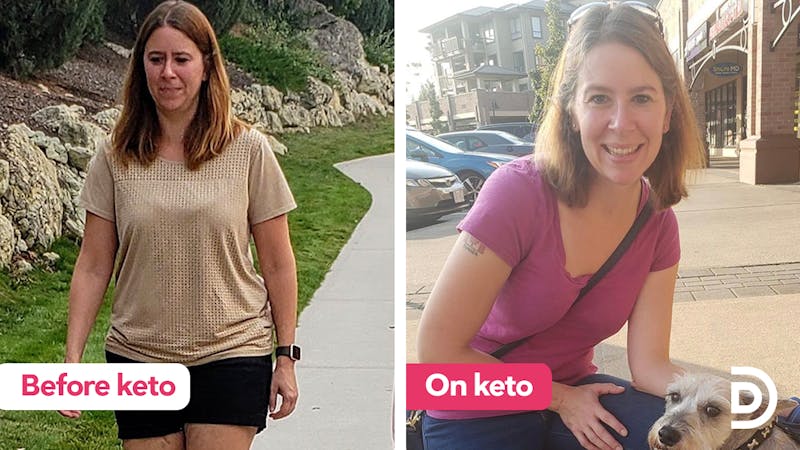 As a registered nurse, Dene always followed mainstream health advice to "eat less and move more", but never was able to shed any pounds for long.
"I felt quite depressed and felt like a failure. Here I was, a nurse, who was supposed to be able to help others with their health and I couldn't even help myself," she says.
But when she discovered the keto diet in 2019, all that changed.
The weight came off, and her health and energy improved.
"As a nurse, I can say that this is finally something that makes sense to me and I feel the best I have felt in 25 years."
Dene's story has been lightly edited for length and clarity.
What's your name, age, and where do you live?
My name is Dene, I am 40 years old, and I live in Vancouver, BC, Canada.
Tell us about your previous weight or health struggles
I had struggled with weight for most of my early adulthood. When I moved away from home at 19, I started gaining a lot of weight, mostly due to eating a standard American diet (SAD), as it was fast, cheap, and convenient. Not being able to have most of these foods growing up, I quickly became addicted to fast food, rarely cooking at home and eating out frequently.
When I was 25, I went to school and became a registered nurse. Recognizing that I was quite overweight and was not taking care of my own health, I started a low-fat diet and had some success. But after meeting my husband and having two babies, the weight came right back and it wouldn't budge! I tried the low-fat approach again with no success.
As a nurse, I was very good at following all of the recommended guidelines, as this is what we were taught to do to support our patients. I even followed the "eat less and move more" advice but still struggled.
Exercise was never something I was truly committed to, as I always felt tired and fatigued, but I knew I could restrict my calories and if that led to weight loss, that is what I would do. But every time I would restrict my calories, I would lose a few pounds and then gain them right back.
When low fat and calorie restriction failed, I tried a couple of other dietary approaches and had some success again with a modified low-carbohydrate diet that involved limiting carbs in the beginning but increasing them over a specified time period. Once the carbohydrate amount increased as per the program, the weight came right back.
I felt quite depressed and felt like a failure. Here I was, a nurse, who was supposed to be able to help others with their health and I couldn't even help myself.
That was my life — trying to diet but being unsuccessful — for most of the last 10 years.
How did you discover the low-carb diet?
In 2019 while working on my Master's degree in Nursing, another student group in my class presented on the use of the low-carb/keto diet for cancer treatment.
As part of their presentation, the group showed a trailer for the 2017 documentary 'The Magic Pill'. I was fascinated by the trailer, and that night, my husband and I watched the full documentary on Netflix. One week later I decided I would give keto a try.
I came across Diet Doctor in the summer of 2019, while trying to learn as much as I could about low-carb and ketogenic diets. I immediately loved the site, loved the resources and recipes, and found the information simple. Most importantly, all of the information that was presented made sense to me. It was so simple and so logical. At that point, I became a member.
I have been trying to learn and understand low-carbohydrate nutrition for nearly two years now, even going on to complete my final paper for my Master's degree in Nursing on this topic! I never tire of learning about low-carbohydrate nutrition, never tire of hearing stories from others, and never tire of sharing what I am learning.
Excitingly for me, in June 2021, I became a volunteer moderator of the Diet Doctor Facebook page. I absolutely love it. I love being able to talk with others about health improvement, recipes, reading others' success stories, learning from others, and sharing resources.
As a nurse, I can say that this is finally something that makes sense to me and I feel the best I have felt in 25 years. Just from eating real food — not commercially prepared low-fat items made in a factory.
This way of eating, and the support that Diet Doctor has provided, are the answers I had been looking for in all of my time struggling with weight.
How has your health improved since adopting low carb?
With low carb, I have lost 25 pounds (11 kilos) and have maintained it successfully for two years. Initially, I lost close to 30 pounds (13.5 kilos), but in that time have gained a few pounds back as muscle!
Prior to switching to low carb, I thought I had early onset arthritis as my joints would hurt, my knees creaked going up and down the stairs and my hips were always sore. Now, I no longer have any joint pain.
I used to get headaches frequently; I rarely have headaches now. I feel energized all of the time, my sleep has improved and I feel calm and confident.
Other things I have noticed is that I no longer have 'floaters' in my eyes. And I swear I have less gray hair than before, I haven't dyed it in almost a year. Plus, my skin no longer requires moisturizer, and I haven't been sick with a cold or flu in almost a year.
Now that I have my health back, what is most important to me now is that I have the energy to play with my kids, ride a bike, hike, spend time outdoors. Activities I never would have done before. I no longer feel tired and disengaged.
My kids have a happier mother!
What does a typical day of eating look like for you now?
Most days I eat two meals a day. Some days when we are busy with activities I only eat once and am always surprised at how easy it is to miss meals and still feel good. Occasionally, I will intentionally fast for 23 hours for the health benefits but this isn't often.
I follow the Diet Doctor meal plans as I am not a great cook. I have difficulty designing meals but I find when I use the meal plans my family enjoys the meals and I do not have to worry about following the right ratios of carbs, fat, and protein.
The meal plans also make shopping for the week easy. But most importantly, I love the food the meal planning app provides!
A typical day of eating looks like this:
Breakfast: coffee with heavy whipping cream
Lunch: Leftovers from a Diet Doctor dinner the night before. Coffee with heavy whipping cream
Mid-afternoon: coffee with heavy whipping cream
Dinner: recipe from a Diet Doctor meal plan
Evening: decaf coffee with heavy whipping cream. As you can see, I love my coffee!
What are your three favorite Diet Doctor recipes?
Keto lasagna
The best keto lasagna ever! This keto version is the ultimate comfort food.
---
Keto cheeseburger salad
This amazing salad is quick, inexpensive and filled with all of the best flavors of a juicy cheeseburger.
---
Keto Indian butter chicken
You'll love this fabulous keto butter chicken, served with oven-roasted cauliflower.
---
What are your three top tips for someone starting a low-carb or keto diet?
Be patient with yourself. Completely changing your way of eating takes time, practice, and commitment. We didn't end up unhealthy overnight. It will take time to return to health.
Don't fall for marketed keto products. Many contain ingredients that are processed and even though many people claim the sweeteners won't raise blood sugar, it doesn't mean it won't raise insulin levels and contribute to ongoing weight gain or stall your weight loss. The products are meant to do one thing only — keep you buying pre-packaged food!
Seek support. Like from the Diet Doctor Facebook group! Many people in your circle may not be supportive as they may not understand what it means to eat low carb. Rather than try to convince others, surround yourself with supportive friends, family, or community. Once others see the changes in you, they make take an interest in what you are doing.
---
Thanks so much for sharing your story, Dene. Diet Doctor loves having health professionals like you spread their personal experience about health improvements using carbohydrate restriction.
Your use of heavy cream in your coffee is clearly a treat that is working for you — and illustrates how we can all find the right mix of carbs, fat, and protein that makes this way of eating enjoyable, sustainable, and successful for each of us. Readers should be aware, however, that some people may experience weight loss stalls if they consume too much heavy cream.
Along with cream, other sources of excess fat or non-nutritious calories (such as cheese, nuts, and alcohol) are good to examine and reduce if you are not achieving desired weight loss results.
~ Anne Mullens
More success stories
Check out some of our recent success stories below, or view all stories we've ever published here.