With 280 pounds lost, Jane feels "better than ever"
Before she committed to the ketogenic diet in the spring of 2020, Jane was close to losing her mobility.
Diagnosed with Stage 3 lipedema, her legs were so swollen, heavy, and painful that she had to walk with two canes or a bariatric walker. Her weight had hit a high of 460 pounds (208 kilos).
She'd tried many diets before and always ended up gaining back everything she had lost and more. However, she'd heard through lipedema support groups that a ketogenic diet might help.
(Diet Doctor has written a guide about lipedema as well as a special article about women's experiences using the ketogenic diet to improve their weight and symptoms.)
When she hit rock bottom in February 2020, Jane decided that she, too, would commit to ketogenic eating.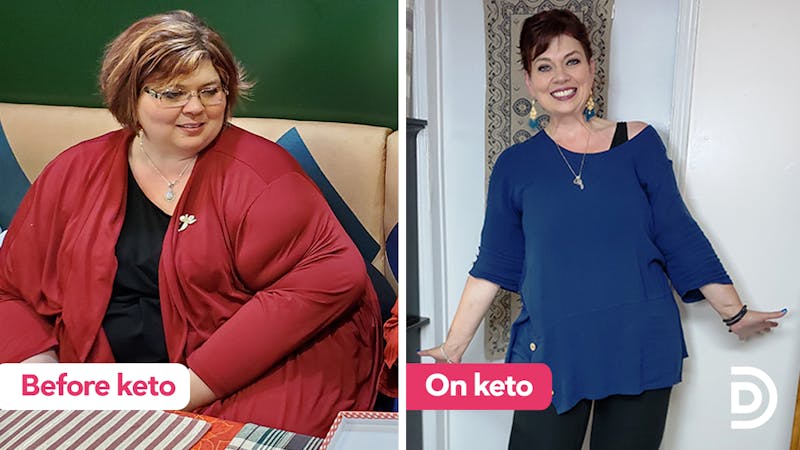 With the support of her doctors, an online community, and the guidance of a clinical nutritionist as her ketogenic coach, within 18 months of keto eating she had lost 250 pounds (113 kilos.)
"I feel truly alive for the first time in a long time. I have a new vitality that I never thought would be possible for me at the age of 49," Jane said in September 2021.
By December 2021, she had even more success and had lost a total 278 pounds (126 kilos). Jane's story has been lightly edited.
What's your name, age, and where do you live?
I'm Jane; I'm 49 and live in Toronto, Ontario, Canada.
How did you discover keto or low carb?
I'd been aware of keto/low carb diets for about a decade. I dabbled with reducing carbs but I found I could never stick with it and could not maintain the losses or the lifestyle — until this past year!
In the fall of 2019, I hit my highest recorded weight, about 460 pounds (208 kilos). I was at serious risk of losing my mobility and I was deteriorating physically and mentally. The years of emotional and binge-eating were finally catching up with me.
In recent years I had also learned I had lipedema, a female disorder of painful fat accumulation on the hips, legs, and upper arms, that's resistant to diet and exercise.
Through lipedema support groups (lipedema-simplified.org and lipedemaproject.org) I learned that the ketogenic diet might help, and I became active in their wonderful online community. I also asked my doctor for a referral to the Toronto Metabolic Clinic (founded by Dr. Jason Fung), for support in incorporating intermittent fasting into my new ketogenic journey.
In the spring of 2020, I committed to a higher protein, ketogenic diet with additional medical support. I invested in ketogenic and nutritional coaching from Australian Clinical Nutritionist Megan Pfeffer in June 2020. Diet Doctor recipes and educational information also became very important and inspiring to me.
I continue to do a clean, high protein ketogenic diet, accompanied by intermittent fasting.
And, I've now lost 280 pounds (127 kilos)! I feel better than ever, I've regained my full mobility, improved my overall health, and I'm comfortable in my body and enjoying life again free of pain.
Did you have any health or weight struggles before going low carb or keto?
Absolutely! I battled weight gain for more than three decades.
I was diagnosed with hypothyroidism at age 10 and started at that time on life-long thyroid medication.
I tried many different diets over the years with no sustainable success, always gaining back more than I lost.
I now firmly believe that I have an intolerance and addiction to sugar and carbs. Moderation does not work for me. As soon as I added back the carbs and the sugar, the weight would come back on, and the vicious cycle of non-stop cravings would return.
I noticed that once I hit my 40's, my lipedema was getting much worse. Like most women with lipedema, my waist and torso were always smaller, but my legs were becoming increasingly heavy, swollen, and painful, and this was seriously impacting my mobility. My body just ached from head to toe, and even standing for more than a minute would become excruciating.
I feel like I had spent most of the last 10 to 15 years in a "fog." On the outside, I was always cheery and personable to those around me, but on the inside, I was consumed by feelings of distress, depression, and utter helplessness.
Before I started the ketogenic diet, I became dependent on using two canes for simple walking, even at home, and then moved to a bariatric walker because of the pain in my knees and ankles; my legs were just so bulky and heavy. The fat pads around my knees had grown so much that my walking had become a forced and irregular waddle. I felt in utter despair.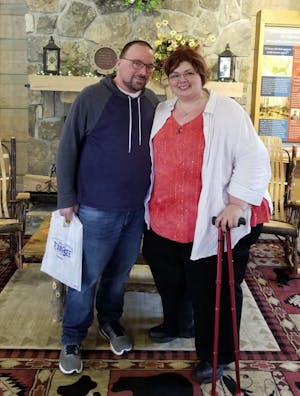 Jane has traded in her canes for trekking poles; her husband has lost 50 pounds
I hit my "worst" rock bottom in February 2020. I had to do something or I would soon be wheelchair-bound
I started making some small changes in the snacks I was eating at work. The COVID-19 lockdown in March 2020, when I started working from home, actually was a silver lining, helping me to block out distractions. I could finally focus on self-healing and my nutrition.
Now my life has completely turned around. My health and wellbeing have dramatically recovered and continue to improve from day to day in so many wonderful ways!
What were you eating before making this lifestyle change?
Everything. I soothed my emotions and filled my days with huge portions of fast food, sugary sweets, pop (regular and diet), chips, ice cream, and bread. It was a toxic mix of unhealthy fats/oils, sugar, sweeteners, and preservatives.
I was stuck in a vicious cycle in which the more I fed these addictive carb toxins into my body, the more I craved them – and no matter how much I ate, it was never enough to satisfy.
This food and drink served as a "comfort" and pleasure to me in those moments, but immediately afterward I had overwhelming discomfort and pain, bloating, sleepiness, and sluggishness. But soon, I'd seek out "comfort" again.
Now I can't believe all the terrible food I ate, (and their astonishing carb counts). No wonder my whole body felt like it was on "fire" (with inflammation). I was swollen, achy, and extremely unhappy.
What does a typical day of eating and/or fasting look like for you now?
I now enjoy two delicious and satiating "clean" ketogenic meals each day, with no snacking in-between. I eat high quality protein like meat, fish, eggs, cheese, healthy fats, and plenty of above-ground vegetables.
On a typical day, I skip breakfast but have some good quality black coffee that I sip throughout the morning. I also enjoy green and herbal teas (with no sugar or additives), but my main "go-to" drinks are water and coffee.
If I feel a twinge of hunger (very rare now), I'll dissolve a small chunk of sea salt or Himalayan pink salt on my tongue (like a Tic Tac!) — a tip I learned from others at Lipedema Simplified. The hunger sensation disappears and I keep my electrolytes up while fasting.
My fasting routine is generally 18:6 or 16:8, with the occasional OMAD (one-meal-a-day) or extended fast (36 to 48 hours) thrown in just to shake things up!
By the time 12:30 or 1 pm rolls around, I have my first meal. One day I might scramble three eggs with butter, fresh chives, and flavorful cheese (and maybe some low carb veggies or seasonings). I will have that with four strips of bacon, maybe three cherry tomatoes, salt/pepper, and enjoy a coffee with cream at this time. I'll have three Brazil nuts daily for the selenium.
I'll finish eating/drinking within that hour and only have water, tea, and black coffee until my next and final meal, most often between 6 and 8 pm.
Dinner will consist of another high protein item, most often chicken or beef, occasionally fish, along with a healthy serving of low carb veggies with butter, some form of cheese and other healthy fats, salt/pepper, and seasonings.
My routine is focused on meals with high protein, moderate/high, healthy fat, and low carb. I have no sugar or sweeteners. I stick to a max of 20 carbs/day, which has enabled me to burn off so much of my excess body fat.
I no longer think of food as a comfort or an escape. I think of it as precious fuel for my body and mind and make sure I am only choosing high-quality fuel from a rich variety of protein sources, healthy fats, and a wide variety of lower-glycemic vegetables.
My husband joined me in my keto way of life during Christmas 2020! He's now lost more than 50 pounds.
Occasionally, we'll have take-out food like dry-rub or salt-and-pepper chicken wings, Greek souvlaki (no rice or potatoes), and salad.
I'm amazed at how, once I became fat-adapted and detoxed from the refined sugar and other inflammatory foods, my cravings for all those things disappeared and have never come back!
Now I eat really solid, satisfying meals and once I'm done, I'm done until the next meal. My body is satisfied, and my mind is calm.
While I lost a lot of weight in the past, this feels very different now – it is just life, and I feel like I'm not even "trying" or sacrificing in the least.
In what ways has your health improved?
In so many ways!
Losing 250 pounds (113 kilos) has resolved my mobility problems and erased my joint and leg pain. I can walk again, strong and confidently without the need for canes or a walker! [By December 2021, Jane informed Diet Doctor she had lost a total of 278 pounds (126 kilos).] I can now ride a stationary bicycle and this summer enjoyed riding a bicycle outside for the first time in years. I also kayaked for the first time in two decades! I have recently added yoga, Pilates, and strength training. I have also rediscovered my passion for hiking, and I love to say that I have traded in my two canes for trekking poles!
I am excited now about other physical adventures. My body feels motivated to move now, and I want to take it places.
I now feel in the best health of my life. My blood sugar is normal, my blood pressure is normal. I have healthy cholesterol levels. My inflammation is gone, and my thyroid medication dose has been reduced twice.
I now sleep very well at night and awaken well-rested and refreshed, and am almost to the point of no longer being dependent on the use of a CPAP machine for sleep apnea.
I am especially proud that I was able to reduce my HbA1c levels from borderline type 2 diabetes to now in normal range (high 4's) – I am not even pre-diabetic anymore!
My asthma is well-controlled and I am no longer out of breath on the slightest exertion. My brain fog is gone. I feel an overall sense of calm and clarity and boundless energy. I was able to eliminate my antidepressant medication months ago, too, because my doctor and I felt it was no longer needed.
Have you learned from any mistakes in your journey?
Yes, there have been lots of lessons, but three that others may learn from are:
I can't do moderation.
Several of the weight loss programs of my past had the philosophy "all things in moderation." Now I know this simply does not work for me. As a carb and sugar addict, my cravings were constantly being triggered by "moderate" carbs, and I wasn't making the connection. I now understand the physiological and psychological reasons why. Sugar and excess, poor-quality carbs are non-negotiable now. If I want to lose weight, feel good, and truly feel healthy in mind, spirit, and body, I MUST eat "clean." There is no such thing as "cheat days" for me!
I must read labels carefully.
Just because a product says "keto," it may not be the best choice for me. I rely mostly on whole foods and homemade keto meals now. I carefully read the labels of any processed items to ensure they do not contain any of the oils, sweeteners, or inflammatory ingredients that I have successfully eliminated from my diet, even if the product is otherwise low carb or keto.
I learned to love cooking!
I used to despise cooking because I found it too painful and cumbersome, so most often would default to take-out (in unhealthy quantities!). It feels like another miracle, but learning how to cook delicious keto meals from scratch helped transform my relationship to food. Now I love to cook, especially discovering and using keto-friendly Diet Doctor recipes.
Favorite DD recipes include: (but not limited to!)
Do you think exercise is necessary for success on low carb?
I think exercise is necessary for overall good health and wellness, but you can still experience incredible success on low carb even with minimal physical activity. I am starting to implement a regular exercise routine into my life now that I feel so much better and have lost so much weight.
In hindsight, I wish I would have incorporated some small routine of strength and cardio right from the start, but at 460 pounds I was also dealing with so many aches and pains and diminishing mobility that exercising was just too distressing.
I knew there would come a time, though, that my body would feel ready again to move freely without pain and restriction, so I just listened to it and took things gently (e.g., chair exercises). When it felt safe enough to exercise is when I began – little by little.
What are your top three tips for people starting low carb?
Be patient with the process – start slowly, only making a few changes at a time. This worked for me, just making a few changes from week to week and getting used to them, so I didn't feel too overwhelmed and give in to old, self-destructive eating habits.
Keep your salt intake up and hydrate I only use Redmond real salt or Himalayan pink salt – be mindful of your labels when using iodized table salt. Realize that some salt brands contain dextrose and other additives?
Learn to make more of your own keto meals. Use the highest-quality natural ingredients you can afford rather than buying processed keto snacks or meals. Some keto products helped serve as a "bridge" for me at the beginning to get me used to eating lower carb, but I eventually traded most in for homemade or whole-food keto choices.
Final thoughts?
I feel truly alive for the first time in a long time. I have a new vitality that I never thought would be possible for me at the age of 49, all thanks to committing to a clean, ketogenic lifestyle along with intermittent fasting. I feel incredible now and am looking forward to living FIT at 50!
Follow Jane and her journey:
Website/blog
Instagram
Twitter
YouTube Channel
---
What an amazing and inspiring story, Jane! Your success with keto and your renewed vitality for life is so encouraging. Congratulations.
~Anne Mullens