"Keto is the only diet I've ever been excited to do"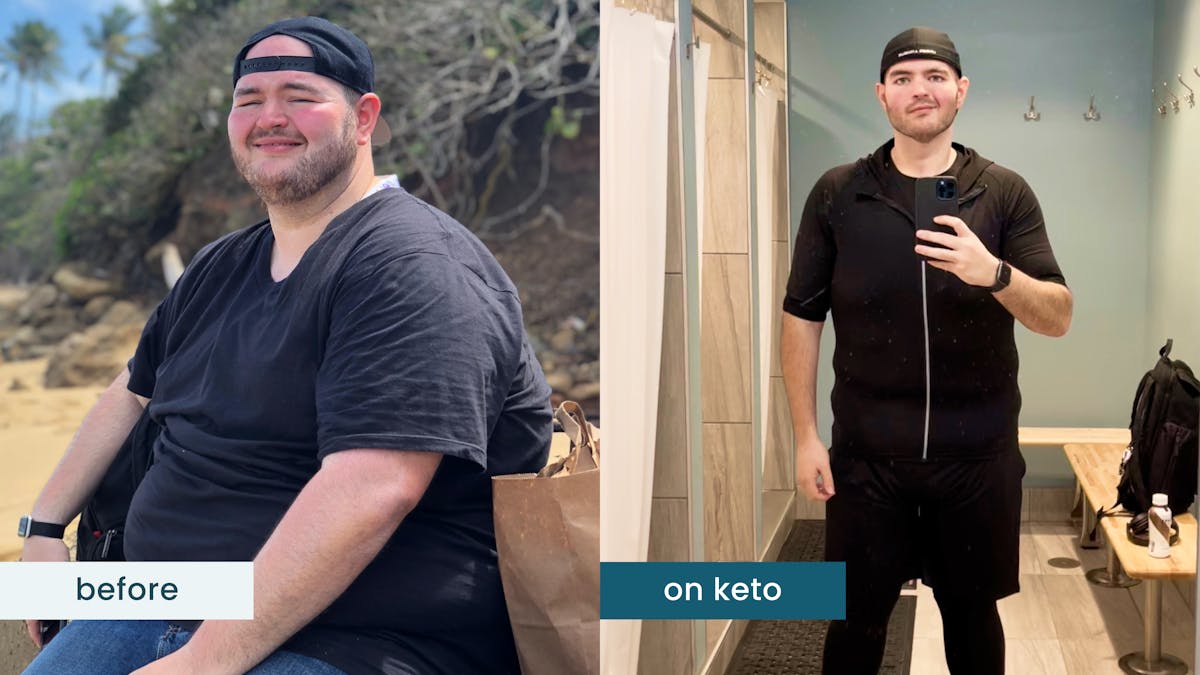 Ten years ago, Ken had gastric sleeve surgery in the hope that he would lose weight. At age 24, he weighed 525 pounds (238 kilos).
At first he lost "a ton of weight," but within two years he had gained a lot of it back. He felt hopeless and helpless.
Then, in 2018, a friend's positive experience with the keto diet, plus the growing number of other people he saw doing keto with success, intrigued him.
"It didn't look like the type of food you'd eat to lose weight," Ken says. "Keto is the only diet I've ever been excited to try to do."
Since starting keto, he's lost 170 pounds (77 kilos) from his starting weight of almost 400 pounds, and has run in three 5k races.
Ken's story has been lightly edited for length and clarity.
---
What is your name, age and where do you live?
I'm Ken Cadieux, age 34, and I live in Natick, Massachusetts
---
How did you discover keto or low carb?
My best friend, Grace, started posting on Instagram about her doing keto. The food at first glance didn't look like the type of food you'd eat to lose weight.
I started looking more into it and started seeing so many people who'd achieved tremendous results.
So keto is the only diet I've ever been excited to try to do.
---
Did you have any health or weight struggles before going low carb or keto?
Yes. 10 years ago, I weighed 525 pounds (238 kilos).
I went through a weight loss surgery program. I got a gastric sleeve operation. I lost a ton of weight, but two years later, I had gained most of the weight back.
After gaining weight back after surgery, I had very little hope that I would ever get my weight under control.
---
What were you eating before making this lifestyle change?
Redbull, candy, fast food, instant noodles, gas station food, pizza, ice cream.
---
When did you start low carb or keto?
In April 2018.
---
In what ways has your health improved?
I'm down 170 pounds (77 kilos).
Unlike the last time I lost weight, I feel more confident. I feel more comfortable exercising in public. I now run 5k races. That may not seem like much, but from where I started it is miles and miles away!
---
What does a typical day of eating and/or fasting look like for you now?
When I wake up, I mix coconut oil with my coffee. Then I go for a walk followed by a run.
Breakfast: I eat eggs, sausage, and a protein shake.
Lunch: I'll typically eat something like two burger patties with Swiss cheese and bacon. Side of pickles is a must!
Dinner: Is a bit tricky because I have a partner who doesn't do keto. So I'll normally eat the parts of the dinner that are keto neutral and have something keto-related for a snack later on.
DD+ MEMBERSHIP
Have you learned from any mistakes on your journey?
In the beginning, I thought that you could do keto as a supplementary way of eating, like mixed in with a regular diet.
I thought anything fried was keto. For the first two weeks, I ate mozzarella sticks and wondered why I wasn't losing weight. I thought, like many, that keto meant you ate bacon for every meal. It took me months to learn about macros, which was so important to get things in a predictable flow.
Now, with two friends who are also losing weight, I have a podcast, "The Weighting Room," where we talk about our progress, our challenges, and the lessons we are learning.
---
Do you think exercise is necessary for success on low carb?
I think for people with desk jobs it's a must. I was losing weight just by eating keto, but I weighed almost 400 pounds (181 kilos) when I started, so even eating slightly better moved the needle.
After I lost the first 20 pounds, I started noticing a slowing down of my progress. So I started walking in my local mall. Spending so much time eating better really helped to justify spending time exercising, too.
What are your top three tips for people starting low carb?
Audit what you're eating.
Replace the food you need to eliminate first. And try to restock with only healthy food.
Set a goal so insane that if you heard your friend was doing it, you would get all choked up and emotional. For me that was running a 5k race.
---
How have you used Diet Doctor to help your progress?
You eat with your eyes first. Diet Doctor has this great talent for making foods look so appetizing. They make things I would never try look like something I could not live without.
For example, Diet Doctor opened my eyes to chocolate almond raspberry cups that you can freeze and enjoy and not worry about messing with your ketosis.
When I was actively cutting weight, this recipe for quiche was my go-to breakfast. It helps so much to have cornerstone recipes you can look forward to and count on.
Eventually, you'll have a whole new set of recipes and, with a little effort, a whole new life!
---
Final thoughts or takeaways?
Looking back, I realize how important it was to find a diet plan that I could comfortably do.
I learned that diets don't have to be strict if you enjoy the food and look forward to the progress you gain through them.
I'm grateful I found keto because it made me look closer at the amount of food I was consuming as well as its nutrition.
I've learned that for me, a craving for sugar can be a sugar-coated way of saying sugar addiction. Once I understood the hold that sugar had on me, I understood that my body makes its discomfort known when it's hooked on sugar and I'm making an effort to cut sugar out.
It made my resolve stronger to limit, if not eliminate, sugar as a whole. I stopped beating myself up so much when I found myself in situations where I wanted to get off keto and go crazy.
Understanding that chemical dependence helped me look at my addiction with care, which really helped me go far.
But remember, this stuff isn't easy. You have your routine, your programming, your comfort foods, and your bad days.
All of those barriers are real and aren't always easy to climb over. But with the right plan, a little effort, and a few good recipes, you can go far.
I just ran my third 5k race. I wish I could say they're getting easier but that's not the point. I'm starting to wrap my head around running a half marathon. I'm scared but also very excited.
I would say to anyone looking to make a change in their diet, take a look at keto. If you like barbecue meats, interesting takes on salads, avocados, and the occasional bacon, it really could be a game-changer for you, like it was for me.
---
Ken, your story will give hope to many who, like you, had bariatric surgery but were unable to keep the weight off. Your understanding of your sugar cravings, and how to cope with them, will serve you in good stead going forward. Good luck with your races! Thanks for sharing your story.
~Anne Mullens
---