Get into healthy habits with our new app feature: Daily Routine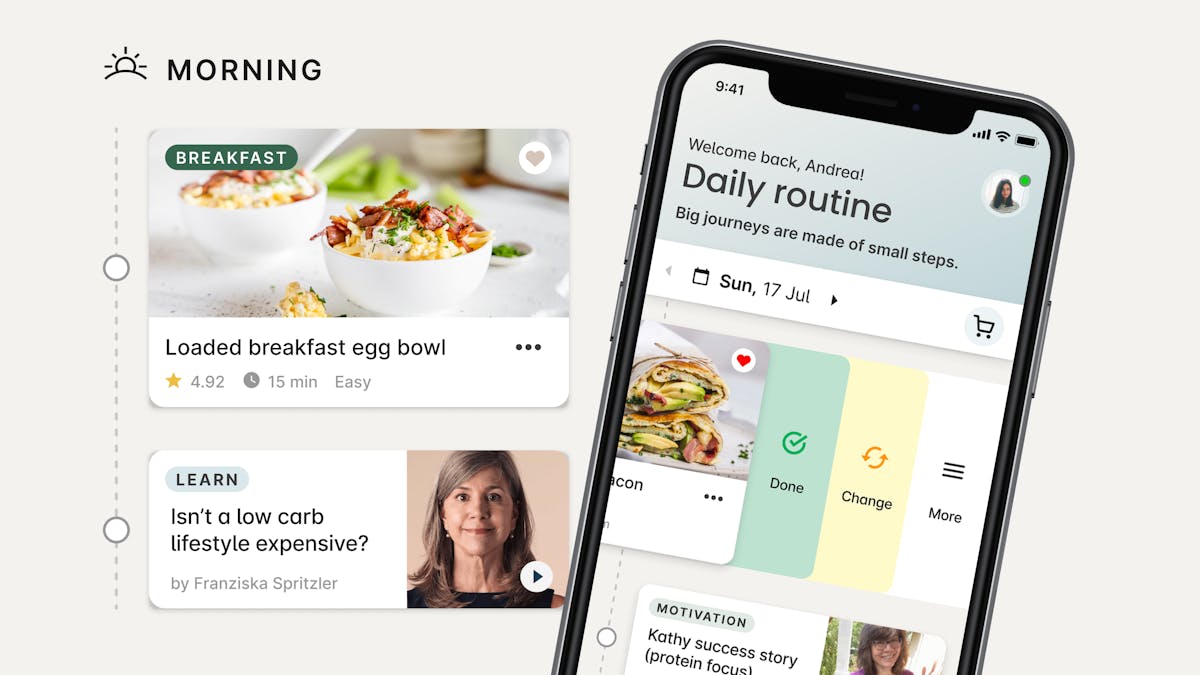 Big journeys are made of small steps. And now, in the Diet Doctor app, we help you take daily positive steps with our new "Daily Routine" feature.
Your new Home tab will prompt you with tips, personalized recipes, helpful bite-sized videos, and a place to post reflections every day. After all, progress comes from establishing daily habits towards a goal, not quick one-and-done changes.
"We are really excited to announce the addition of the Daily Routine to the app for all users," said Dr. Andreas Eenfeldt, Founder and CEO of Diet Doctor.
"We have been beta testing it for the past month, with good results. We think all our app users will really enjoy this new feature."
The first time you open the app, we will ask some questions to get to know you better. By providing us with your food preferences and goals, we will be able to personalize the app to you.
Then you'll be guided and encouraged, step by step, to take small positive actions every day. Small steps lead to big results! The first week includes easy-to-understand tips of the day that show demos for the most commonly used app features, such as how to favorite recipes, create shopping lists, adjust serving sizes, and change meals.
The Daily Routine integrates a meal plan personalized to your preferences. Or, you can choose to activate a new or existing meal plan that you'll then see woven into your daily routine. You can also change or skip individual recipes.
At the end of each day, you'll be prompted to reflect on what went well that day, and what you might do better tomorrow. Setting intentions is a great way to keep focused on your goals and actions. Even if you have a bad day, you can start fresh at any moment. Just keep going!
If you miss checking the app for a day or two, you can go back and review the content with the calendar at the top of the routine.
Take a step in the right direction: Download the Diet Doctor app from the Android or iPhone app stores to get started with the Daily Routine today!
Download the app
Get the full experience
in the app today.
---