UK chef shares her low-carb recipes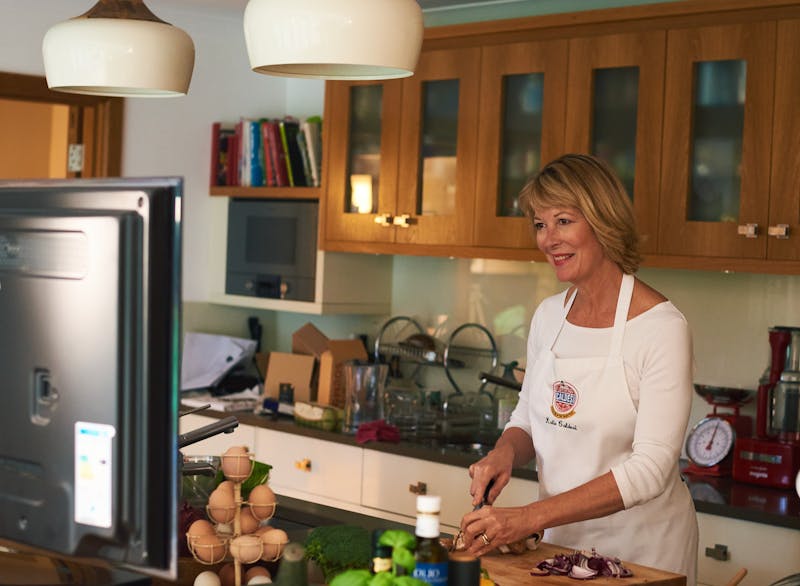 Diet Doctor is excited to announce a new recipe collaboration with
Katie Caldesi
, a popular UK chef, restaurateur, author, and cooking teacher.
She is sharing nine of her simple but tasty recipes from her latest book The 30-minute Diabetes Cookbook: Eat to beat diabetes with 100 easy low-carb recipes.
"Our recipe testers all loved Katie's fresh and simple recipes. She takes beloved classics and makes them low carb and also creates brand-new taste experiences," says Jill Wallentin, Diet Doctor's Head of Recipes.
The nine new recipes span breakfast, lunch, brunch, and dinner ideas.
How about Mushroom Rarebit? Caldesi has an inspired take on the UK pub staple of Welsh rarebit. Instead of the traditional flour-based cheese sauce served on toast, Caldesi cradles a low-carb cheese sauce in a grilled portobello mushroom and tops it with a poached egg. With only 3.8 grams of net carbs, 22 grams of protein, and 20 grams of fat, it's great for any meal.
You don't have to be vegetarian to love her Grilled Paneer & Broccoli Traybake. The one-dish meal folds bite-sized pieces of the Indian cheese with broccoli, tomatoes, and onion into a Greek-yogurt mixture flavored with Indian spices. It's then grilled for about 10 minutes. Fast. Simple. Different. Delicious. And it's got 30 grams of protein per serving.
"Protein is a very important part of every meal for satiety as well as nutrition, so I wanted to make sure all the meals, especially the vegetarian ones, contained healthy amounts of it," Caldesi said.
Other dishes include a spicy green omelet, a low-carb take on steak and chips, and a meaty pilaf perfect for a midweek dinner. The links to all nine recipes are below.
"Many of the recipes are multi-purpose, or great for batch cooking. You can cook them once, store them in the fridge, and use them for different meals throughout the week," Caldesi says.
The Caldesi's have their own inspiring story about adopting a low-carb diet. Up until 2011, Katie and Giancarlo Caldesi were best known in the UK for their two Italian restaurants, their cooking schools, a popular TV cooking show, and their best-selling cookbooks.
But Giancarlo had been feeling poorly for a number of years. He had gained considerable weight, was constantly thirsty, and always tired. He thought that becoming heavier, tired, and sluggish was just a part of becoming middle-aged. But it wasn't: it was increasing metabolic syndrome linked to high-carb eating.
His diagnosis of type 2 diabetes in 2011 came as a shock, but it set the couple off on a whole new cooking adventure. They explored ways to make classic dishes low-carb, invented new delicious recipes, and adopted the low-carb way of life for themselves and their two sons.
Giancarlo lost 50 pounds (23 kilos), put his diabetes into remission, and restored his health and vigor. Katie lost 12 pounds (5.5 kilos) and improved her health, particularly her IBS. While they still run their Italian restaurants and serve clients pasta and other higher-carb dishes, they always make sure to have plenty of low-carb choices on the menu, too.
"We personally eat low-carb about 95% of the time. If we can do it with all the high carb temptations in our restaurants, then so can you," Caldesi says.
Their first low-carb cookbook, The Diabetes Weight Loss Cookbook, was an Amazon bestseller. It explores the science behind the diet and features contributions from the 'Low Carb GP' Dr. David Unwin and nutritionist Jenny Phillips. It is full of recipes that Katie and Giancarlo developed along their journey into low-carb eating.
Katie went on to write three more low-carb cookbooks, The Reverse Your Diabetes Cookbook, The Caldesi Low-carb Christmas, and The 30-Minute Diabetes Cookbook. All her books feature medical and nutritional contributions from Unwin and Phillips. Her latest book The Low Carb Weight Loss Cookbook was released in spring 2022.
In December 2020 we featured her keto sausage roles and her festive yule log from her collection of Christmas recipes, which were very popular with Diet Doctor visitors.
"We know these nine new recipes are going to be very popular too," said Wallentin.
To learn more about Katie and Giancarlo's restaurants and cooking schools visit their site Caldesi.com.
To order Katie's cookbook, The 30-Minute Diabetes Cookbook, click here. 1.
---
Katie's new recipes
Diet Doctor receives no payment or other considerations from the sale of Katie's cookbooks or the publishing of this post. ↩