Remembering Dr. Sarah Hallberg, a global low carb hero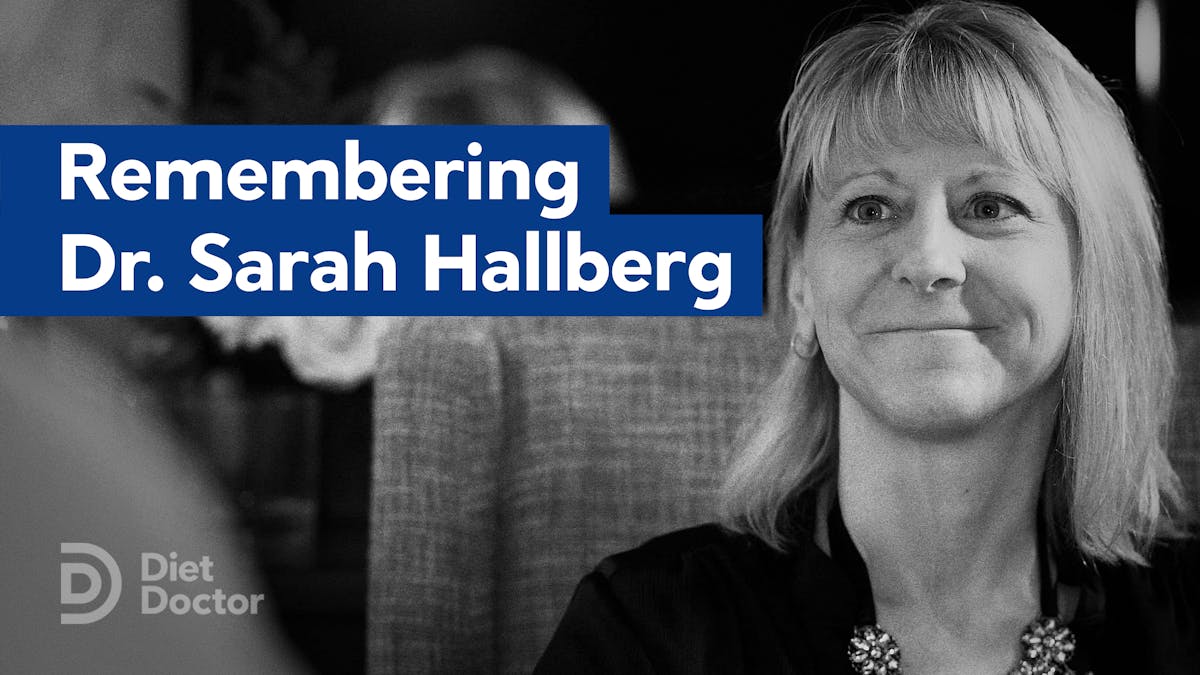 The low carb world, including all of us at Diet Doctor, is mourning the passing of Dr. Sarah Hallberg. Dr. Hallberg was a tireless low carb champion who improved countless lives with her advocacy and research around the reversal of type 2 diabetes with carbohydrate restriction.
Dr. Hallberg, a non-smoker, has died of metastatic lung cancer. She was medical director of Virta Health and medical director and founder of the medical weight loss program at Indiana University in Lafayette, Indiana. She leaves her husband and three children and many mourning colleagues and admirers.
"Sarah Hallberg was a true hero for me and so many others," said Dr. Andreas Eenfeldt, CEO and founder of Diet Doctor. "It's such a loss — for her family, her friends, and for the world."
Dr. Bret Scher, Medical Director of Diet Doctor, has created a tribute video in her memory, and we have a dedicated page with all of our videos with Sarah.
"We can't begin to do justice to all that Sarah meant to us as individuals, as patients, and as colleagues," said Dr. Scher. "She will be forever missed, but her mission for patient advocacy will live on in all of us. She has touched and inspired so many lives and we owe it to her, and to ourselves, to continue her mission. We grieve for her loss and for her friends and family."
Dr. Hallberg first burst onto the low carb scene with a 2015 TEDx Talk: Reversing type 2 diabetes starts with ignoring the guidelines. The video advocated using a low carb diet — eating minimally processed whole foods like eggs, meat, and vegetables with butter or cheese — to improve blood sugar and reverse diabetes symptoms.

The video went viral and has now had more than 8.6 million views. As news of her passing spread, hundreds of viewers posted on the site saying how her advice had saved their lives.
Dr. Hallberg has been featured in many Diet Doctor articles and videos, and was an early guest on the Diet Doctor podcast.
She was the subject of an in-depth Diet Doctor profile in January 2018, where she described the many surprising "pivots" in her life journey.
She started out earning her first degree in exercise physiology. Her frustration with a cardiologist who ignored her advice in a cardiac rehab program convinced her that she had to go to medical school to be heard.
As a young doctor, she was asked to start a weight loss program at Indiana University, where she found that getting her patients to restrict carbs led to the most dramatic health and weight improvements. Once again, not feeling heard, she did her TEDx Talk and challenged the medical establishment over the (inadequate) standard medical guidelines around type 2 diabetes care.
The refusal of the medical establishment to adopt a low carb diet as a recommended therapy for diabetes astonished and angered her.
"Why was [low carb] not what everyone was doing? Why was this not commonplace?" she said in the profile. "We are having such an impact on all these people's lives. It was infuriating. So I went from being a clinician to being a researcher."
She joined Virta Health as medical director and became principal investigator for the online company's 5-year clinical trial of the low carb diet, co-authoring more than a dozen research articles.
 "She has spoken to congressional members, CEOs, physicians, and nearly every influential group you can think of to advocate on behalf of the patient. She literally rocked the world of diabetes care!" said Virta in a post in her memory.
In May 2020, in a podcast with Dr. Peter Attia, she described how since 2017 she had been living with metastatic lung cancer. One day in the summer of 2017, out of the blue, she'd suddenly lost the ability to speak. Rushed to hospital with a suspected stroke, she was found instead to have a large brain tumor and multiple tumors in her lungs. Given only months to live, she believed that she had been able to live well, and much longer than expected, due to her adherence to a low carb diet.
"Sarah has been open about her condition," said the Virta article. "In a 2020 piece she explained what it was like to live with stage IV lung cancer during a pandemic, despite having never smoked and being only in her 40s. Given the grim prognosis several years ago, it's remarkable that she lived until today."
Author and journalist Nina Teicholz, who worked with Dr. Hallberg at the Nutrition Coalition, set up a GoFundMe page to honor Dr. Hallberg's legacy. The fund will be used to establish a non-profit organization to educate healthcare professionals and the general public "about the very real possibility of reversing a diagnosis of type 2 diabetes." 
Rest in peace, Sarah. You will be greatly missed, but never forgotten.
---