"It's never too late to improve your health"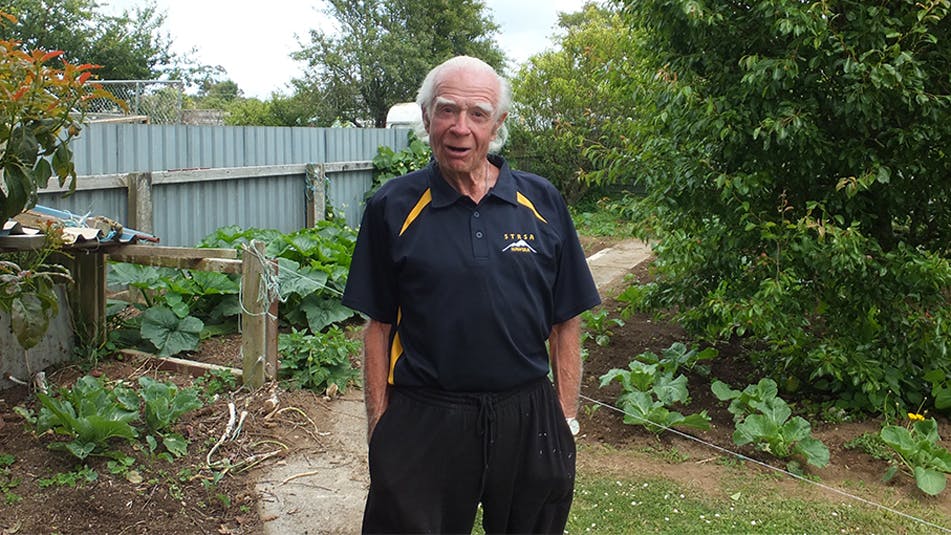 At 87 years of age, Arthur Hazeldine has a message for all who will listen: Change your diet to cut out sugary, processed, or starchy carbs. It is never too late to get healthier!
"Don't wait. Do it now!" says Arthur, who can't believe how close he came to death in 2011 from a heart attack and a subsequent wound infection, after triple bypass surgery, that kept him in the hospital for almost five months.
Back then, before his health crisis, he thought he was healthy for an active 76-year-old man. Sure, his weight had gone up year after year. He just let out his belt buckle a notch. His blood sugar was also climbing into the diabetic range. He thought it was all part of aging.
He kept eating his favorite sugary carbs like homemade donuts, jelly beans by the handful, and whole packets of chocolate cookies in one sitting.
"I didn't think it mattered. I get goosebumps now thinking how dangerous my diet actually was," recalls Arthur.
His brush with death spurred him to research ways to improve his health. He found the low-carb diet and discovered the early work of Diet Doctor founder Dr. Andreas Eenfeldt, MD. We first ran Arthur's inspiring story of transformation on the Diet Doctor site in 2016.
Since then, he's kept in touch regularly with Diet Doctor, posting messages yearly in the comments section below his story.
We reached out to him again to ask him to share an update on his health.
He can't believe that, at age 87, he is still doing great — with excellent physical and cognitive health, working almost daily in his garden, growing his own low-carb vegetables.
"My only regret is that if I had known 20 years ago what I know now, I wouldn't have had to endure my whole health drama."
Here is an update of Arthur's story, condensed and edited.
---
What is your name, age, and where do you live?
I'm Arthur, 87, and I live in New Zealand.
---
What was your health like before you discovered the low-carb diet?
I thought I was healthy, but when I had my sudden heart attack in March 2011, I learned I was not.
The six months after my heart attack were very scary. I had a triple bypass operation and after a week was sent home. But my chest wound became infected with a hospital-acquired infection. I had to be put in isolation and have three more operations.
I had a stroke while in the hospital. I was in the hospital for almost five months and I nearly lost my life a few times. When I entered the hospital I was prediabetic. When I was finally discharged five months later I had type 2 diabetes.
I was placed on all sorts of medications: for high cholesterol, high blood pressure, high blood glucose. My weight was 198 pounds (90 kilos) and I was in constant pain. Plus, a cataract was forming in my right eye.
I realized I was going to have to take drastic action if I was going to regain my health.
I started researching and I found out about whole-food, low-carb eating.
I started eating a low-carb diet shortly after leaving the hospital. I have now eaten that way for close to a decade, and I will eat that way for the rest of my life.
I intend to drop dead, healthy, in my garden.
---
How has your health improved?
I think as someone who is going to be 88 in May, I'm not doing too bad.
My weight is stable at 139 to 143 pounds (63 to 65 kilos). I have lots of energy. I work in my garden almost daily.
I have good cognitive function and my blood sugar and blood pressure are excellent. My doctor tells me I have no sign of heart damage. And the cataract I had has disappeared!
DD+ MEMBERSHIP
What does a day of eating look like for you now?
I eat my garden vegetables all year round. I grow cauliflower, cabbages, onions, zucchini, climbing beans, Swiss chard, Brussel's sprouts, and leeks. I freeze them so I have them in the winter, but some, like leeks, I can grow all year. I have a bed of dandelions that I add to my greens. I have an avocado tree.
I typically eat one meal a day, around midday. It's usually meat and vegetables. I get local lamb or beef steaks (grass fed, fat left on) from nearby farms. I also get local free-range eggs.
Today my midday meal was cauliflower rice and zucchini blended with three eggs, baked on a layer of fatty bacon, with cheese on top, seasoned with salt, pepper, and turmeric. Yummy.
I also make my own bone broth that I sip on throughout the day. I take beef bones from cattle raised on my daughter's farm. In a pressure cooker I boil them with leeks, onions and/or cabbage until the bones turn brown, with salt, pepper, and turmeric to taste.
---
Final thoughts?
I am proof that "you can teach an old dog new tricks!"
Thanks to Andreas and the wonderful people at Diet Doctor, I am enjoying life without pain.
Who would have thought I would still be here? And to think, I nearly didn't make it.
I am delighted that more and more doctors are "coming out" and supporting this way of eating.
I think 2022 is going to be a good year for the low-carb message. The information coming out through the Internet is getting louder. Our New Zealand "Doctor of the Year" and his counterpart in Australia are both now spreading the message. I am hopeful more people will learn before it is too late.
---
Arthur, your decade of health success, after such a scary episode in hospital, is so life affirming.
Thanks for continuing to share updates to your story.
~Anne Mullens
---
'Keto is the only diet I've ever been excited to do'