After losing 230 pounds Amy is "living proof it's possible"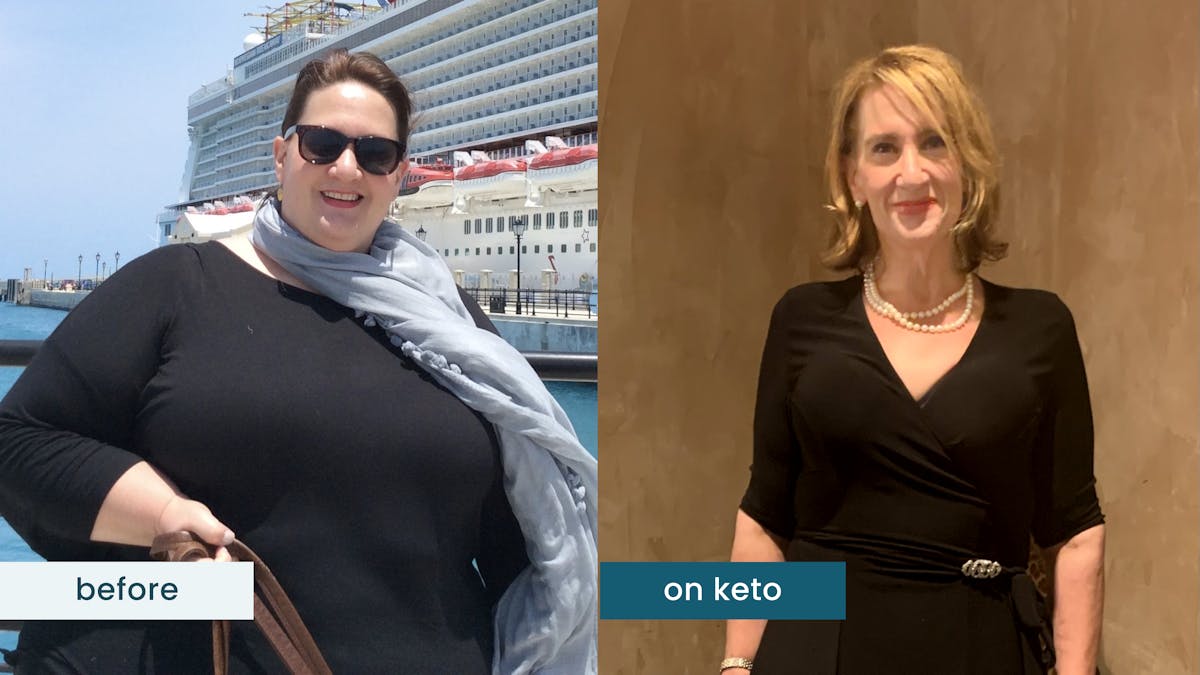 Amy had struggled unsuccessfully with her weight for 40 years. She followed the advice of conventional obesity experts and joined umpteen weight loss programs.
She diligently tried the advice to eat less and move more. Any weight she'd lose she would regain — and more.
In 2017, weighing over 400 pounds (181 kilos), she booked an appointment with a bariatric surgeon. She'd lost hope that she'd lose weight any other way than by surgically reducing the size of her stomach.
But then she heard about the low carb diet and found Diet Doctor in a computer search. Two weeks after starting a keto diet, she canceled her appointment with the surgeon.
We first shared Amy's remarkable story in September 2019, 2½ years into her low carb journey. She had lost 145 pounds (66 kilos) and told us, "I finally found my way." 
We caught up with Amy in December 2021 and again in September 2022 to ask both times: 'How are you doing?'
The answer? Better than ever. Now, more than five years after finding the low carb, keto diet, she is still committed to this way of eating. To date, she has lost almost 230 pounds (104 kilos) — and taken up running.
Moreover, she now has a career as a low carb health coach, supporting and coaching patients in the medical weight loss program of Dr. Tro Kalayjian, MD, a leading low carb medical expert, who is also on Diet Doctor's expert panel. (And she helps with coaching on the Doctor Tro app, for Iphone and Android.)

She was also a health coach for participants taking part in a recent workplace study of the keto diet. It achieved impressive results in weight loss, reduction in cardiovascular risk markers, and reduced medication.
"I can't change my history, but I can do my best to make sure others don't have to endure the terrible diet and medical advice I was given for decades," says Amy.
Here is an update on Amy's story, which has been condensed and edited.
---
What is your name, age, and where do you live?
I'm Amy Eiges, 54, and I live in New York City.
---
Summarize how and when you discovered the low carb diet.
As I described in my first Diet Doctor story, I first became aware that others thought I was overweight at age 7. That was the start of a 40-year struggle with my weight.
Over the years, I tried every diet. I joined Weight Watchers 35 times and went to fat camps. I tried Jenny Craig, Nutri-System, and Opti-fast, among others. I saw all sorts of "experts." Everyone told me to eat less and move more. I would lose some weight, but never keep it off. I was caught in a constant cycle of diet-binge-gain-shame.
I also described that painful 40-year journey in a blog post on Dr. Tro's website, which has become very popular. At the time I wrote it, I was very angry at the medical establishment — at all the bad advice I'd been given, and all the time I'd wasted. It seems many people can identify with that history.
In 2017, I weighed more than 400 pounds. I had booked an appointment with a weight loss surgeon to have bariatric surgery. I thought that was the only way to fix what was "broken." But I wasn't broken; I'd just been following the wrong advice.
Fortunately, my sister told me about her positive experiences with low carb. An internet search brought me to Diet Doctor. I was struck by the many inspiring success stories; the science made sense to me.
After my first two weeks on keto, I canceled the appointment with the bariatric surgeon.
---
What success have you experienced?
Now, a total of five years after starting keto, I have lost approximately 230 pounds (104 kilos).
I have also reversed my prediabetes and resolved lifelong depression.
When I was just starting out, losing 200 pounds (91 kilos) seemed insurmountable, and the idea I would ever be where I am now was unfathomable.
But I am not extraordinary. I just finally got the right advice, put one foot in front of the other, and didn't look back.
I know now that it can be done. I had lost hope that it was really, truly possible. I am living proof that it is.
It truly has changed my life. I now have a career as a health coach, supporting the medical weight loss program of Dr. Tro Kalayjian. I also blog regularly on his site, and have an active Twitter account where I tweet about diet, weight loss, and health issues.
At the beginning of 2021, I decided I wanted to start running. It has always been something I wanted to do, but it was just not possible starting out at over 400 pounds.
With gyms in NYC shut down due to COVID, I wanted a form of exercise that didn't require any equipment.
I'm now regularly running two to three miles a day. I have run a 5k. My time is slow, but steadily improving.
I am as proud of running daily as I am of losing nearly 230 pounds!
DD+ MEMBERSHIP
Do you have lessons to share from your weight loss?
Yes, many.
When I reached 225 pounds (102 kilos) lost earlier this year, I wrote a blog post "Lessons learned on the road to losing 225 pounds." In it, I shared my top 10 lessons.
Here are my first three:
Hunger: Learn to recognize true hunger, and how not to eat when you are not hungry. One of my breakthroughs came when I realized that I sometimes kept eating when I was no longer hungry. I realized, even with keto foods, I could overeat and slow my progress. I wrote a more in-depth post on the topic of hunger and cravings and the various stimuli that trigger the desire or need to eat even when you are not hungry.
Perfection: Don't aim for perfection; no one is perfect. It's not a matter of if you make a mistake, but when. Don't wait to restart on some arbitrary date on the calendar that may never come. There is no off-ramp, so learn from your missteps and make tomorrow a little better than today. Just keep going.
Why: Develop a clear, specific vision for why you want to lose weight, preferably one based on self-love, not self-loathing. Even if you're scared for your health, try to reframe it as something that is not based on fear.
Check out the other seven lessons in my blog post.
---
Why is chasing a number on the scale not an enduring motivation?
My life and health have improved in ways I cannot begin to express, and yet the number on the scale has been something that, in the past, I could obsess over. The scale is an unpredictable, slow-moving beast that doesn't always reward us in ways that reflect how hard we're working.
As a health coach, I have many clients for whom the scale does not reflect their true efforts. And the wrong number — a higher number than expected — can be an excuse to throw all your diet efforts out the window.
We let the scale dictate the kind of day we are going to have, the mood we are in, how we judge our worth and our merits — even our next meal.
In 2020, I wrote about how easy it is to get discouraged about the scale and quit. One day I stepped on the scale and I had unexpectedly gained 10 pounds. This was after losing more than 200 pounds.
That sort of 5 to 10 pound gain, out of the blue, happens often when you are losing weight. And it's a gut punch. And sure enough, that 10 pound gain sent me into a crying fit.
I wrote about how in my previous life, this episode would have led to a six-month binge and a 40+ pound weight gain. No exaggeration. It would have been fueled by self-hatred and thoughts like "I'll always be fat so what's the point."
Fortunately, I was able to calm down, do some exercise, go for a walk, eat my planned meal and stay the course. To me, that was real progress.
---
Final thoughts?
I can't change my history, but I can do my best to help others not endure the terrible diet and medical advice I was given for decades. That is why I love being a health coach and sharing my story.
Start by keeping things simple. Pay attention to the foods that get you full and the foods that make you hungrier to eat more and more.
This is a lifelong process. You won't be perfect, so try to avoid all-or-nothing thinking, which just derails all of us. Just try a low carb diet and keep going.
---
Thank you for sharing your success, your experience, and your tips, Amy. Many people will identify with your previous struggles and learn from your insights.
~Anne Mullens
---