25 high protein breakfast ideas
By eating more protein, you'll be more apt to lose weight and body fat while retaining muscle and keeping your metabolism high.1
This practical guide gives you lots of tips and ideas for delicious high protein breakfasts that include much more than ham and eggs.
At the end of this guide, we'll briefly explain the scientific evidence about why you should prioritize protein at the start of your day, and we'll link to key research.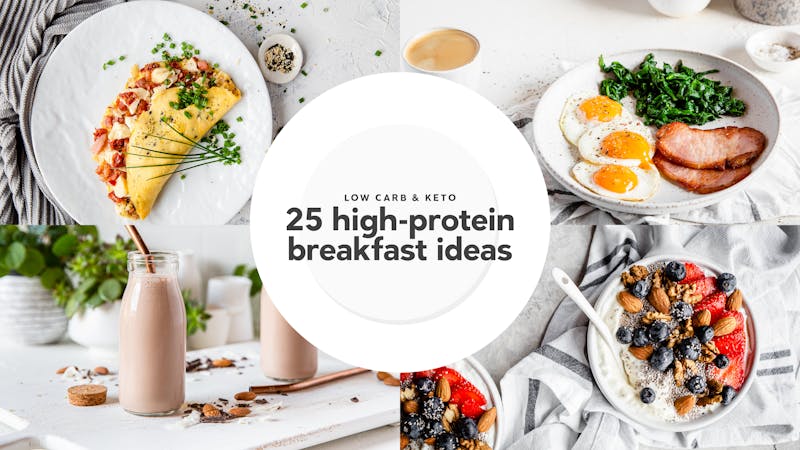 DD+ MEMBERSHIP
High protein defined
Diet Doctor defines a high-protein breakfast as one that provides at least 25 grams of protein per serving
and
has a protein percentage of 25% or higher.
The protein percentage tells you how much of a food's calories come from protein as opposed to fat and net carbs.2 The higher the percentage, the more protein-dense the breakfast (and the more protein and satiety per calorie, too).
Depending on your height and your goals for reducing body fat, you may want to eat 30 to 40 grams of protein at each meal if you are an average-sized woman and 35 to 50 grams if you are an average-sized man.
Refer to this chart to find your suggested daily minimum protein target based on your height.
Minimum daily protein target
| Height | Women | Men |
| --- | --- | --- |
| Under 5'4″ ( < 163 cm) | 90 grams | 105 grams |
| 5'4″ to 5'7″ (163 to 170 cm) | 100 grams | 110 grams |
| 5'8″ to 5'10" (171 to 178 cm) | 110 grams | 120 grams |
| 5'11" to 6'2″ (179 to 188 cm) | 120 grams | 130 grams |
| Over 6'2″ (188 cm+) | 130 grams | 140 grams |
If you are just starting out eating a higher protein diet, you can increase your protein grams and percentage slowly to see how you feel and how your body responds.
In each of the recipes in this guide, we provide the protein amount in grams per serving and the protein percentage per serving.
We have included a few options that are just below a protein percentage of 25% for variety and to allow more choice for those who want to increase protein slowly.
Whatever the recipe, if you want to add more protein, include an extra egg white, or serve a side dish of another high protein food. Try adding sliced ham, bacon, cheese, yogurt, cottage cheese, smoked salmon, or another protein source like dairy, meat, fish, or legumes. Serve any of those on a bed of veggies or greens.
Instead of just coffee, tea, or water, if you want a higher protein drink to go with your breakfast, try our dairy-free keto latte, which blends a whole egg and coconut oil into your morning cup of coffee. That's an extra 6 grams of protein.
On a final note, many people like to do time-restricted eating or intermittent fasting, eating only two meals a day, often just lunch and dinner. If that is your preferred pattern, aim to get even more protein in your first meal of the day — at whatever time you eat it — so that you meet your daily protein targets over your two meals.
Let's get started.

DD+ MEMBERSHIP
Egg recipes
Eggs are nature's impeccable packets of protein perfection. They're versatile, affordable, nutritious, and delicious. They can be quick and simple to make. You can't go wrong with eggs.
A large egg has about 6 grams of protein. To reach a high protein target, women should eat at least three eggs and men should eat four eggs at a sitting, along with another source of protein.
But it's your choice how you cook them: boiled, poached, fried, scrambled, baked, or cracked into a new recipe.
Did you know that Diet Doctor has more than 80 egg recipes? You're sure to find ones you like if you scroll through the many possibilities.
Here are nine delicious high protein egg recipes to whet your breakfast appetite:
Eggs disguised
We get it. Not everyone is crazy about eggs. And even if you happen to love 'em, finding new ways to switch them up can add to the enjoyment and variety of your meals.
So, try using eggs in delicious dishes that hide them. You'll still get all their filling, nutritious protein without being so aware that you're eating eggs.
Again, if you want to up the protein grams of your meal even more, add a side dish of plain Greek yogurt, ham, smoked salmon, cottage cheese, legumes, tofu, nut butter, or other sources of plant or animal protein.
Here are three high-protein recipes that include eggs, but in ways you're less apt to notice:
Cheesy chaffles
Low carb waffles are all the rage and no wonder: They are so tasty and make a great base for a wide variety of protein-rich toppings. Try them topped with 2 tablespoons of natural peanut butter (no sugar) or other nut butter, Greek yogurt, or cheese. Protein (for two waffles): 40 grams; Protein percentage: 24%
Croque Monsieur
Two cottage cheese pancakes on the outside of a ham and cheese sandwich make this a filling, high protein meal. And if you add a fried egg on top, it makes it a Croque Madame. Protein: 42 grams; Protein percentage: 36%
Ham croquettes
Egg whites create the binding "glue" that keeps these tasty ham-based, fried croquettes together. Dip them in Greek yogurt seasoned with dijon mustard and herbs for extra protein. Three of them make a serving. Protein: 34 grams; Protein percentage: 28%
---
Egg-free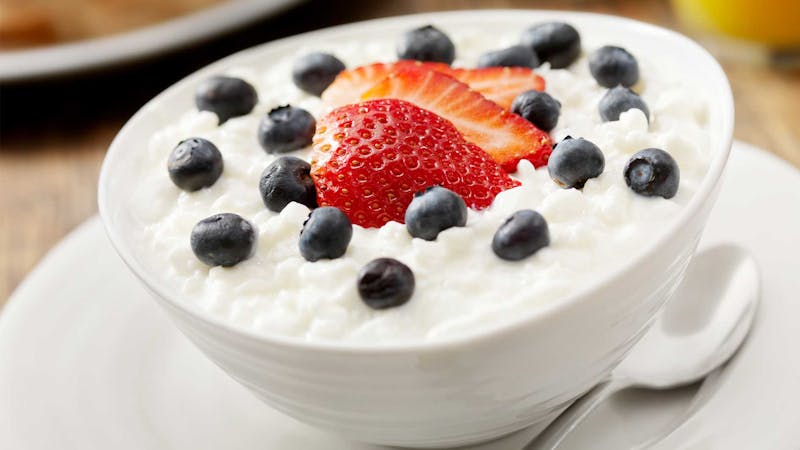 Eggs are not the only way to get lots of protein at breakfast. To keep your breakfasts varied and interesting, try some of our recipes where meat, cheese, or
plant-based proteins
take center stage.
DD+ MEMBERSHIP
High protein smoothies
A protein-packed smoothie whipped up in a blender is always a great way to start your day. That's because it's quick, nutritious, and filling. Blend and go.
Plus, you can make so many variations simply by blending in different ingredients. Using commercial protein powder, such as unflavored pea or whey powder, can boost the protein content of your smoothies. Diet Doctor recommends choosing protein powders with minimal extra ingredients.
---
Fish recipes
Do you like fish? You're in luck! Fish and seafood make a nutritious high protein breakfast.
While some recipes call for fresh fish and seafood, remember that canned salmon, tuna, shrimp, crab, herring, and sardines are convenient, high protein options. You can always have them on hand in your pantry.
For example, frying a 5-ounce can of sardines and putting it on a bed of sauteed kale is a fast and easy breakfast that gives you 33 grams of protein and a protein percentage of 32%.
Here is a quartet of high protein fish options for breakfast.
DD+ MEMBERSHIP
Leftovers
You don't need to go to a lot of trouble to make a protein-packed breakfast recipe. Just reheat high protein leftovers from the night before. Leftover steak, chicken, or pork, sliced on a bed of greens, or a warmed-up high protein casserole all taste just as good the next day.
Diet Doctor is consistently adding more high protein meals to its collection. You can browse through some of our top high protein recipes here. Make enough for dinner to eat for breakfast or lunch the next day.
---
Why eat high protein?
Are you still wondering why you should start your day with a hefty serving of protein?
Strong research evidence shows that eating more protein can help you lose weight, reduce your hunger, and keep your muscles strong without slowing your metabolism. 3
Eating high protein at your first meal sets you up to experience less hunger for the rest of the day. Studies of 116 diets in humans show that people on average may eat almost three times more calories on a low protein diet than on a very high protein diet. 4 Called protein leverage, this means when the body gets enough protein, its appetite for high-energy food is naturally reduced. So by consuming plenty of protein at the start of your day, in most cases, you will naturally consume less energy for the remainder of the day.5
Some research suggests that diets with increased protein can prevent or help treat type 2 diabetes and metabolic syndrome, and possibly even reduce the risk of heart disease.6 In a recent trial, 100% of people with prediabetes who ate a high protein, moderate carb diet for six months achieved normal blood sugar levels.7
Higher protein intake also helps prevent a condition called sarcopenia, which is a loss of muscle mass that can occur as you age. Plus, it can help keep your bones strong, reducing the risk of osteoporosis, which is the loss of bone mass.8
Diet Doctor has lots of information and recipes to help you eat a high protein diet. Check out our other high protein guides:

25 high protein breakfast ideas - the evidence
This guide is written by Anne Mullens, Dr. Bret Scher, MD and was last updated on February 22, 2023. It was medically reviewed by Dr. Bret Scher, MD on July 21, 2022.
The guide contains scientific references. You can find these in the notes throughout the text, and click the links to read the peer-reviewed scientific papers. When appropriate we include a grading of the strength of the evidence, with a link to our policy on this. Our evidence-based guides are updated at least once per year to reflect and reference the latest science on the topic.
All our evidence-based health guides are written or reviewed by medical doctors who are experts on the topic. To stay unbiased we show no ads, sell no physical products, and take no money from the industry. We're fully funded by the people, via an optional membership. Most information at Diet Doctor is free forever.
Read more about our policies and work with evidence-based guides, nutritional controversies, our editorial team, and our medical review board.
Should you find any inaccuracy in this guide, please email andreas@dietdoctor.com.