Give thanks with keto Thanksgiving dishes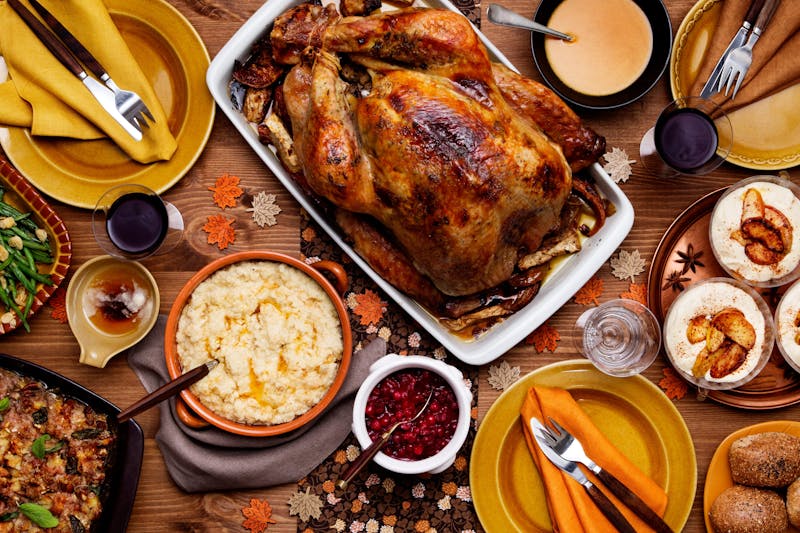 This coming weekend is Thanksgiving for Canadians, a time of sharing fall's bounty with family and friends gathered round a festive table.
And then,  almost seven weeks later, Americans will have a similar  celebration on Thursday November 24.
The feast for both days is similar, usually featuring turkey with all the fixings, side dishes of roasted vegetables, squash, sweet potatoes, cranberry sauce, stuffing, and then pumpkin pie to finish off the meal.
Can the classic Thanksgiving feast be keto or low carb? You betcha. Here, at Diet Doctor, we have all the recipes and fresh ideas to have a fabulous keto Thanksgiving meal. Check out our Thanksgiving collection. ( Canadians can use it right away and American members can get some early ideas about what to try when your day comes around.)
I love the low carb stuffing, the sugar-free cranberry sauce, roasted Brussels sprouts with Parmesan cheese, and the low carb, crustless pumpkin pie. I now make those every year.
Every family has their own traditions around the day. Will yours be walks in the woods or through neighborhoods to see the fall colors? Touch football in the park? Gathering around the TV to watch special sports events or movies?
How many will be around the table this year? Many of us are still working out the details.
But this is certain: You can make your feast tasty, wholesome, satisfying low carb food. That's something to be thankful for!
Whatever your Thanksgiving looks like this year, we sincerely wish you a happy, healthy one — complete with scrumptious low carb food.
Best, Anne Mullens

---
More with Anne Mullens