Practical help for higher-satiety eating
If you want to increase your chances of long-term weight loss without hunger or feelings of deprivation, it's time to try higher-satiety eating.
What do we mean by higher-satiety eating? It's all about eating foods that help you feel fuller for fewer calories, enabling you to feel completely satisfied and still be adequately nourished.
This guide focuses on the practical side of eating this way.
For example, how can you integrate higher-satiety eating into your busy life? How do you eat higher-satiety foods at restaurants, at parties, and on the go? What does a typical day of high-satiety eating look like?
And, the ultimate tactical question, what are some go-to ideas for breakfasts, lunches, and dinners that you can rely on to fill you up with nutritious, delicious food with fewer calories?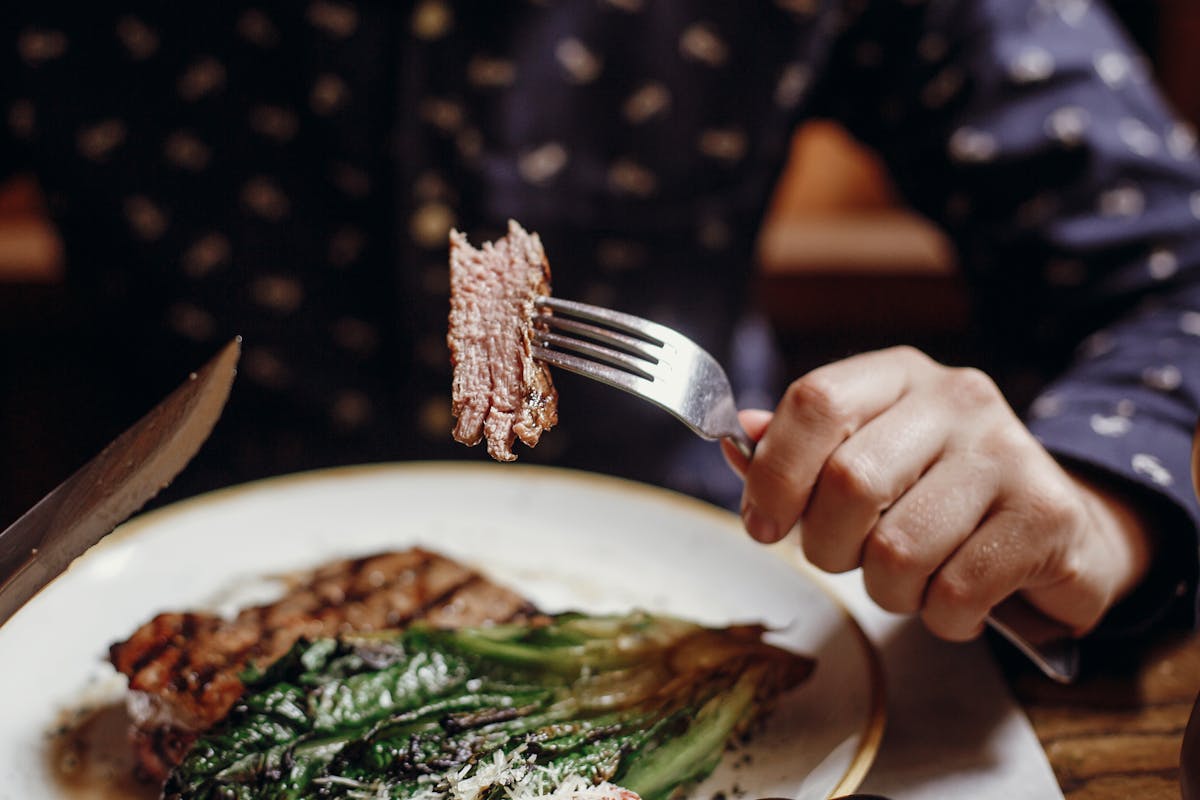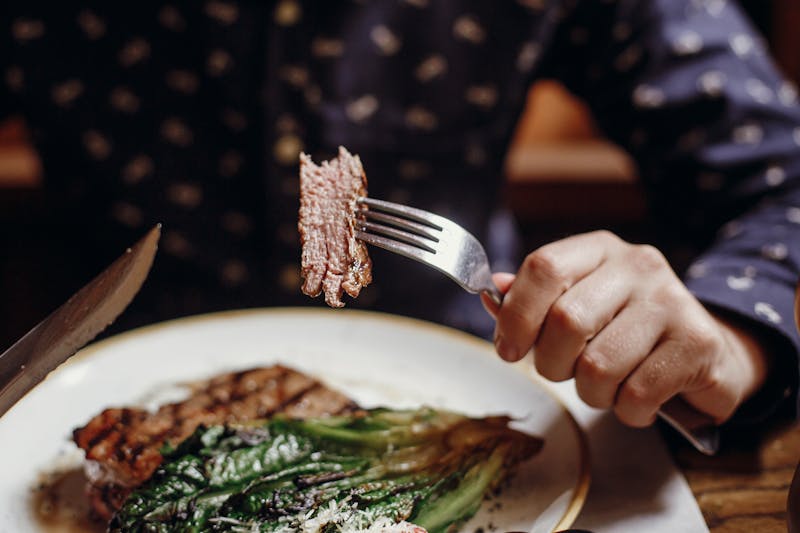 This guide will link you to the practical knowledge needed to make it easier to choose higher-satiety foods in almost any situation.
If you want to catch up on the rationale for higher-satiety eating and the science behind it, please check out our informational guides:
A typical day of higher-satiety eating
Are you ready to try higher-satiety eating but not sure how it might look over a typical day? Are you wondering what's on the menu or how you would fit it into your busy life, such as when you're at a fast-food restaurant or out for dinner with clients or friends?
This guide takes you through a typical day so you can see how you might make higher-satiety eating a part of your life.
Here's one main principle that works, whether you're at home, a drive-thru, or a high-end restaurant: Be sure you eat at least 30 grams of protein at every meal, and then fill up on lots of vegetables and leafy greens.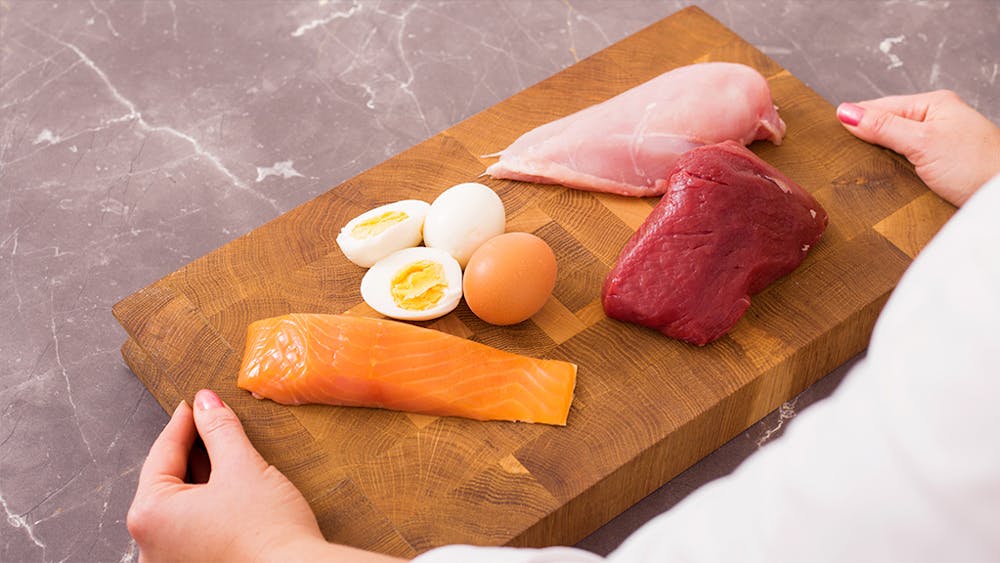 Higher-satiety ideas for breakfast, lunch, and dinner
Do you want delicious ideas for what to eat for breakfast, lunch, and dinner that maximize satiety per calorie? Check out our collection of higher-satiety recipes, which will give you dozens of great ideas for how to make each meal of the day higher in satiety.
As this approach is designed to help you feel satisfied, you probably won't feel the need to snack as often, if at all. But we have a few ideas for that, too. (Tip: Hard-boiled eggs are a great choice.)
What to eat for breakfast, lunch, and dinner? How about a zesty keto taco omelet, a Cobb salad with ranch dressing, followed by our Tuscan sheet pan chicken with zucchini and tomatoes. Just click the link to our recipe collection for more.
One top tip from all the recipes is to always have easy-to-use proteins on hand (either animal or plant-based), and lots of green vegetables, too.
Here's a pared-down shopping list: eggs, plain Greek yogurt, cottage cheese, beans, chicken breast, deli ham, and easy-to-eat veggies like spinach, celery, cherry tomatoes, and snap peas.
Here's a pared-down shopping list
eggs
plain Greek yogurt
cottage cheese
beans
chicken breast
deli ham,
and easy-to-eat veggies like spinach, celery, cherry tomatoes, and snap peas.
How to eat higher-satiety meals in restaurants
Say you've only got a few minutes to grab a meal from a fast-food restaurant. Or you're meeting friends or clients in a full-service restaurant for lunch. What small changes can you make to common restaurant items when eating out to make them higher satiety?
Classic tips are to skip the bun, pass on the bread and butter, ask for the salad dressing on the side, and order a side of veggies. Read our typical day of higher-satiety, high protein eating guide for more simple changes you can make to improve the satiety of your away-from-home meals.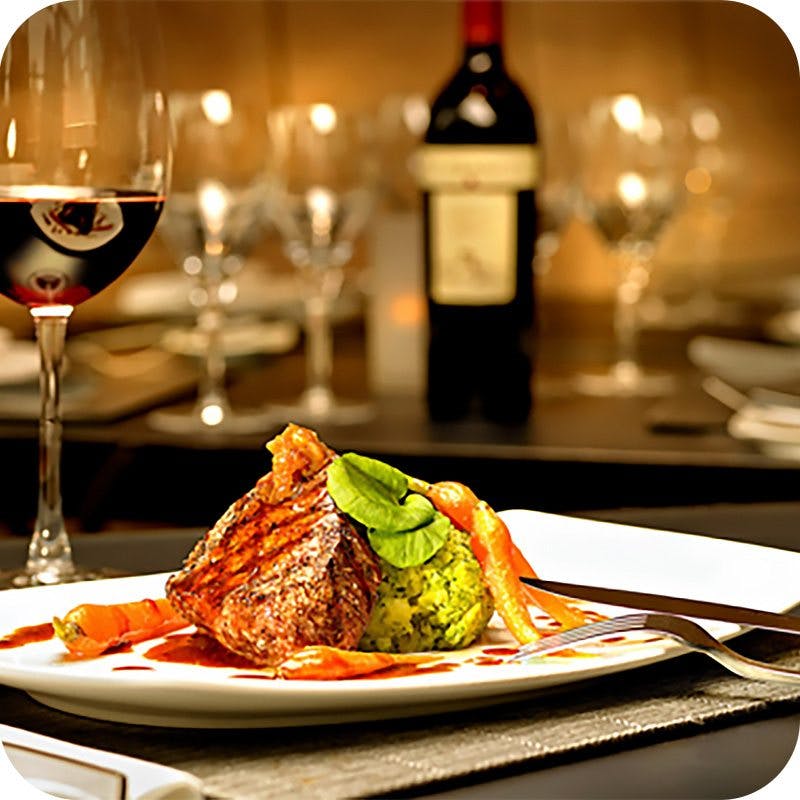 Higher-satiety eating on a budget
We get it. Saving money on groceries can be critical to your long-term food strategy. After all, even the healthiest, most successful way of eating will fail if you can't afford to eat that way, day after day.
Have no fear; you can eat higher-satiety food without breaking the bank. Since the foundation of higher-satiety eating is making sure you get enough protein at each meal, our guide on 20 cheap high protein sources gives you lots of ideas for less expensive protein options.
Budget tips include having cans of fish protein like tuna or salmon in the cupboard. Always have a dozen eggs on hand. Cans of beans are also a handy but inexpensive source of high-satiety protein.

Also, most grocery stores regularly put meat and fish on sale. While previously frozen sale items should be used right away, you can store never-frozen meat and fish in the freezer for later use.
Complement your protein sources with inexpensive, longer-lasting vegetables like cabbage, zucchini, and kale. Frozen or canned vegetables are another less expensive, long-lasting choice. Put the two together, and voila, you have dinner.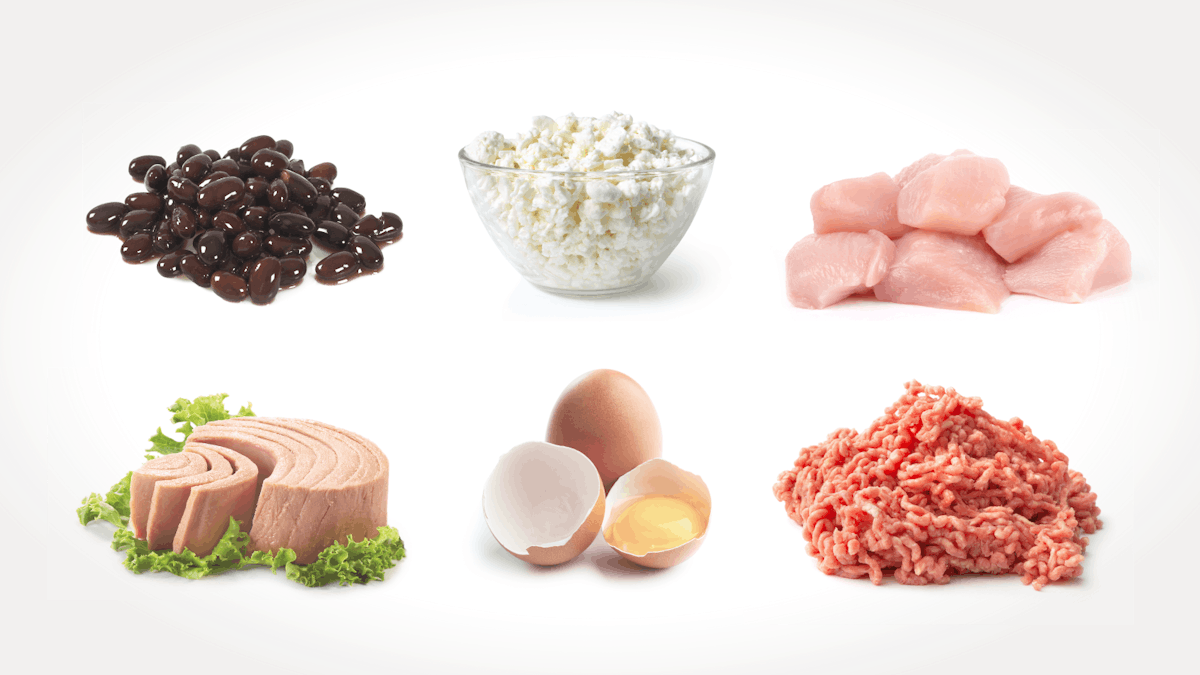 20 healthy, cheap protein sources
Are you looking for cheap sources of protein? Read our guide to find 20 affordable foods rich in protein.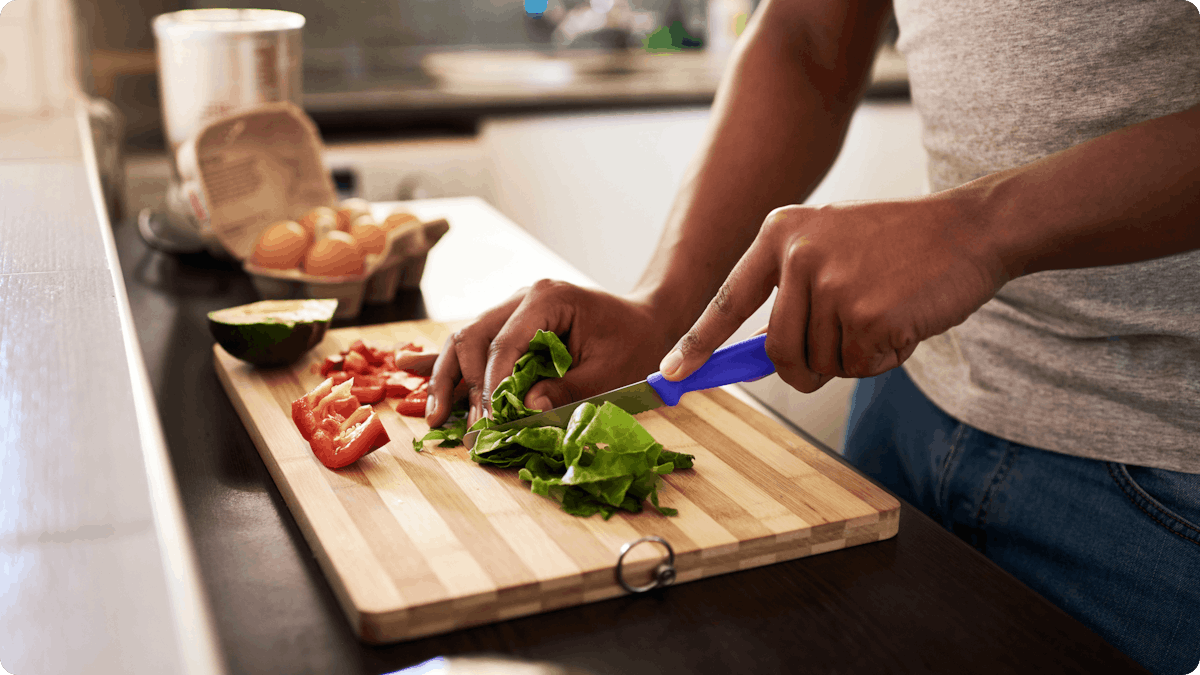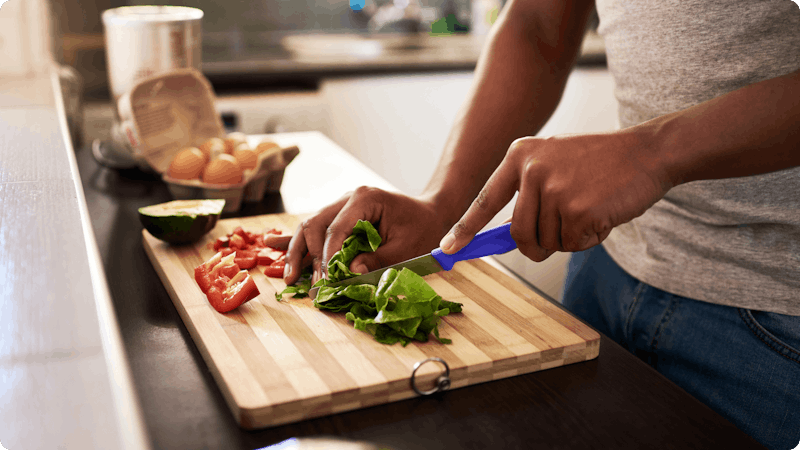 How to make low-carb cheaper
Here our top tips and tricks for making keto and low-carb meals inexpensive and affordable.
The best higher-satiety no-cook meals
No time to cook? What can you grab from the supermarket for easy, fast meals? Think rotisserie chicken, pre-cut crudites, plain high protein Greek yogurt, and a triple-washed bag of spinach or garden greens.
Note, for a higher-satiety per calorie focus, with fewer calories coming from fat, use enough fat for you to enjoy your meal and enhance the flavor, but don't go overboard.
Here are some other simple ideas:
Breakfasts: boil up eggs and store in the fridge to peel and go. Or try our fast microwaved three-ingredient microwave egg cups. Or roll up a few pieces of ham around some spinach and cheese. Frozen berries warmed up in the microwave and mixed with Greek yogurt is fast, tasty and high satiety.
Lunch: An antipasto plate of sliced deli meats, cheese slices, crudites, and yogurt dip is a fast higher satiety meal. Canned tuna, salmon, sardines are higher satiety superstars. Boiled eggs made into egg salad (add Greek yogurt and some diced green onion) makes a high protein veggie dip.
Dinner: Rotisserie chicken is a fast and easy dinner choice, with leftovers for lunch. Frozen veggies don't need washing or prepping, just heat and eat. Canned artichokes, cherry tomatoes and pre-washed lettuce are fast and easy additions. Cabbage lasts a long time in the fridge and can be sliced for a fast and easy coleslaw salad. (Add Greek yogurt instead of mayo for a higher protein tweak.) Finish off with some berries, or sliced apple, in Greek yogurt.
Adding higher satiety to your keto diet
The good news is that if you're on a keto diet, you are already eating in a way that is higher satiety than a standard Western diet. But is it possible to tweak your keto diet to make it even higher satiety? The answer is yes.
Higher-satiety keto focuses on reducing carbs to stay in nutritional ketosis, while increasing protein and fibrous vegetables, and keeping an eye on added fat. That means adding a little less butter, using less mayo, drizzling a bit less olive oil, and perhaps switching to black coffee, rather than drinking lots of heavy cream in your cup of java.
Our in-depth guide shows you easy, practical ways to make a keto diet even higher satiety.
Higher-satiety snacks
Eating higher-satiety food is designed to keep you full and satisfied for longer, for fewer calories. Does that mean you'll have no need to snack? What should you eat if hunger breaks through between meals?
Occasionally you may feel the need to snack. Some quick ideas include snacking on some canned tuna, no-sugar jerky, deli ham, hard-boiled eggs, or making a high protein shake.
Our high-satiety snacking guide has other ideas for those times when the munchies take hold.
How to eat higher satiety when traveling
When you are on the road or in a foreign country, sticking to any diet can be more challenging. The trick is to plan ahead and understand what higher-satiety choices are most available at your destination.
Our top three tips for eating higher satiety when traveling are:
Eat well before leaving: fill up on high protein, higher-satiety foods before departing. That way you can last longer on the road before having to refuel with more food. Just as you fill up your gas tank before heading off on a trip, don't leave your house hungry.
Pack a few high-satiety snacks: A few hard-boiled eggs, celery and cheese, some no-sugar jerky, or vegetable crudites with a chickpea hummus dip take very little time to prepare and little space in your bags. Any of these snacks can tide you over until you can find a place to eat a full meal.
Prioritize protein, fill in with fiber-rich vegetables or fruit: No matter where you are eating — at a restaurant, in the home of family or a friend, or in a foreign country — focus on consuming the protein first, and then round out your meal with vegetables, a leafy green salad on the side, or a bowl of berries. Pass on the bun and butter, and skip the sugary desserts.
Troubleshooting higher-satiety eating
Are you having difficulties with higher-satiety eating? Do you find that hunger is breaking through between meals? Do you find yourself eating too many carbs or that cravings for carbs are creeping back into your diet?
Or, perhaps you find the higher-satiety choices becoming too repetitive.
Our troubleshooting guide will give you answers to these challenges and other common struggles with higher-satiety eating.
Here's one of the main tips: If you're struggling, slightly reduce your target satiety score, say from 60 down to 50. You can still make great progress aiming for a slightly lower blended satiety score, and it can make your choices tastier and more varied.
How to know if higher satiety is working for you?
If you have been eating higher-satiety foods for a few weeks or months, you may wonder if this eating approach is truly working for you. Besides enjoying the food you are eating and not having cravings or distracting hunger, what other symptoms or health measures should you monitor? Is it just about your weight on the scale?
With any dietary pattern, it helps to monitor and pay attention to how you are feeling and to track some key measurements — beyond weight — such as your waist size, some key metabolic markers like blood sugar and blood pressure, and some non-scale victories such as clothing size, energy levels, sleep quality, mental clarity, mood, and gut health.
Here are some guides to help: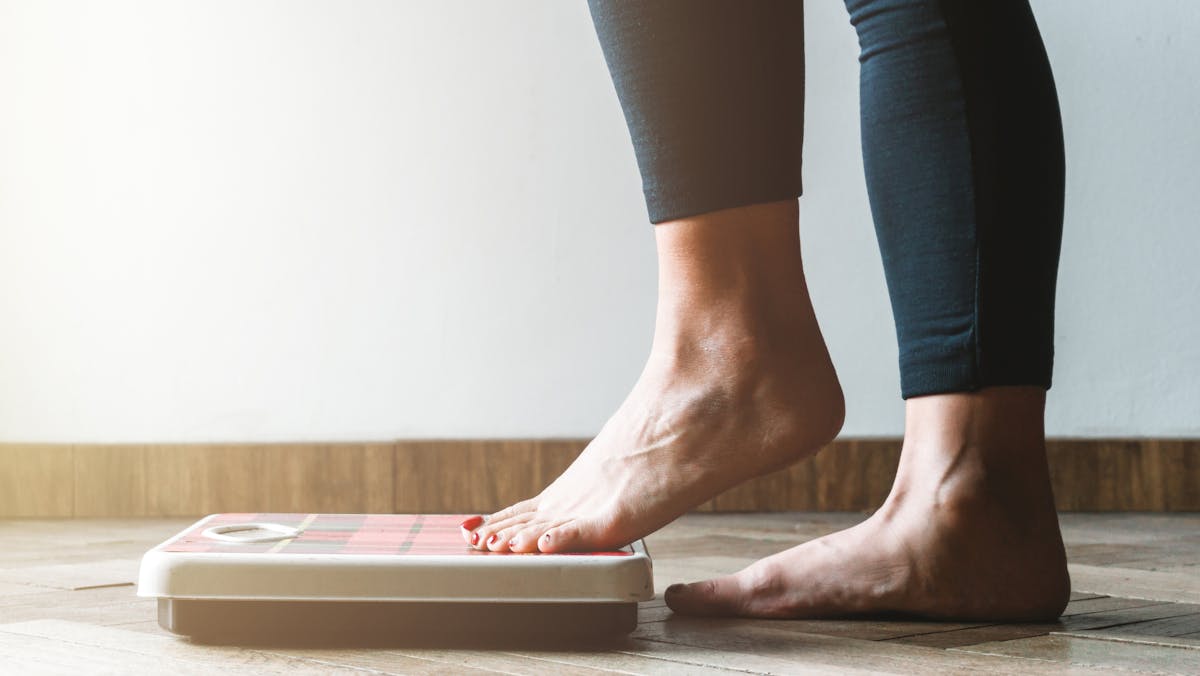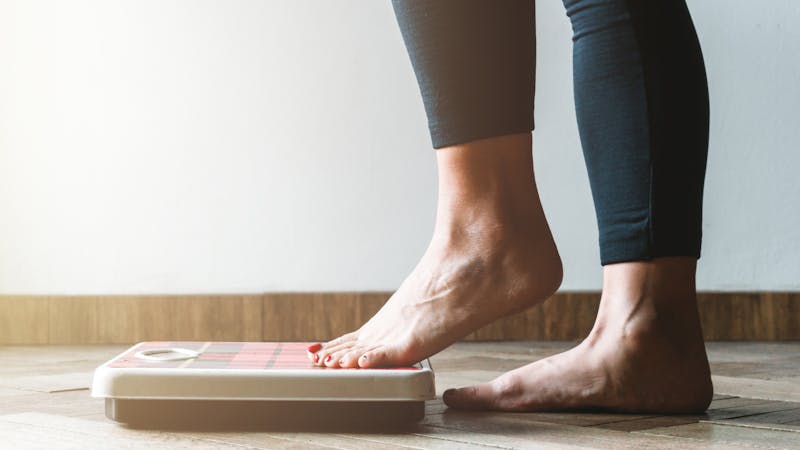 Measuring healthy weight loss
In this guide, we define what we mean by healthy weight loss. Then, we explain the most important markers to follow for healthy weight loss.
Here's a hint: they include an array of measurements you can track objectively as well as more subjective self-assessments of your behaviors and feelings. Learn more >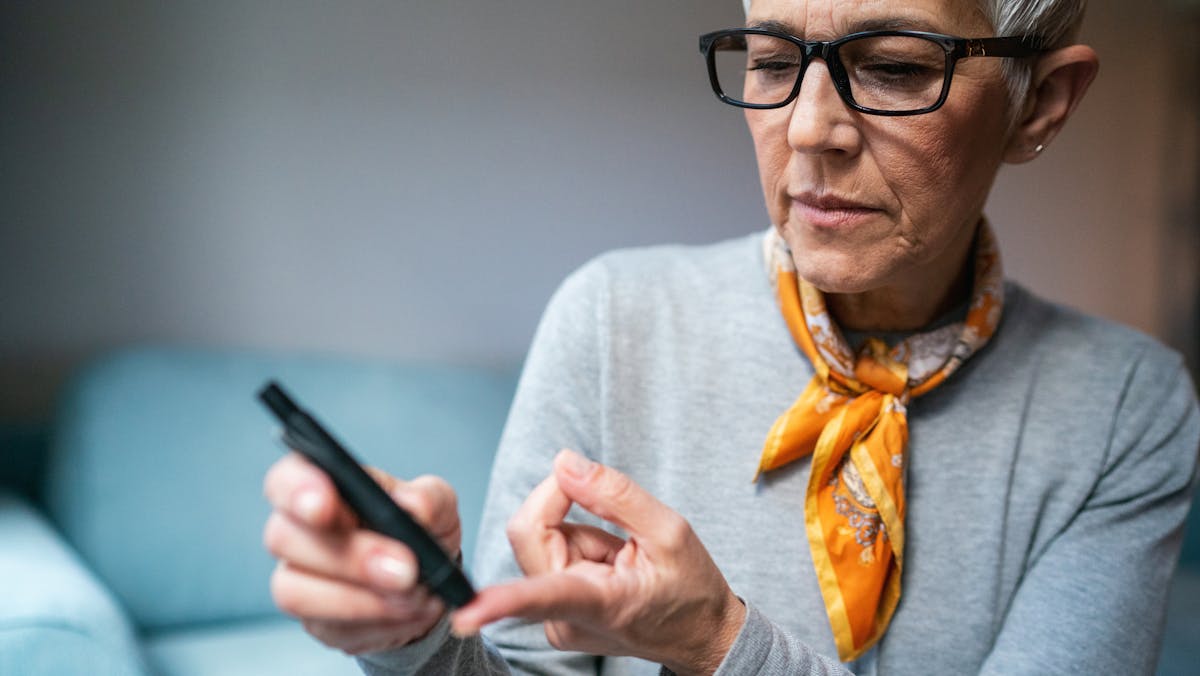 Measuring blood sugar
If you have insulin resistance, prediabetes, or type 2 diabetes, it is important to keep an eye on your blood sugar to ensure it is not rising and to be able to tweak your carb levels to get the best blood sugar results.
This guide tells you everything you need to know about measuring and tracking your blood sugar. Learn more >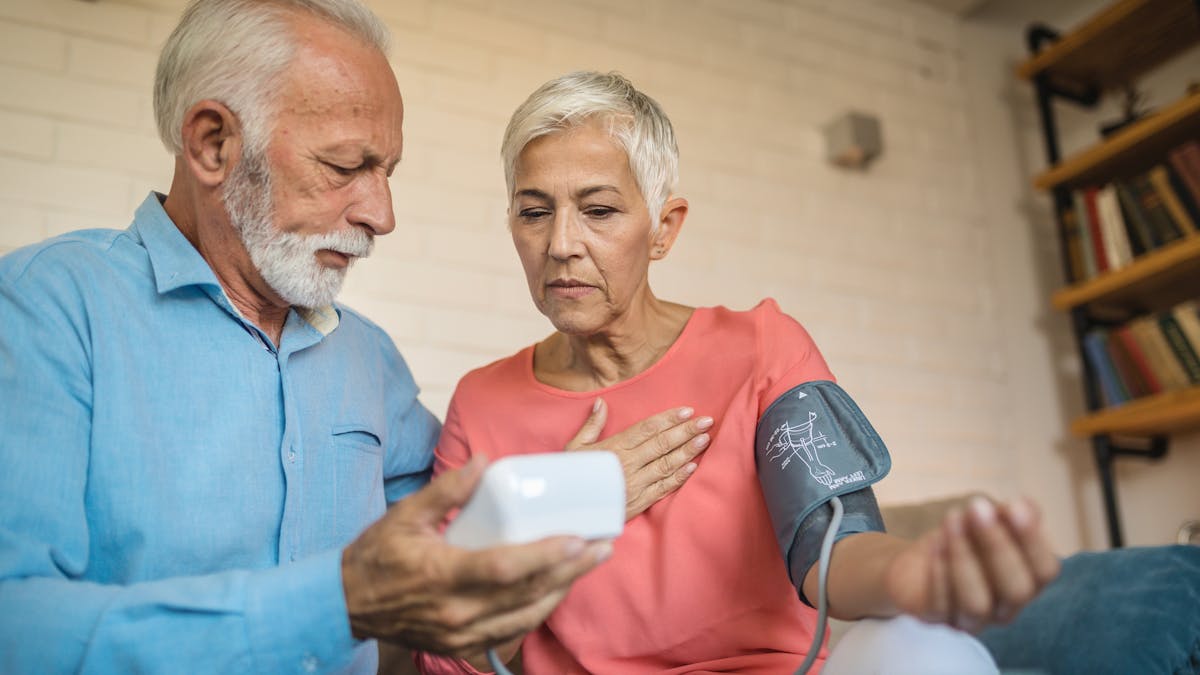 Measuring blood pressure
Another health marker to keep an eye on — no matter what diet pattern you are eating — is your blood pressure.
This guide explains normal blood pressure, why it's important, and how to measure it accurately. Learn more >
---
Other helpful guides
Are you finding that other aspects of life, such as mental or emotional challenges, are making higher-satiety eating harder for you to do?
Some of these Diet Doctor guides may help: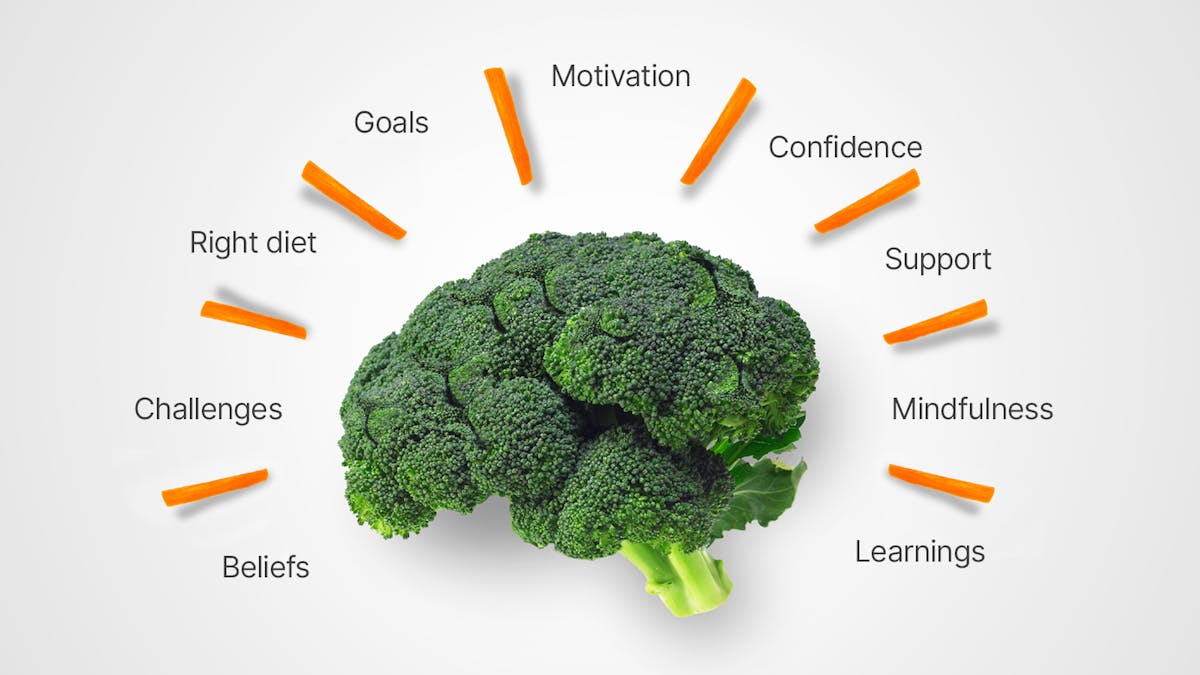 10 steps to a success mindset
Are you mentally ready for a successful weight loss journey? Our 10 mindset tips will help get you on your way.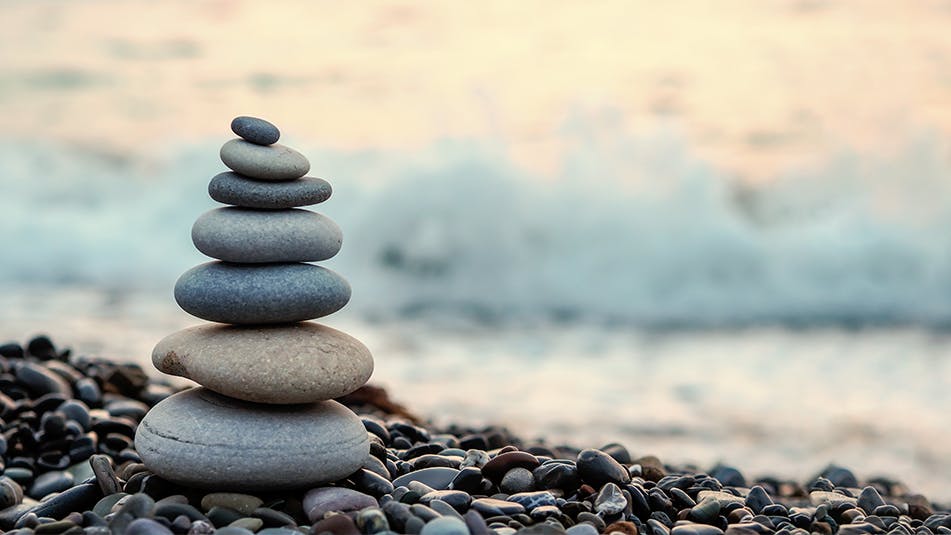 Weight, health, and happiness
Losing weight is hard. How do you lose weight happily? How do you become happy with your weight or health? Let's talk about about weight, health, and happiness.