A typical day of high-protein, higher-satiety eating
Are you thinking about trying a high-protein, higher-satiety eating but wondering what's on the menu?
Are you wondering if it will fit with your food preferences or hectic schedule? Or perhaps you're wondering how you'll juggle your new dietary requirements and your occasional — or not-so-occasional — trips through the drive-thru?
This guide lists examples of high-protein, higher-satiety options from several sources:
ready-to-eat options from your local market
our recipe collection
restaurant meals
fast-food classics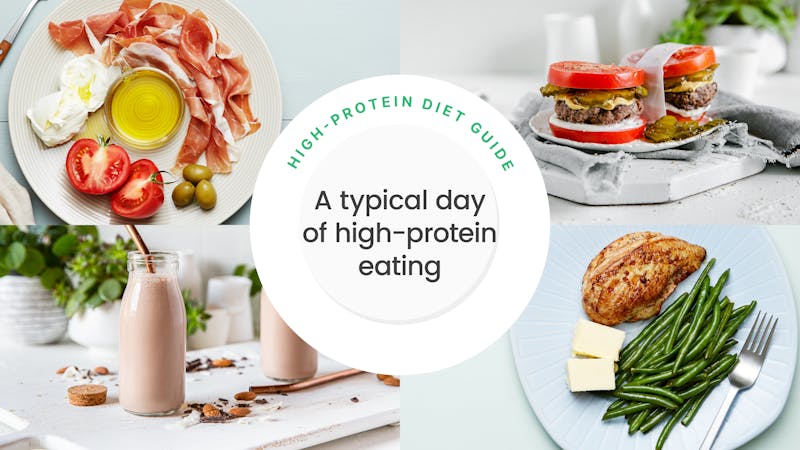 What these meals all have in common is plenty of protein. Why protein? Because foods high in protein fill you up, keeping hunger at bay without a lot of extra calories. For more on how it works, check out our beginner's guide Higher-satiety eating: what it means and how to get started.
In fact, it can even be helpful to consider the protein percentage of foods and meals — the higher the percentage, the more protein per calorie. There's more on that in our guide, The best high-protein foods for weight loss.
Some people love to eat at home; others almost never cook and rely heavily on takeout. And then there are those of you who like to mix it up depending on your budget, taste, and schedule.
Whatever your preference, we'll show you how to make it high protein, higher satiety.
DD+ MEMBERSHIP
1. Breakfast
When you switch to a high-protein diet, your day gets off to a satisfying start. Breakfasts that include plenty of protein are filling, and studies show they lead to consuming fewer calories during the rest of the day.1
If you choose meals with plenty of protein while keeping an eye on total calories throughout the day, you'll increase your chances of weight loss.2
Here are some practical ways to start your high-protein day. Combine these options to aim for at least 25 grams of protein and fewer than 500 calories.
No cooking
What can you buy at the grocery store and enjoy for breakfast with little fuss?
cold cuts
peeled hard-boiled eggs
sous vide egg bites*
plain Greek yogurt
smoked salmon
pre-cooked turkey sausage
zero-sugar jerky
protein powder
An asterisk indicates that the food may have a few too many carbs if you are following a strict low-carb diet.
Pair these protein sources with easy-to-grab produce like pre-washed spinach or garden greens, berries, sliced melon, or cherry tomatoes for a quick and nutritious meal.
Using our recipes
If you're making breakfast at home, there are even more options. Eggs, in many ways, are on the menu, but it doesn't stop there. Smoked salmon is a classic choice. Or mix it up with turkey apple patties.
Check out all of our high-protein breakfast recipes. Or, for a curated look at breakfast, read our guide, 25 high-protein breakfast ideas.
At a restaurant
Breakfast out? Lucky you. Focus on protein and fill in with fiber-rich vegetables or low-sugar fruit, and you'll set yourself up for a great day. Regardless of your location — hotel restaurant or local diner — look for these menu items:
egg plate (skip the hash browns and toast and ask for extra ham or sausage)
omelet
breakfast sandwich (skip the English muffin)
frittata or quiche (avoid the crust)
plain Greek yogurt
tofu scramble
breakfast meats: sausage, ham, lox, steak, Canadian bacon, corned beef
protein smoothie
Round out your meal with sides like sauteed spinach, fresh berries, half a grapefruit, or sliced melon.* Enjoy garnishes like lettuce, sliced tomatoes, and for those who tolerate a few more carbs, black beans.
Fast food/takeout
Are you hitting the drive-thru or café to start your morning? Find an easy option that packs in protein. This list can get you started. These meals deliver at least 25 grams of protein with fewer than 500 calories.
Starbucks
Pret
Smoothie King
Most regular fast-food breakfast sandwiches (egg, cheese, and ham or sausage) will get you close to your protein goal if you order two and discard the biscuit, croissant, or English muffin. You might be slightly over 500 calories, but it works in a pinch.
If you normally skip breakfast
Do you like to skip your morning meal? That's fine. But whenever you do decide to break your fast, make it a protein-rich meal.
If you're usually eating just two meals a day, you'll need larger protein portions to hit your daily targets. For most women, aim for two meals with at least 50 grams of protein each. For men, aim for at least 60 grams from both meals. Or, consider adding a high-protein snack to make sure you hit your daily targets.
For more on your daily protein target, check out section 5 below.
DD+ MEMBERSHIP
2. Lunch and dinner
Up next: lunch or dinner. These filling meals won't bog you down with that overfed feeling. That means no more post-meal crashes and no more getting hungry a few hours after eating.
Combine these ideas and aim for meals with at least 30 grams of protein and no more than 700 calories.
No cooking
Your local market has plenty of grab-and-go options that pack in protein. Stock up on:
cold cuts
tofu
chicken, tuna, or egg salad
bean or lentil salad* (add tofu for even more protein)
egg salad
salad bar with chicken strips or other protein options
rotisserie chicken
cooked proteins like salmon, chicken breast, or roast beef
An asterisk indicates that the food may have a few too many carbs if you are following a strict low-carb diet.
Pre-washed salad greens or crudité platters offer a quick veggie fix. Or, buy a bag of snap peas, green beans, or cherry tomatoes and dig in.
Using our recipes
Cooking? Then check out our top recipes that prioritize protein. These meals deliver great taste and satisfy hunger, too.
What's our favorite way to get the most out of cooking? Leftovers! Cook extra portions at dinner time and enjoy leftovers for lunch the next day. That way, you'll cook once but savor your creation twice!
Whether it's our juicy pork scallopini, green beans topped with cod loin, or a deconstructed bacon cheeseburger wrap, you'll have dozens of meals to choose from.
At a restaurant
Enjoying a meal out at a restaurant with friends, colleagues, or clients? Protein is always on the menu, so you should have no problem finding something delicious that fits your nutrition goals.
If you think the protein serving is too modest, you can usually ask for extra. Here are some of our favorites commonly found on restaurant menus:
Big salad topped with plenty of chicken, beef, or salmon (order extra protein if needed)
Burger with a lettuce wrap (ask for a salad instead of the fries)
Chicken or turkey club sandwich (order without the bread)
Steak, chicken, or fish with veggies (replace starchy sides with a salad or extra green veggies)
Tuna melt (skip the bread)
Stir-fry with chicken, steak, shrimp, or tofu (skip the rice and ask for extra protein)
Fajitas with chicken, steak, shrimp, or tofu (skip the wrap and the rice; refried beans add protein but for those on a strict low-carb diet they might add too many carbs)
Once you have your protein taken care of, feel free to add low-carb sides like a garden salad or fresh strawberries.
If you aren't quite satisfied, you may need a few more calories. A high-protein snack can be a perfect fix.
Fast food/takeout
Are you eating on the run? Then you've got lots of options. These fast-food offerings deliver at least 30 grams of protein with fewer than 700 calories.
These are just examples. Study the menu at your favorite drive-thru or fast-casual location, and look for similar meals that suit your preferences.
DD+ MEMBERSHIP
3. Snacks
When you eat high protein, higher-satiety foods there are plenty of snacks that fit with your lifestyle.
Zero-sugar beef jerky is the ultimate eat-anywhere convenience food. Or, turn up the crunch and try dry-roasted edamame or parmesan crisps. Some people even like to snack on a protein shake, especially pre- or post-workout.
For more snack ideas, check out our guide:
---
4. Putting it all together
With so many options and so many different tastes and preferences, there is no one "typical day." But here are a few sample days to consider:
A mix of eating at home and away from home
---
Away from home only
| Breakfast | Lunch | Dinner | Snack |
| --- | --- | --- | --- |
| Starbucks Egg White Bites (two orders) | Panda Express Grilled Teriyaki Chicken and Super Greens | Steakhouse meal (Steak, broccoli, iceberg wedge salad) | Cheddar cheese |
| Smoothie King Gladiator Strawberry | Restaurant stir-fry with shrimp and tofu (extra shrimp; no rice) | McDonald's Double Quarter Pounder with Cheese (discard bun) | Roasted pumpkin seeds |
---
At home only
If you like to cook, why not try our free, 30-day high-protein meal plan. It features our easy-but-yummy recipes and checks all of the high-protein boxes three times a day.
DD+ MEMBERSHIP
5. Your daily protein target
If you eat meals like those outlined above, you'll be on track to eat at least 100 grams of protein each day. Is that right for you?
It depends. Protein needs depend upon gender, height, and activity levels. Check out our chart below to learn your target.
Total daily protein* intake
| Height | Women | Men |
| --- | --- | --- |
| Under 5'4″ (<163 cm) | 90 grams | 105 grams |
| 5'4″ to 5'7″ (163 to 170 cm) | 100 grams | 110 grams |
| 5'8″ to 5'10" (171 to 178 cm) | 110 grams | 120 grams |
| 5'11" to 6'2″ (179 to 188 cm) | 120 grams | 130 grams |
| Over 6'2″ (>188 cm) | 130 grams | 140 grams |
*Recommended daily protein intake by sex and height
It might make sense to track your food for a few days just to see if you're getting close to your protein target. You may be surprised to learn that you need to size up your protein portions to get what you need.
To imagine your protein target on three plates — breakfast, lunch, and dinner — check out the visualization of a 100 gram day, below.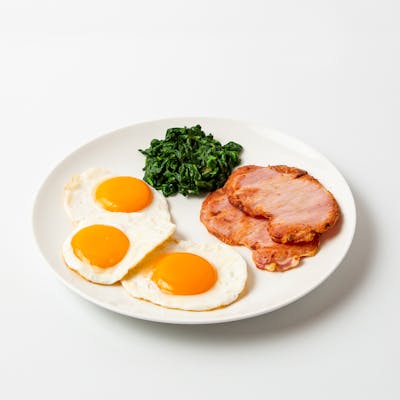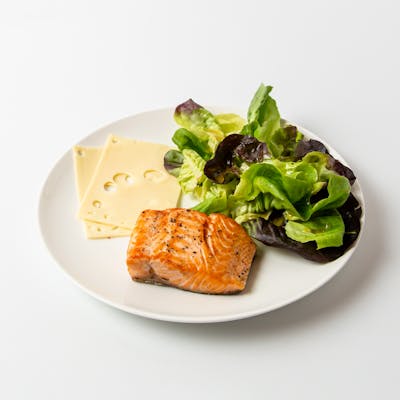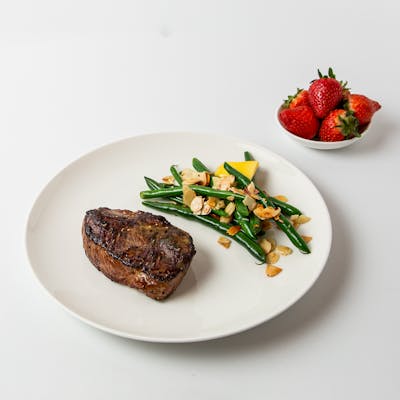 For more plates, including higher protein days and vegetarian options, hop over to our guide, How to get started on a high-protein diet.
If you aren't eating three meals a day, you'll have to fit more protein into your remaining two meals. For many people, intermittent fasting is helpful for weight loss, but cutting corners on protein might make it less effective. (Protein can help with weight loss by keeping hunger at bay and maintaining muscle mass.)
If you're practicing one meal a day, or OMAD, it's challenging to eat high protein. Using OMAD one to three times per week, on non-consecutive days, could be a compromise to get the benefits of both OMAD and high protein.
DD+ MEMBERSHIP
6. More on protein
Want to learn even more about the best high-protein foods, including a cool metric called "protein percentage" that helps you evaluate foods? Do you have questions about dairy? Or plant-based proteins? Our guides will help you get the facts.
Or, you might want to skim through the Top 20 questions about high-protein diets? If you've got questions, we've got answers. 🤓
---
A typical day of high-protein, higher-satiety eating - the evidence
This guide is written by Jennifer Calihan and was last updated on October 5, 2022. It was medically reviewed by Dr. Bret Scher, MD on October 3, 2022.
The guide contains scientific references. You can find these in the notes throughout the text, and click the links to read the peer-reviewed scientific papers. When appropriate we include a grading of the strength of the evidence, with a link to our policy on this. Our evidence-based guides are updated at least once per year to reflect and reference the latest science on the topic.
All our evidence-based health guides are written or reviewed by medical doctors who are experts on the topic. To stay unbiased we show no ads, sell no physical products, and take no money from the industry. We're fully funded by the people, via an optional membership. Most information at Diet Doctor is free forever.
Read more about our policies and work with evidence-based guides, nutritional controversies, our editorial team, and our medical review board.
Should you find any inaccuracy in this guide, please email andreas@dietdoctor.com.