Have you listened to our protein podcasts?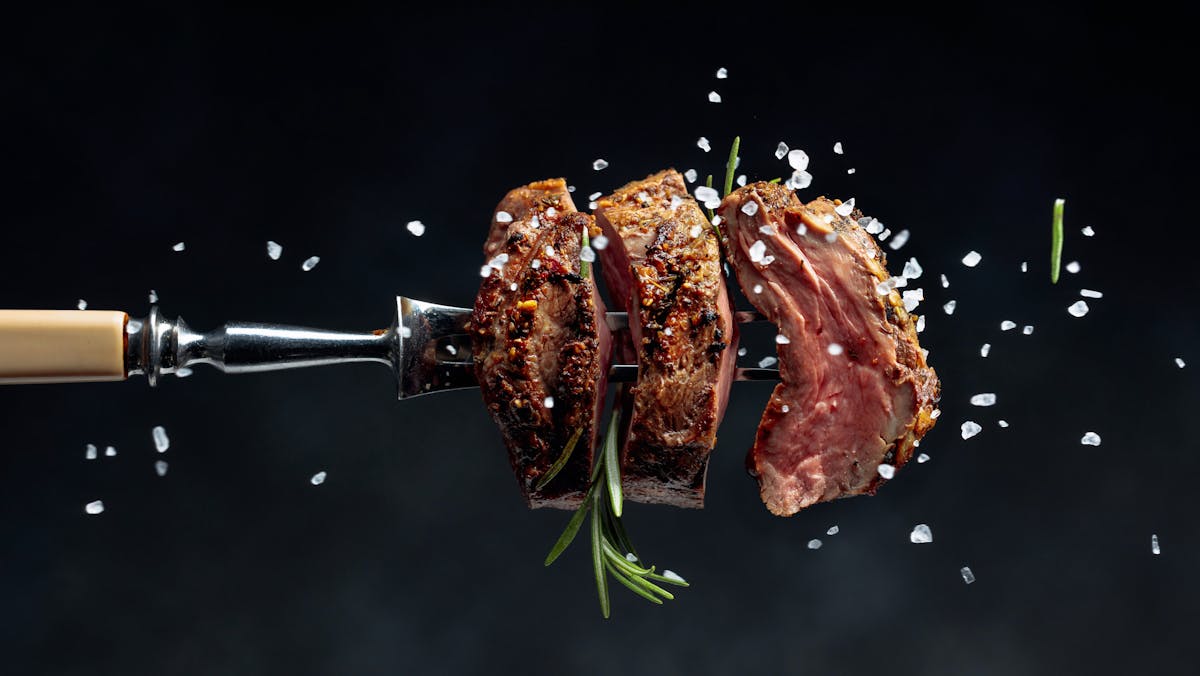 Want to learn more about the advantages of trying higher protein diets?
Why not tune into one of the many Diet Doctor podcasts, hosted by Diet Doctor Medical Director Dr. Bret Scher, that have featured protein discussions over the last two years?
Here's a compilation of some of those podcasts, just in case you've missed them. You might be interested in hearing these illuminating discussions about various aspects of protein consumption and health.
Recently, Diet Doctor has been featuring information about higher protein, low-carb diets as an option to improve weight loss, prevent stalls, and achieve improved body composition. You can find our guide to the best high-protein foods here.
But if listening is more your style, start with podcast #69, which features Bret having in-depth discussions with three of the top content experts on our Diet Doctor team: dietitians Franzkisa Spritzler and Adele Hite, and Diet Doctor Founder and CEO Dr. Andreas Eenfeldt.
In this podcast, each one discusses their clinical experience and personal approach to higher protein eating.
For example, Dr. Eenfeldt has been eating a low-carb, high-fat diet for more than 15 years with excellent results. Even though he was already at a healthy weight, he has now lost an additional 10 pounds, reduced his body fat percentage down to 8% (his lowest amount ever,) lost 4 inches off his waist, and reduced his blood pressure. All of these results occurred since starting to experiment with upping his protein back in January 2021.

Dr. Eenfeldt and Dr. Scher discuss the historic debates around protein recommendations, recent scientific findings, and why the Diet Doctor site has decided to feature more high-protein options in our meal plans, recipes, and guides.
As dietitians, Hite and Spritzler both describe how, for years, they have advised clients to eat more protein for better health and weight loss results. They, themselves, aim daily to eat protein in amounts equal to about 2.0 grams per kilo of body weight — which averages to about 30 to 35 grams of high-quality protein at every meal.
Both Hite and Spritzler note that protein levels between 1.2 grams per kilo to 2.0 grams per kilo help maintain lean mass, and meet protein needs for healthy bones, hair, skin, and nails. These levels also keep you strong, with a higher metabolism that may help break weight loss stalls or improve your metabolic health.
When Hite worked as a health coach with Dr. Eric Westman at his low-carb clinic more than a decade ago, she often saw women who had been eating too little protein for years, who had "sarcopenic obesity," which is high body fat with very low muscle mass. Not only was it difficult for those clients to lose weight, but they were also weak and in poor health. Hite also talks about the need to increase protein, briefly, in podcast #47 about keto myths, published in May 2020.
In podcast #70, published in May 2021, Dr. Scher talks with Dr. Ted Naiman, a Seattle family physician and author of the best-selling book, The P:E Diet [short for protein-to-energy ratio diet].
Dr. Naiman has emerged as one of the most compelling and experienced voices advocating for higher protein meals in the low-carb world. He recently joined the Diet Doctor team to help us develop our higher protein content.
Dr. Scher's hour-long discussion with Dr. Naiman is very in-depth and full of scientific details. It's not the first time Dr. Naiman and Dr. Scher have talked about higher protein. In podcast #40, published January 2020, protein levels also take centerstage. Dr. Naiman stresses that protein is not the enemy, is not harmful to long-term health, and is almost impossible to eat too much of. It's just too satiating.
Dr. Naiman notes: You likely don't need to worry about protein's impact on longevity, mTOR (an enzyme responsible for turning off and on cell growth), or gluconeogenesis, as there is no high-quality human evidence to suggest these are a concern on a low-carb, high-protein diet. In fact, Dr. Naiman argues, we need to worry about eating too little protein in our diet — rather than too much.
Eating too little protein is a common problem in India, explains another podcast guest, Indian endocrinologist Dr. Roshani Sanghani. In podcast #54, published in August 2020, Dr. Scher and Dr. Sanghani discuss how decades of misinformation have led to most people in India, even the highly educated, to vastly under-consume protein. In fact, protein is widely feared, Dr. Sanghani says.
Most of Dr. Sanghani's patients come to her eating less than 0.4 gram per kilo of body weight, far below the minimum Recommended Dietary Allowance (RDA) level of 0.8 grams. (That is miles below Diet Doctor's recommendation of 1.2 grams per kilo to 2.0 grams per kilo.) Her patients complain of hair loss, brittle nails, dry skin, constant fatigue, and muscle weakness — all of which relate to severe protein deficiencies.
Since most of Dr. Sanghani's patients are vegetarian, she advises increasing portions of dal, a lentil-based dish, as well as adding paneer (a high-protein cheese), soy proteins, and eggs, as much as possible.
Eating protein to build muscle and fuel athletic performance is a significant part of podcast #20, with Ryan Lowery PhD, a top athlete and exercise physiologist, who is also the CEO of Ketogenic.com and the president of the Applied Science and Performance Institute.

Published in January 2019, the podcast with Lowery spans the gamut of research and practical tips for athletic performance, neurocognitive disorders, longevity, and maximum health. They discuss how our bodies' protein needs increase as we age.
And way back in Podcast #2, Bret's guest is biohacking guru Dr. Peter Attia. Together, they discuss health and longevity. Published in September 2018, the podcast touches on protein and how it might influence the master growth switch, mTOR [mechanistic target of rapamycin].

As mentioned above, mTor is an enzyme responsible for turning off and on cell growth. You can't grow muscle or new cells without turning mTOR on, but some have raised concerns that too much protein spurs mTOR to stay on all the time, possibly promoting cancer cells to grow.

Dr. Scher and Dr. Attia discuss the theoretical risk, and that, in fact, most people are protein deficient, especially as they age, which leads to a much greater risk of muscle wasting, frailty, and life-changing falls.

One tip Dr. Attia gives is to regularly use time-restricted eating, or intermittent fasting, so that your food intake is cyclical. That gives the body downtime for cellular processes and ensures that you are not constantly eating.
Check out these fascinating and informative podcasts. And note that more podcasts, with protein as a key focus, are on their way. Check the Diet Doctor site regularly for updates.
Earlier
High-protein diet: What it is and how to do it