30-day keto diet meal plan
Are you looking for a keto diet plan? You've come to the right place. Below you'll find a free 2-week keto diet plan, as well as tips for getting started.
A keto diet limits carbohydrate intake to below about 20 grams per day.1 This results in increased fat burning,2and potential benefits like rapid weight loss.
DD+ MEMBERSHIP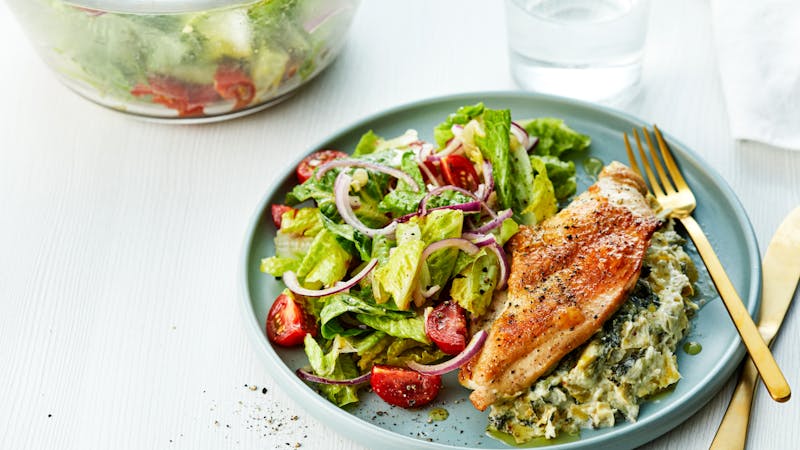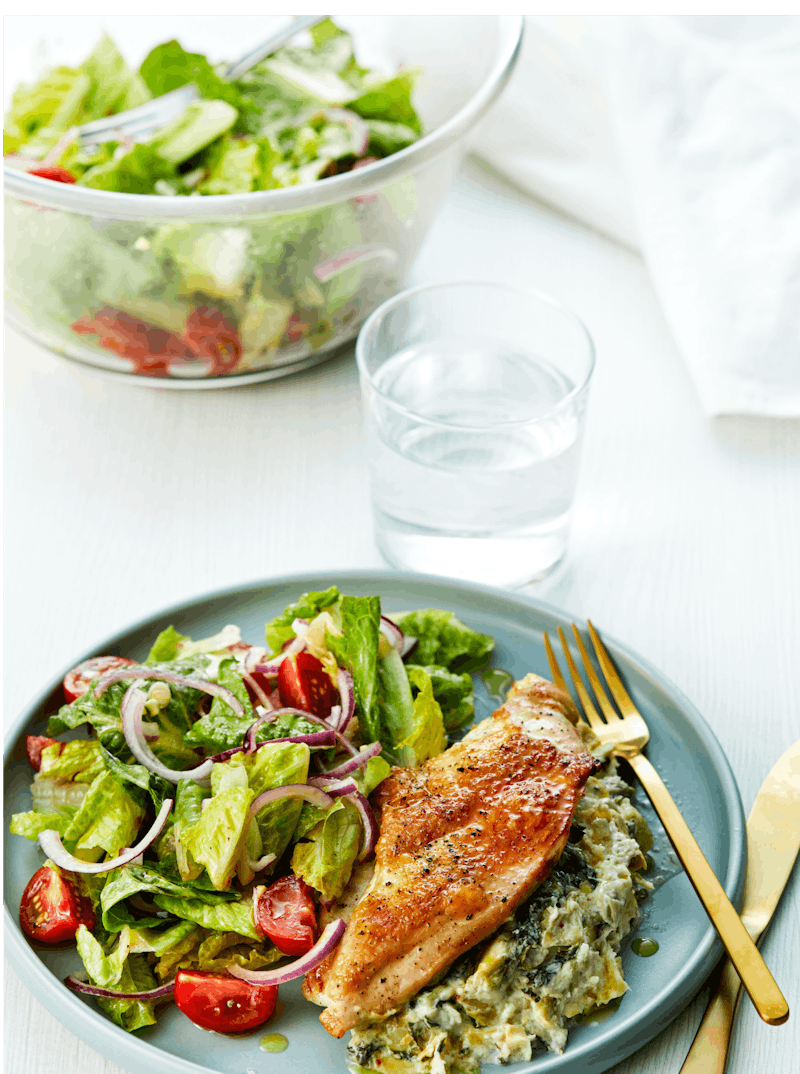 DD+ MEMBERSHIP
Get started
Who should NOT do a keto diet?
A keto diet appears to be very safe for most people.5 However, in the following three situations you may need extra support:
If you're not in any of these situations you should be safe to start a keto diet.
---
Start fresh
Use our kitchen clean-out list to help you make sure your kitchen is keto-friendly when you start your diet. This can dramatically increase your chances of success.
---
Avoid keto flu
Drink lots of fluids and get enough salt, especially during the first week, to minimize symptoms of the initial "keto flu."6 For example, a cup of bouillon daily and salting your food 'to taste' really helps.7 Full guide
DD+ MEMBERSHIP
---
Week 1
Here are two weeks of delicious, easy recipes for breakfast, lunch, and dinner. And you don't even need to count carbs! Each week features a variety of keto dishes that will automatically keep you below 20 grams of carbs per day.
In the first week, you'll get to feast on some of our all-time most popular keto recipes. Note: If you want portion sizes and food selection perfectly adapted to your needs and preferences, try our personalized meal plans.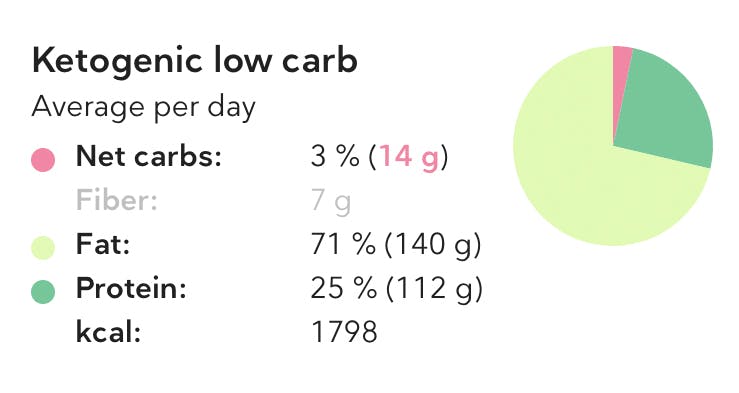 ---
Week 2
We hope you really enjoyed the first week. For the second week, we've selected even more of our most popular and effective keto recipes.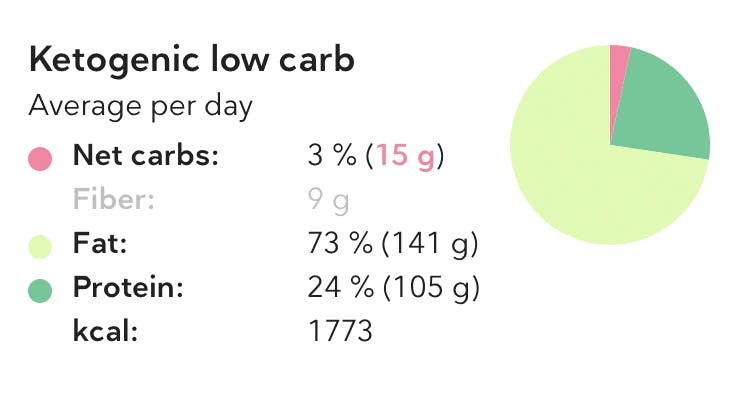 ---
---
Meal planner tool
We do the planning while you focus on cooking, eating, and enjoying healthy food.
DD+ MEMBERSHIP
This exclusive keto meal plan was developed in collaboration with Libby Jenkinson, founder of Ditch the Carbs. Libby, a former pharmacist, has dedicated her life to educating the world about low carb living.
Her real-food keto recipes are family-friendly, include easy-to-find ingredients, and are ready to eat in minutes. This keto meal plan will keep you below 15 grams of carbs on average each day.
Enjoy quick and hearty breakfast recipes such as: Keto breakfast wrap, 1-minute keto mug muffins, and Keto egg casserole with zucchini and ham.
Lunches and dinners include: Weeknight keto chili bake, Avocado bacon chicken bun-less burger, Meatloaf muffins, Quick keto curry bowl, and Steak with low carb mushroom sauce.
Start losing weight today with this keto meal plan by Ditch the Carbs and Diet Doctor!
DD+ MEMBERSHIP
Here's a week-long meal plan filled with keto-friendly lacto-ovo vegetarian dishes. This is the fourth meal plan in a series of keto vegetarian meal plans.
It includes three hearty meals per day and will keep you under 20 grams of carbs per day. This week, you're going to eat zucchini pizza boats, goat cheese salad with balsamico butter, and chaffles — among other tasty, filling keto meals. Delicious!
DD+ MEMBERSHIP
If you want clearer skin, along with all of the other benefits of a healthy keto lifestyle, this meal plan is the perfect place to start.
This meal plan is rich in several foods that may improve acne, such as fatty fish and vegetables. Dairy is also minimized to further reduce the likelihood of breakouts.
All of the recipes are simple, tasty, and will keep you under 20 grams of net carbs per day. Keep in mind that skin improvement may occur gradually over time after you begin eating this way.
Start your journey to clearer skin today!
Top keto diet plan questions
How do I get started on the keto diet?
It's easy. Get all your questions answered in our beginner's guide. Choose among all our free recipes and meal plans. Or, for maximum simplicity, sign up for our 2-week Get Started Challenge and get everything prepared for you.
Can I drink alcohol on a keto diet?
Yes. But stick to low-carb alcoholic drinks, like dry wine or sugar-free drinks.
Full keto alcohol guide
Can you eat a vegetarian keto diet?
Yes. Especially if you eat eggs and dairy (lacto-ovo vegetarianism) it's definitely doable. Vegan keto is very hard to do, but you can certainly eat a lower-carb vegan diet. Learn more and find inspiration or use our personalized meal plans.
Can you eat a dairy-free keto diet?
Sure. It's not necessary to eat dairy to successfully eat keto (though dairy may help add taste and variety). A dairy-free keto diet can be very effective. Learn more and find recipes or use our personalized meal plans.
Can I eat fruit on a keto diet?
Sometimes — if you choose low-sugar fruits and keep portions small. The best keto fruits are blackberries, raspberries, and strawberries. Enjoy about one-half cup of any of these, either alone or with a bit of cream. Delicious! Full guide to keto fruits
---