Our top collection of keto-friendly shrimp recipes
Shrimp are among the most popular of shellfish. Not only do they provide a great source of protein, but shrimp also cook quickly and have a mild taste that tends to soak up other flavors.
Go ahead and choose your favorite seasonings and spices when cooking with shrimp. Spicy, citrusy, creamy, or tomato-based shrimp are all tasty options. You can also use a marinade to infuse more flavor.
If you have allergies to shellfish or simply don't prefer it, nearly all of our recipes can substitute chicken or other seafood instead. Just be sure to adjust the cooking time since chicken or other substitutes may take longer to reach a safe serving temperature.
Tips for cooking shrimp
Whether you're serving shrimp hot or cold, you have a variety of options when cooking shrimp that are all equally delicious and quick to prepare. Most shrimp need only 1 to 2 minutes to cook.
What is the best way to cook shrimp?
The quickest and easiest way to cook shrimp is to sauté them in butter with a squeeze of lemon. Depending on the size of your shrimp, they may only need to cook a few minutes on each side in a hot skillet.
How do you cook shrimp without overcooking?
If you prefer, toss the shrimp onto a sheet pan to
bake
or
broil
, or thread them onto a skewer for a few minutes on the grill. Using a
skewer
allows for turning the shrimp all at once, which helps to avoid overcooking.
Shrimp can also be boiled or steamed on a cooktop, a popular method for preparing shrimp for salads.
Regardless of the method, your primary concern should be to cook your shrimp thoroughly — without overcooking them. If you've ever faced a plate of rubbery, tasteless shrimp, then they were likely overcooked.
Keep in mind; shrimp will continue to cook even when removed from heat. Once they're close to done, remove the shrimp from heat and immediately transfer to a serving dish.
To check for doneness, keep a close eye on the color of the shrimp. When done, they should go from translucent to opaque and should reach an internal temp of 120°F (49°C), unlike most meats that need to reach an internal temp of 160°F (71°C).
Be sure to stop cooking before the shrimp begin to curl into tight light little circles, a sure sign that they are overcooked.
---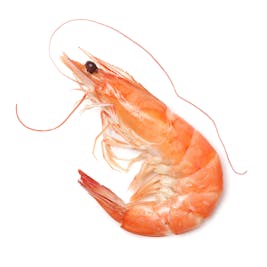 Tips for purchasing shrimp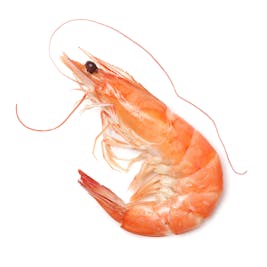 Concerned about finding sustainably sourced shrimp, labor practices, or safe farming practices?
Whether shrimp are wild-caught or farmed, fair labor practices and safe, environmentally-friendly methods make sustainable sourcing possible.
We suggest learning more about wild-caught shrimp from the international Marine Stewardship Council (MSC) which includes a guide to purchasing wild-caught shrimp.
Similarly, the Aquaculture Stewardship Council (ASC) provides information about farm-raised shrimp, including a certification and labeling program (just like the MSC) to help guide consumers.
Readers can find more information at the non-profit Monterey Bay Aquarium Seafood Watch in the US, which provides information about international and domestic seafood sources.
---
Quick low-carb or keto shrimp recipes
With only five minutes of active cooking time, our quickest shrimp recipes also include less than 20 minutes of preparation. The fact that these recipes use only one skillet also means cleanup is quicker, too.
Spanish garlic shrimp
Our Low-carb Spanish garlic shrimp can be enjoyed as an appetizer or as a main dish. Serve it with other classic Spanish appetizers like Manchego cheese, olives, or Serrano ham.

---
Garlic and sesame prawns
Use jumbo shrimp to make our tasty Low-carb garlic and sesame prawns. Served on a bed of sauteed bok choy, red pepper, and green onions, the Asian flavor that permeates this dish is perfection.

---
Hot keto shrimp cocktail
Who doesn't love shrimp cocktail? This keto version includes a mayonnaise-based Thousand Island dressing that adds both fat and flavor — and can be ready to enjoy in less than 15 minutes.
---
Low-carb or keto shrimp marinades
Marinating shrimp not only adds delicious flavor but also helps to keep them moist and tender. Our two favorite marinated shrimp recipes feature regional flavors.
Notice that each of these recipes call for using skewers to grill the shrimp. If you prefer, the shrimp may also be sautéed on high heat in a skillet instead.
Shrimp skewers with chimichurri
Low-carb shrimp skewers include South American flavors with a traditional chimichurri sauce that compliments the light-flavored marinade used for the shrimp.
Both the marinade and the chimichurri sauce call for red peppers. Feel free to reduce the amount of peppers if your palate prefers less spice.
---
Buttery harissa shrimp skewers
Buttery harissa shrimp skewers borrow traditional flavors from North Africa and require less than 20 minutes to cook. Harissa can be very spicy, so reduce the amount of harissa paste for a milder taste.

---
Low-carb or keto shrimp salads
Whether served hot or cold, a shrimp salad is both satisfying and crave-worthy.
Swedish shrimp salad with dill
Enjoy our classic Swedish shrimp salad with dill, a fresh spicy shrimp salad served with cucumber and avocado, or a classic spinach salad dressed with hot bacon fat dressing and topped with shrimp, bacon, and boiled egg.

---
Spicy shrimp salad
Get your heat on with this piquant keto salad that will surely awaken your senses and tease those hungry taste buds! Hot shrimp with smooth avocado and crunchy cucumber, combined with a delicious ginger and garlic dressing.

---
Shrimp salad with hot bacon fat dressing
This super quick Shrimp salad with hot bacon fat dressing really has all the satisfying flavours that your body crave.

---
Keto shrimp tacos and wraps
Wraps and tacos are only as good as their fillings. Our creamy keto shrimp tacos and avocado shrimp salad wraps are perfect examples. With flavors punctuated by lime juice, fresh cilantro, or spicy chili paste, you can enjoy the fillings with or without the taco shell or homemade wrap.
Creamy keto shrimp tacos
Why should taco fillings have all the fun? In this recipe, the cheesy taco shells share the starring role with shrimp in a luscious cream sauce.

---
Keto wraps with avocado and shrimp salad
Egg wraps without flour are like super-thin omelets and you can fill them with anything. Here we made it keto with homemade mayo, avocado, shrimp and a little touch of chili and cilantro.

---
Low-carb or keto shrimp skillet dishes
Any time you can make a complete meal in a skillet, it's a winner!
Quick-cooking shrimp is ideal for one-skillet meals. Try our creamy Tuscan shrimp or a dairy-free — yet creamy — dish like shrimp with spaghetti squash. Both of these recipes are easy and flavorful.
Creamy low-carb Tuscan shrimp
A creamy-dreamy shrimp dish with a rich, garlicky white wine sauce—plus color from sun-dried tomatoes and spinach! After the first bite, you'll feel like you're basking in Tuscan sunshine, and your family will wonder if you hired an Italian chef. It's low carb and delizioso!

---
Georgia's shrimp with spaghetti squash
This recipe was developed for Dr. Georgia Ede is one of those amazing women who is as smart as she is warm, funny, and engaging. Unfortunately, she has significant food sensitivities that restrict her diet to very few ingredients. Using a list of foods that are safe for her to eat, I developed a recipe that she could eat and enjoy!