Guidelines for successful keto and low carb recipe substitutions
Have you come across a tasty-looking recipe only to cringe because you didn't have all of the ingredients? No worries, our tips and easy guidelines will help you swap ingredients and create delicious meals.
Maybe you've found a drool-worthy photo but the recipe calls for lamb, which is too pricey, or uses an ingredient you don't like, such as cauliflower. Fortunately, cooking, unlike baking, often provides easy opportunities for substitutions. If you follow a few general guidelines you can be successful at making simple substitutions for common ingredients used in keto or low carb recipes.

5 Simple rules
How to make successful recipe substitutions
First, we'll start with our 5 simple rules about substitutions.

Then, we'll look at various sources of protein and easy swaps that cook the same or taste similar. Next we'll consider common cheese and dairy swaps for items that may be difficult to source or that your palate doesn't favor.

Finally, we will look for easy vegetable swaps since not every low carb or keto-friendly veggie is enjoyed by all. Fortunately, we can generally swap those out without impacting a recipe or the carb count too much, especially if we're careful to consider the nutritional impact.

Here are our 5 simple rules:
Consider the nutritional value of the food you're substituting and whether the two are similar. For example, a chicken thigh with the skin on will have more fat than a chicken breast. If you're using a chicken breast, you may need to add more fat to the recipe so that the meal is equally satisfying, and so that the dish isn't dry and flavorless.
Think about how the substitution may change the texture of the finished recipe. The texture of crumbled ground beef is different from a larger cut of meat like a roast or steak, for example. You might need to cut the larger piece of meat into smaller pieces to resemble ground beef or alternatively make small beef patties to resemble larger cuts called for in recipes.
Texture is particularly important when considering cheese and dairy substitutes.
Try to substitute similar flavors. Beef generally has a more hearty flavor than poultry and requires more flavorful seasonings. Some vegetables have a mild flavor and easily take on the flavor of seasonings while others have a more distinct flavor and are difficult to mask or replicate. For example zucchini (courgette) or mushrooms tend to have mild flavors while tomatoes and asparagus have more distinctive flavors.
Remember that substitutions may impact the amount of cooking time, so prepare to adjust accordingly, especially when cooking raw meats and vegetables. Seafood is a great example as it tends to cook more rapidly than most cuts of meat. If using seafood as a substitute, adjust cooking times so that fish, shrimp, etc remain tender and succulent.
Limit substitutions to no more than one or two ingredients. While many substitutions are simple, going wild with multiple substitutions, may result in a final dish that just doesn't work. If you need to make multiple substitutions, it might be best to select a different recipe.
Protein swaps—our guidelines and recipes
One of the simplest substitutions
you can make is to trade the primary source of protein, typically meat or seafood, for another.
Replace tender cuts of meat with other tender cuts such as a beef filet or tenderloin with a similar cut of lamb, pork, or chicken. Thicker, less tender cuts such as roasts, may need to cook longer, so be sure to substitute accordingly, such as a pork roast for a beef or lamb roast or adjust cooking times.
The chart below provides a quick reference for meats that are easy to swap for each other. Be sure to consider fat content, cook times, and the size of various cuts when selecting substitutes.
Here are some common swaps that you can make with the vegetables you prefer or that you have available.
If you don't have:
Lamb — use beef or pork.
Seafood — use poultry.
Pork — use poultry or beef.
Beef — use lamb, poultry or pork.
Poultry — use seafood or pork.
Lamb and beef substitutions
Lamb can be expensive or difficult to source in some areas, but don't let that stop you from trying delicious lamb recipes with a different meat.
The Keto lamb stew with dill sauce and green beans would be equally delicious with stew beef and would need a similar cook time. No green beans? Some Butter fried broccoli would make an excellent substitute.
Low carb lamb roast with broccoli puree
, it should be super delicious with a tender cut of beef such as a rib roast or tenderloin. Use cauliflower for the puree if you need to use something other than broccoli.
Beef substitutions
Depending on the recipe you're making, chicken, lamb, or pork are often easy substitutes for ground beef. Consider the flavor profile, texture, and cook time to determine which might be best.
Our highly popular Keto Tex-Mex casserole calls for ground beef, but both ground chicken or ground pork sausages with the casings removed would be just as tasty.
In fact, crumbled ground pork sausages (casings removed) would be an excellent choice for the Keto Italian cabbage stir fry. Plain sausage or ground chicken would work as well. You may need to adjust the seasoning if you decide to use sausages that are already seasoned.
Pork or lamb
could also take center stage in
Slow cooker Moroccan beef
, a savory dish that calls for a slow cooker to yield tender, easy-to-shred meat. Since this dish cooks slowly on low, using moist heat, you can use less tender cuts of pork or lamb.
If you don't have a slow cooker, a Dutch oven or large pot with a lid on the stovetop will work. Just simmer the meat on low for 2-3 hours and keep it covered. Check every 20-30 minutes to make sure it doesn't simmer dry. Add water or broth if needed.
Last, if lamb is easy to source or if you simply love the flavor, try using ground lamb in Keto hamburger patties with tomato sauce and fried cabbage. The tomato gravy in this recipe is just magical and would really taste delicious with lamb.
Pork substitutions
Avoiding pork? While pork is technically white meat, most cuts of pork are mild in flavor and can be replaced with chicken, seafood, beef, or lamb.
In a flavorful dish like Keto pork and green pepper stir fry, chicken or shrimp would be ideal substitutes. You aren't likely to have to adjust cooking times if you use small pieces of chicken. However, if you substitute shrimp, add these at the very end; after the veggies are just tender. Most shrimp cooks through in less than 2-3 minutes on medium heat.
Dishes with much richer sauces or seasonings can be paired with beef, lamb, or chicken. For example, serve the blue cheese sauce from our Keto pork chops with blue cheese sauce recipe over a thick, tender steak or lamb chop.
Seafood substitutions
Do you need substitutes for seafood? For those who are landlocked, seafood dishes may be out of reach or you might simply prefer shellfish to fish or vice versa.
In many recipes, chicken will work well as a substitute for fish. Try frying up small fillets of chicken to use instead of fish in our Creamy keto fish casserole. Shellfish would also be fantastic in the fish casserole.
In the absence of fresh seafood, try using canned seafood, like the seafood used to make a Keto seafood omelet. Cooked, shredded chicken or pork would also be tasty with the creamy sauce, which includes garlic, cumin, and pepper sauce.

Chicken substitutions
No poultry on your menu? Although chicken seems to be universally embraced, it can be replaced by a variety of meats when warranted. Consider the texture of the finished recipe as well as the cooking time when selecting substitutes.
Chicken has very little flavor when tossed into a stew or casserole, making it relatively easy to replace with beef or pork. In the Keto pesto and feta chicken casserole much of the flavor comes from feta cheese and olives, which makes ground beef or pork a perfect substitute for chicken.
Similarly, the sauce in Keto garlic mushroom chicken thighs is what makes the dish so delicious. Those same flavors of garlic, rosemary, and thyme would taste yummy with pork. Alternately, make the sauce per the recipe, omit the chicken, and serve the sauce over shrimp or a baked white fish.

When a recipe calls for roasted chicken
, use any cut of meat that roasts well, such as a steak, pork chop, or even fish. In the
Keto chicken wings with creamy broccoli recipe
, it's the creamy broccoli that will steal the show, so any roasted meat will do.
The Keto fajita chicken casserole blends southwest flavors, chicken, and cheese, but you can just as easily use strips of beef and use a similar cooking time. Leftover shredded pork would also be tasty in this flavorful dish since beef and pork both cozy up well with southwestern flavors.

Canned meat
Using canned meats? If fresh meat isn't readily available, or if you need to use shelf-stable meats or seafood, you might substitute canned meats for fresh.
Canned chicken, salmon, tuna, shrimp, pork, or beef are generally available in most grocers or online. Since the meats are already cooked, an added bonus is the reduced overall prep and cooking time.
Try using canned meats in cold salads such as the Keto beef salad with mozzarella and tomato. The dressing is made with parsley, basil, and oregano, which goes well with chicken or salmon, both of which are easy to find in tins.
In a warm dish such as Keto Latino chicken with zucchini rice, save time by skipping the need to brown the chicken. Start with preparing the vegetables and then add canned chicken near the end, heating just until warmed.
Vegetable substitutions
Eat your veggies, but only eat low carb veggies that you like. When swapping vegetables in recipes, start by using the Diet Doctor vegetable guide to determine which vegetables are lowest in carbs and are the best choices for keto or low carb.
Next, consider vegetable substitutions not only based on carbs, but also consider texture, flavor, and cooking time.
Tender greens like spinach can replace hardier greens such as kale, but the cooking time must be reduced. For example, make Keto fried eggs with kale using spinach. Instead of cooking the spinach first as you would the kale, add fresh spinach at the very end of the recipe when you add the cranberries and nuts.
In fresh salads, substitute greens that have similar flavors and textures such as using arugula for endive which are both somewhat bitter. Endive would be excellent  instead of arugula in Low carb zucchini walnut salad.
Texture in vegetables
Some vegetables add texture as much as flavor. Mushrooms are one example. In some dishes, they can simply be omitted, but in other recipes, you may need to replace them with a similar texture and mild flavor. Avocado is another example; its unique texture is difficult to substitute in recipes.
Chicken skillet with mushrooms and parmesan is one example. In place of mushrooms, chopped cabbage, sauteed until tender, would add a similar texture with a neutral flavor.
Broccoli spears also have a unique texture, especially when tossed into salads. Cauliflower provides a similar texture with a flavor that often integrates well as a substitute.
If you have broccoli on hand, but you don't want the texture, use broccoli stems instead of tips. The stems can be used in place of zucchini, cabbage, or even radishes. You might grate some broccoli stems into Low carb cauliflower hash browns if you don't have enough cauliflower on hand.
Common vegetable swaps
The cooking time for most low carb vegetables is often similar, making the most important consideration the texture and taste.
Here are some common swaps that you can make with the vegetables you prefer or that you have available.
If you don't have:
Kale — use spinach.
Broccoli — use cauliflower or cabbage.
Zucchini — use squash.
Tomatoes — use sundried tomatoes.
Pumpkin — use winter squash.
Brussels sprouts — use cabbage or bok choy.
Peppers — use jalapeno or assorted peppers.
Mushrooms — use cabbage or zucchini.
Onions — use dried onions or shallots.
Frozen vegetables
Frozen vegetables are a great way to keep your favorite vegetables on hand. When using frozen vegetables in recipes, remember that they've been cooked or blanched and will take less overall cooking time. Also, when thawed, frozen vegetables are likely to have a higher moisture content. Before using frozen vegetables in a recipe, thaw or lightly cook the vegetables and then remove as much water as possible.
To remove the water, let the vegetables drain in a colander and/or use a clean towel to squeeze out any remaining water before adding them to a casserole, stir fry, frittata, or other dry-heat method of cooking like baking, roasting, grilling, or frying. For example, frozen broccoli could be used to make Low carb butter-fried broccoli, but the broccoli needs to be thawed and dried as much as possible before frying.
As always, check frozen food ingredient lists for food starches. Products such as cauliflower rice or cauliflower mash are most likely to have added carbs that you may want to avoid.

Vegetarian and vegan substitutions
If you're looking for vegetarian options, please read the substitution guidelines outlined in How to follow a healthy vegetarian diet.
In most recipes, you can use eggs instead of meat and/or add cheese or dairy to provide additional protein. Halloumi, goat cheese, or paneer are fairly versatile cheeses that can be added to recipes traditionally made with meats.
Look for simple swaps such as adding sliced boiled eggs and additional cheese to a Low carb pickle sandwich and omit the turkey.

Finding vegan substitutes can be more challenging
, but you can learn more from Diet Doctor's
How to eat low carb as a vegan guide.
We also offer meal planning guides and tips for
vegan recipes
.
Remember that tofu absorbs most flavors, which makes it an excellent option for most meat substitutes, including curries and stir-fries. Use it in place of chicken in Low carb curry chicken with cauliflower rice. Tofu can also be used in a fresh salad like the Keto cheeseburger salad. Omit the cheese and use a vegan mayonnaise to make the salad dressing.
Cheese substitutions
With such a wide variety of cheese, many of us are spoilt for choice, but it also makes it easier to find substitutes when a recipe might call for a particular type of cheese. In general, it's typically safe to substitute any cheddar cheese for another, keeping in mind that mild cheddar won't overpower a recipe like a very sharp cheddar might.
You can also typically substitute an Italian cheese for any other, such as asiago for parmesan, or mozzarella for provolone, even though the flavors are different. Try to substitute hard cheeses for hard cheese. Pecorino, asiago, and Manchego are all aged, firm cheeses, and can be used interchangeably. Semisoft or semi-firm cheeses like Edam, mozzarella, Swiss, muenster, or fontina are also pretty easy to exchange in recipes even though the flavors vary.
Feta and blue cheese
Some cheeses have very strong and distinctive flavors. Feta is one of those. If you want to avoid the salty, tangy flavor of feta, try using goat cheese instead.
While it isn't as firm as feta, goat cheese can be used in most recipes like Low carb feta cheese stuffed bell peppers. Creamy goat cheese would be an excellent substitute and would taste great with the mint, eggs, and hot sauce.
Blue cheese is another strong-flavored salty cheese. It has a velvety texture, which makes a wonderful sauce for meats and cheeses. For a milder sauce, use cheddar cheese. The Keto blue cheese cabbage stir fry can easily be made with goat cheese, cheddar, or even pepper jack cheese for an added kick of heat. If you want a stronger flavor, try using feta cheese in a recipe that calls for blue cheese.
Last, if you're not a fan of goat cheese
, try substituting cheddar or mozzarella in dishes like
Keto goat cheese and mushroom frittata
.
Budget and easy to find cheeses
Cheeses can also be expensive or difficult to find depending on your location. Provolone, Gruyere, and haloumi are a few of the most common that are either difficult to source or can stretch the budget.
For provolone, try using mozzarella, which is pretty ubiquitous and inexpensive. Swiss cheese is a good option when gruyere is out of reach. It has a similar nutty taste and melts just like gruyere.
Halloumi, also called bread cheese, fries up into a nice, firm texture. It can be chopped and used in stir-fries or made into a replacement for French fries. If you want to make Halloumi fries with avocado dip, but can't find halloumi, you might have better luck finding queso blanco or paneer.
Queso blanco is a Mexican cheese that behaves similarly when sliced. Paneer is an Indian cheese. Once you press the water from paneer, you can use it like halloumi. Paneer also makes a nice substitute in recipes that call for tofu.
All the cheese
For those who enjoy most cheeses, you can also just have fun trying different cheeses in new recipes, keeping in mind the flavor, texture, and type of cheese when making recipes.
If you haven't tried Baked cheese, experiment with a variety of cheeses such as queso blanco, paneer, brie, or goat cheese.
Dairy substitutes
Keto and low carb recipes often rely on dairy to add fat and protein to a meal. Creamy dairy products can often be used interchangeably.
For example, yogurt, sour cream, or creme fraiche can sometimes be used as substitutes for each other. Just be aware that yogurt typically contains less fat than sour cream, while creme fraiche typically has a higher fat content.
As a substitute for creme fraiche in Keto salmon-filled avocados, try sour cream, mayo, or even a dollop of whipped cream cheese. When used as a condiment, rather than an ingredient, the fat content only matters in terms of taste, texture, or nutrition.
When dairy is used as an ingredient in a recipe, you have to consider the amount of fat needed for the recipe to be successful. Try to swap options with similar fat content when making substitutions.

Eating dairy-free keto or low carb
Sometimes the swaps are relatively simple such as using coconut oil instead of butter. And while ghee is derived from butter, it is well tolerated by some who are dairy-free and so can also be used as a substitute.
For creamy textures, unsweetened coconut cream, coconut milk, or almond milk can replace dairy. You can even use soaked raw nuts, such as cashews as a thickening agent. Just be mindful to count the carbs added by the nuts.
Commercial coffee creamers that are unsweetened and made from coconut, almond, cashews, or macadamia nuts can also be used to add a creamy texture to low carb or keto recipes.
Ripe avocados are a delicious way to create a creamy sauce in savory dishes like Georgia's shrimp with spaghetti squash.
There are also commercially available nut cheeses, cream cheese, and other dairy-free products, but be sure to check nutrition labels to find options that fit your way of eating.
---
Final thoughts…
Have fun playing with your food! Cooking should be a fun adventure, and it's far easier once you learn some basic guidelines for substituting ingredients.
Remember taste, texture, cook time, nutrition, and limiting swaps are the five most important aspects of successfully making recipe substitutions.
Have you made a substitution in a Diet Doctor recipe that made a dish a family favorite? Let us know. We'd love to hear your favorite swaps.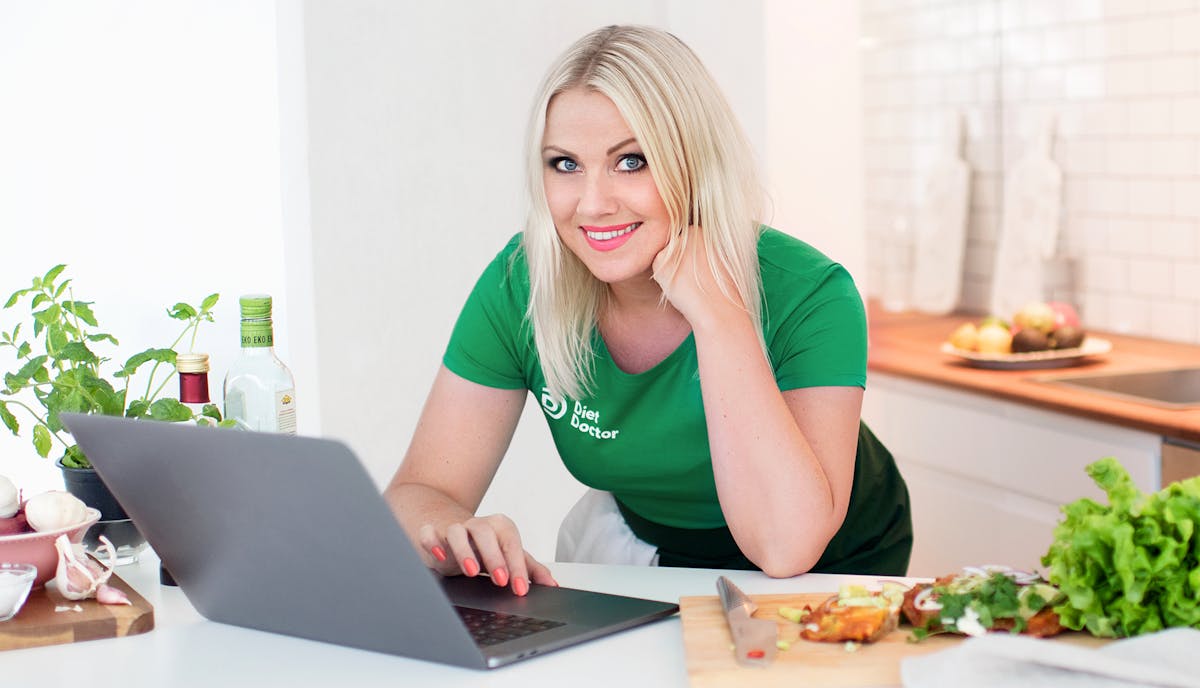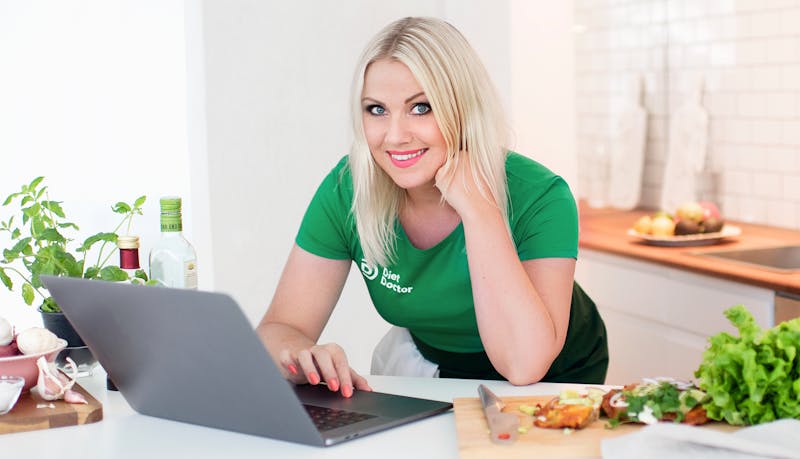 Try our keto & low carb meal plans for free!
Our popular meal plans are customizable and include shopping lists and nutritional information. Now you can try them out one month for free! Sign up for Diet Doctor Plus today to make your low carb journey even more simple, fun and delicious. The full Diet Doctor experience also includes exclusive videos, support, programs and more.

Start free trial