The best tips and recipes for a happy low-carb and keto Easter
While many of us may be celebrating without large gatherings of friends and extended family this year, we can still enjoy some traditional Easter fare. Whether you celebrate with brunch, lunch, dinner or a special dessert we've got delicious low carb and keto recipes for you and your family to enjoy from start to finish.
We've selected traditional dishes with ingredients common to spring such as luscious lemon, asparagus, green beans, and tender leaf salads — all delicious if you'd like to pair them with pork, lamb, beef, chicken or seafood.
There are also some vegetarian and vegan options. Dairy-free or egg-free? We've got you covered. Save a few carbs for dessert because we've also included some treats for your holiday table.
Starting the holiday with the perfect brunch
Easter brunch is perfect for those who like a lazier Easter morning, but still want to celebrate with a festive meal. Try a fantastic and easy egg dish, like the scrumptious

Keto eggs benedict on avocado

.

Don't be intimidated by the thought of making hollandaise sauce. This recipe makes it so easy that you'll kick yourself for not making it years ago. Also, if you're not a fan of smoked salmon, serve the eggs benedict with a side of crispy bacon or ham. Omit the meat completely for a delicious vegetarian option.

The Ham and cheese quiche with cauliflower crust can be made ahead of time. To lower the carb count and to save even more time, you can omit the crust and make the entire recipe crustless. Your family will also be impressed with the Keto croque monsieur. It's as easy as it is tasty, and perfect for the holiday.

Just because it's morning, doesn't mean that you have to serve eggs. Surprise the family with Low carb ricotta and lemon pancakes or our popular and easy Keto breakfast tapas. Perfect for a brunch, the tapas make it easy to include a variety of favorites.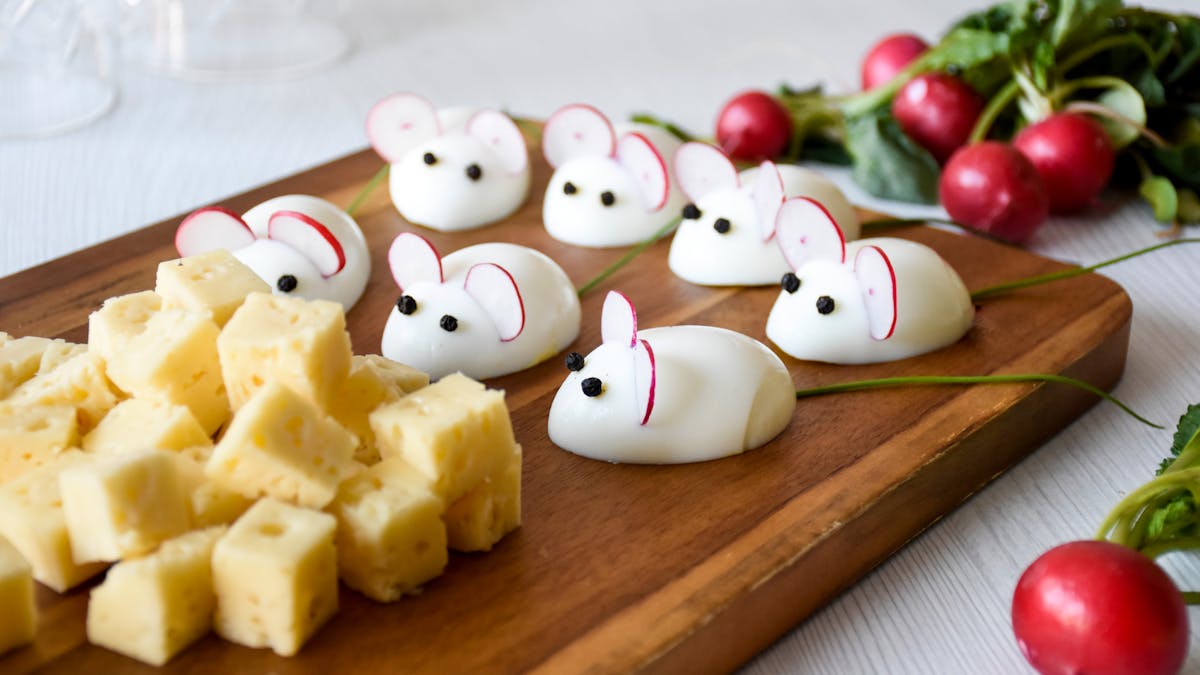 Keto egg mice

If you have children coming, or even just adults with a sense of humor, we love this adorable starter to get everyone in the mood for a spring celebration!

Easter buffet
Main dishes
If you prefer to offer an inclusive Easter buffet lunch or dinner, sort through these options to find meat dishes, vegetarian or vegan options as well as foods for those avoiding eggs or dairy.
Popular meat dishes for Easter tend to focus on lamb, beef, or pork, but we also have perfectly celebratory poultry and seafood options. Your family will be delighted when they see a gorgeous Pepper-crusted beef tenderloin with herbed steak sauce or a Bacon-wrapped pork tenderloin with roasted garlic mash.
If you want to prepare a traditional glazed ham, try this Apricot and mustard glazed ham. You can reduce the carbs by omitting the dried apricot, reducing the mustard to 1 tablespoon and using 8 ounces of fresh raspberries pureed and strained to make the glaze.
Less traditional, but equally delicious is the Keto chicken with lemon and butter. Lemon lends itself to spring flavors, so use it with poultry or seafood.
Delicious Easter Desserts
Coffee

can be a luscious dessert, especially when served with heavy cream and a pinch of sweetener, but Easter often includes chocolate and lemon options, so we've included some delicious treats for you to consider.
Chocolate
Guests will swoon over these chocolate desserts.
Chocolate + peanut butter
Lemon lime
If lemon is more to your liking, we've got you covered there as well.
Sugar-free candy
Whatever you low carb or keto dishes grace your table, we hope that you and your loved ones enjoy this spring holiday of renewal.