'Keto Restaurant Favorites' review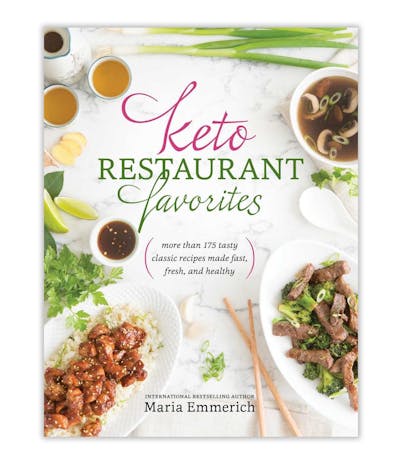 Maria Emmerich maintains the super helpful website, www.mariamindbodyhealth.com. She has been a champion of the low-carb lifestyle for quite some time. Maria's recipes are reliable and range from everyday kid-friendly recipes to feats of magic!
Her newest cookbook, Keto Restaurant Favorites, focuses on a range of meal ideas from favorite ethnic restaurants. Chinese, Korean, Italian, Mexican, Thai, and Indian—it's all included! Each recipe is accompanied by a photo that is beautifully styled to not only show you how the food should look, but to make you run to the kitchen to prepare it.
Recipes I made from this book: The Asian dipping sauce was perfect for chicken and mixed vegetables. My daughter enjoyed it so much that she started looking for additional foods to dip into it. String cheese, cheese crisps, and pork rinds all took a dip, but we agreed that it was most perfect for chicken. I also made the Pad Thai which is one of my personal favorites. I used less squash noodles than the actual recipe to lower the carbohydrate count, but that just gave me more yummy chicken and sauce to enjoy. This one is going into our meal rotation on a regular basis! I've also promised to make the pot stickers, teriyaki salmon, mozzeralla sticks, and the Chicken Parmigiana, and I'm sure that my family will enjoy it all.
What I really appreciate about this book: First, I really love and appreciate the photos in this book. Each food looks really delicious, and the photos invite me to sit down and eat right alongside of her. I also appreciate that the wide range of ethnic foods remind us that no meal is really "off the table" when we follow a ketogenic diet. While some ethnic restaurants may not be keto-friendly, the flavors and tastes are still ours for the making!
The family-friendly factor: With a few exceptions, most of the recipes yield 4 to 8 servings, which is really helpful when you want to feed a family and have leftovers for lunches. When I asked my daughter to select one or two recipes to try, she quickly marked eight recipes without hesitation! Some of the spicier dishes might need to be adjusted for younger children, but few of the dishes seem overly spicy. Most are simply flavorful and authentic.
You can learn more about Maria, her low carb journey, and her family at her website www.mariamindbodyhealth.com. You can also try many of her wonderful recipes and get more information about her book, Keto Restaurant Favorites.
More
Recipes by Maria Emmerich
Top keto recipes
Top keto videos
Earlier with Kristie