The ultimate guide to kitchen essentials
No kitchen craftsman can work without proper tools or equipment, and that includes those that follow low carb or keto.
Whether you're looking to set up a new kitchen or you're ready to dig deep into your culinary pursuits, we've got a simple guide to help you determine all of the tools you might need.
For the purposes of this guide, we've broken down kitchen essentials into five categories: cookware, bakeware, utensils, food prep, and appliances.
Within each section, you'll find a list of cooking tools, all listed according to necessity — basics first so that you can customize your kitchen based on your needs and budget.
How well is your kitchen stocked? Read our guide and find out.
---
Cookware
Cookware basics
Intermediate cookware
Bakeware basics
Intermediate bakeware
Advanced bakeware
Push pan
Tart pan
Brownie pan
Muffin top pan
Bundt pan, tube pan, etc.
Utensils
Utensils are used to handle, move, mix, or otherwise manipulate foods or ingredients. Folks who enjoy cooking will have their favorites, and you may have to play around with different types and sizes of utensils to find what feels best to you.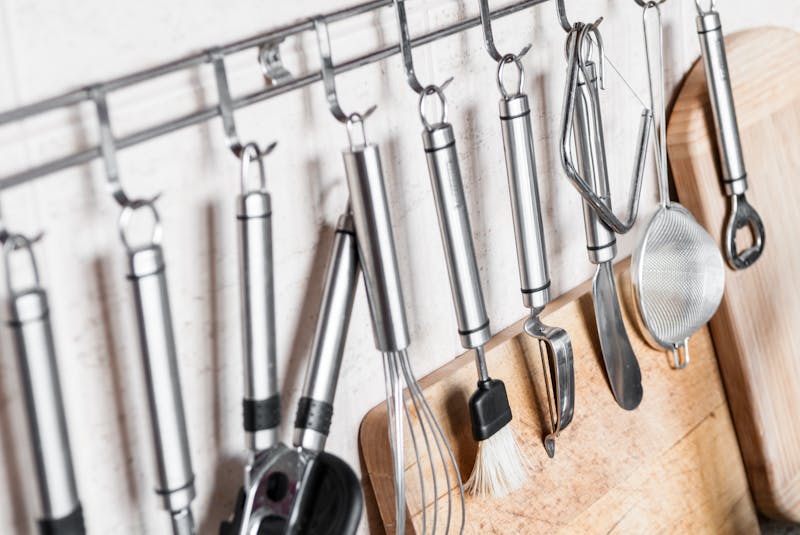 Consider selecting utensils that have a solid, one-piece design such as silicone spatulas. These are easier to clean and less likely to harbor bacteria than utensils made from two or more pieces.
Basic utensils
If there is nothing else in your kitchen, you need to begin with a set of eating utensils, serving spoons, rubber spatula(s), and at least one flipper or turner.
Rubber spatula (scraper)
Serving spoons
Flipper or turner (metal spatula)
Eating utensils
With these basic utensils, you can mix, cook, and serve simple foods.
Intermediate list of utensils
If you ever use a pair of tongs, you'll wonder how on earth you ever cooked without them. Tongs make browning meats or turning foods easy because they mimic our pincer grasp.
When choosing utensils, you'll also want a small whisk, which is perfect for beating eggs to make one of our delicious breakfast casseroles.
Tongs
Whisk
Kitchen shears
Ladle
Use kitchen shears to do everything from opening food packages to cutting meats. Most also have a built-in bottle opener. They are also handy for finely cutting herbs.
Advanced list of utensils
A cheese slicer might be a necessity for a keto or low-carb eater who loves cheese, but we added it to our advanced column since you can accomplish similar results with a regular knife.
Cheese slicers allow you to serve yourself without touching the whole block of cheese, making them a great utensil to have on hand when hosting.
Cheese slicer
Slotted spoon
As for a slotted spoon, these allow for serving when you want to avoid any pan juices. Simple to use and effective in avoiding a mess!
Food prep
The staples needed for food preparation are probably the most numerous. These are items that you use to prepare ingredients and make recipes. Depending on your food preferences, some of these items may be more important than others.
Basic food prep tools
The list of basic items may seem long, but most are relatively inexpensive.
You want to begin with methods for measuring by volume and by weight, which is why we included dry measures, liquid measures, and a food scale. A food scale will be most accurate, and we encourage you to use one.
A set of mixing bowls generally includes a range of sizes and can be plastic, metal, or glass. Glass or metal is generally most desirable because those are easiest to clean.
You will also want a handy set of knives and a cutting board to use them on. Start with a paring knife, chef's knife, and serrated knife. Cutting boards can be plastic, glass, or wooden. Glass is least likely to harbor bacteria.
If using plastic or wood, it's good to designate one board for raw meats and another for vegetables.
Intermediate food prep tools
If you tend to cook frequently, a meat thermometer is an ideal way to ensure that meats are properly and thoughtfully cooked, especially when roasting large pieces of meat such as our Cuban roast pork or smoked turkey.
Tools like a vegetable peeler or spiralizer can make prepping veggies a breeze, and you can quickly enjoy zoodles with a low-carb or keto sauce. Use a colander to rinse fruits and vegetables without letting them get waterlogged.
Vegetable peeler
Spiralizer
Colandar
A cooling rack helps to make cookies or crackers crisper and can also help foods like waffles, pancakes, muffins, or bread cool without getting soggy.
Similarly, wooden skewers help to lift foods off of a grill or baking sheet to cook more evenly and more efficiently as in our grilled pork skewers.
Parchment paper is ideal for lining baking sheets to make clean-up easier, and parchment paper muffin liners let you enjoy every morsel of muffin or cupcake because it won't stick to the tin or the paper liner.
Cooling rack
Wooden skewers
Parchment
Advanced food prep tools
Utensils that are nice to have — but aren't totally necessary — include a pizza cutter, used to slice into any of our delicious low-carb or keto
pizzas
, a sieve for straining things like
bone broth
, or a garlic press, which is super convenient as compared to mincing fresh garlic with a knife.
Pizza cutter
Sieve
Garlic press
If you make our popular seed cracker recipe or one of our recipes made with dough like our low-carb empanadas, you could use a pastry roller to make sure the dough is uniform in thickness.
A pastry brush is ideal for brushing your low-carb dough with butter or egg whites. You can also use it to coat roasted or grilled meats with a sauce like our recipe for low-carb barbecue ribs.
Pastry brush
Pastry roller
Appliances
Our great grandmothers managed to cook without a lot of these appliances, so we kept the basics category minimal. These are truly the items that make our lives easier and more efficient in the kitchen.
Basic appliances
A hand mixer is ideal for whipping up fresh cream, blending batters like keto bread, or smoothing creamy sauces. They're compact, which means they don't take up a lot of space, and they're relatively inexpensive.
Intermediate appliances
If you do a lot of chopping or blending, say for cauli mash, or something like our low-carb granola, then a food processor or blender comes in handy.
An immersion blender is especially useful for pureeing soups like our creamy low-carb broccoli and leek soup or making mayonnaise. Last, a stand mixer is ideal for blending larger yield items such as a cheesecake.
Food processor
Blender
Immersion blender
Stand mixer
Advanced appliances
The larger appliances included here often have multiple functions, minimize heating larger appliances, and are typically portable.
Most importantly, many of them allow us to enjoy passive cooking without actively standing by the stove. Anyone who's ever used a slow cooker can appreciate tossing in all of the ingredients and coming back to a fully cooked meal in 8 hours or less.
Slow cooker
Air fryer
Instant pot or other multifunction cookers
A few of these, such as the waffle iron and sous vide are simply fun to have and use. Who doesn't love a
chaffle
or
savory waffle
?
Toaster oven
Sous vide
Waffle iron
Meal plan
DD+ MEMBERSHIP
Welcome to Diet Doctor's Diabetes program! Let's kick off the first week with a collection of some of our favorite meals. If you haven't tried our recipes before, you'll be amazed at how delicious and filling it can be to eat healthfully.
Our dietitian has optimized the meal plans for the following 10 weeks to lower your blood sugar and keep it at a safe and stable level throughout the day.