Top keto and low carb cookie recipes
Next, we have everyone's favorite, simple-to-make cookie, the 
keto chocolate chip cookie
.
Our version is made with sugar-free or dark chocolate. If you're a peanut butter friend, try our simple keto peanut butter cookie recipe that uses ingredients you likely have stored in your kitchen.
Seasonal flavors
If you're looking for seasonal cookies, try our
low-carb gingerbread cookies,
which are the perfect warm treat during the holidays. You can even use traditional cookie cutters to make the shapes of these more festive.
Celebrate fall with our low carb pumpkin spice cookies, which include all the best flavors of pumpkin spice.

International flavors
Our recipe creators from Argentina and Australia have added some of their own specialties, which are not only healthy favorites for our readers in those countries, but will also be a treat for our international readers.
Try this Argentinian classic, keto alfajores, which features a caramel filling in a shortbread cookie. Or, bake these low carb chocolate tim tams, which are a favorite in Australia, and are made up of a soft filling, crisp cookie layers, and a decadent chocolate coating.
We've also included a traditional Swedish keto hazelnut cookie. These crisp cookies feature the earthy goodness of hazelnuts and look super cute with a whole hazelnut tucked into the center of each one.

Keto cookie dessert creations
Cookies can also be used as the creative base for other treats. If you've got chocolate chip cookies and
vanilla ice cream
, try putting them together for an ice cream sandwich. Make the cookies a bit smaller for better portion control.
You might also begin with a delicious ice cream base and add cookie dough bits for another truly delicious low carb ice cream and cookie duo dessert.

Our latest keto and low carb desserts
Gotta keep it fresh, right? We're adding recipes every week, so check back regularly for inspiration. Here are our newest keto and low carb desserts:
---
Struggling with eating just one serving?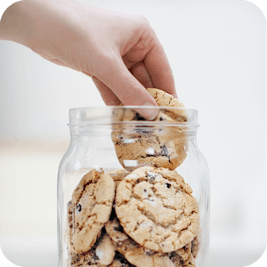 If you think about it, cookies could be considered the "perfect" keto dessert because there's built-in portion control — at least as long as you stick to a single serving size.
And remember, most cookies freeze well. Once wrapped and in the freezer, they won't call to you like they might from the countertop or the fridge.
Cookies are also a delight to share, especially with youngsters who can enjoy the event of making homemade cookies as much as they enjoy eating them.