A
low-carb
or
keto
way of eating means giving up or at least cutting way back on starchy foods like pasta, rice and potatoes. Our modern way of eating makes this seem hard and many people eating low carb or keto know that one of the most common questions they get is "What do you eat instead?".
The answer? Food. Real food. Vegetables in different forms make great dishes with all your favorite sauces. Enjoy your Bolognese, Carbonara or Alfredo sauces with zoodles instead of noodles. Thin strips of green cabbage fried in butter makes for another great option.
Traditional pasta is made from wheat flour which raises your blood sugar faster than sugar. By replacing it with a vegetable, you get more nutrients, more flavor and by adding a delicious sauce, enriched with healthy and natural fat, you stay satiated for much longer.
Here are all our top low-carb pasta recipes:
Instead of pasta
More
For even more ideas on what to eat, please see all of our low-carb recipes
For more information about low-carb and keto diets, check out our guides:
Meal plans
Get lots of weekly low-carb meal plans, complete with shopping lists and everything, with our premium meal planner tool (free trial).
More inspiration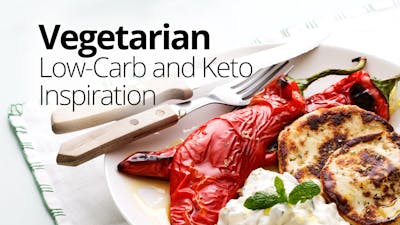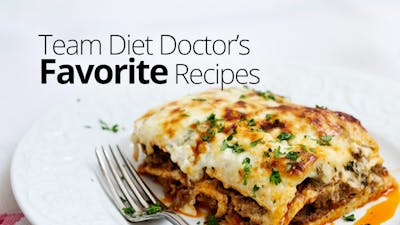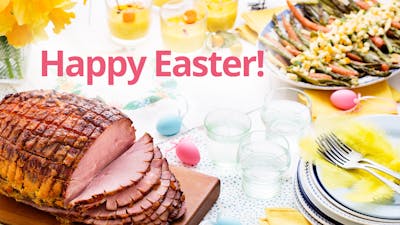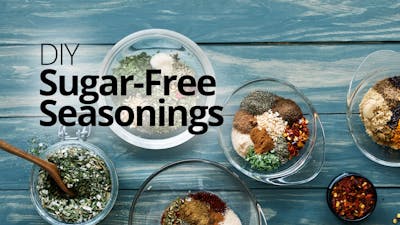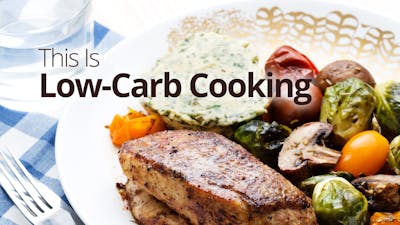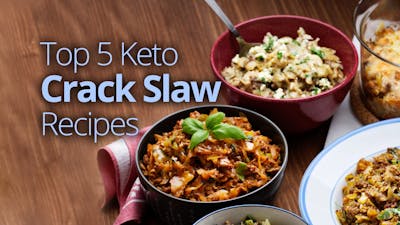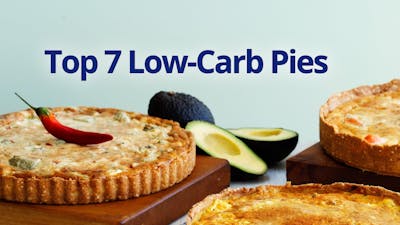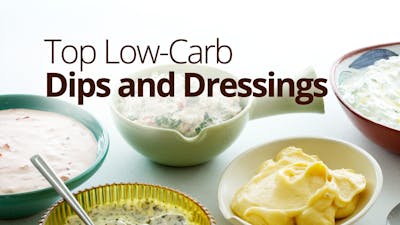 More recipes
About
All recipes are gluten-free, low carb and free from artificial sweeteners.
They're also easily printable.
Ketogenic
Under 20 grams per day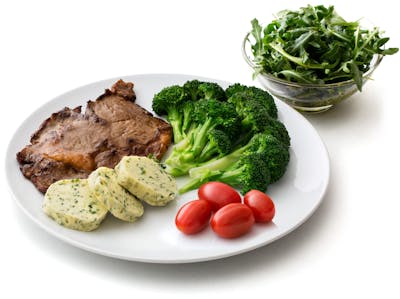 (this meal: 6 grams)
Moderate
20-50 grams per day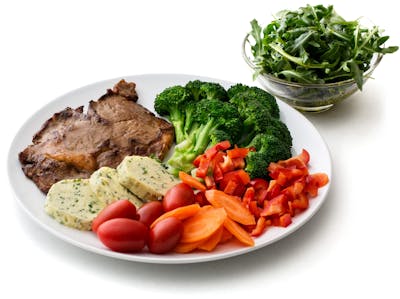 (this meal: 16 grams)
Liberal
50-100 grams per day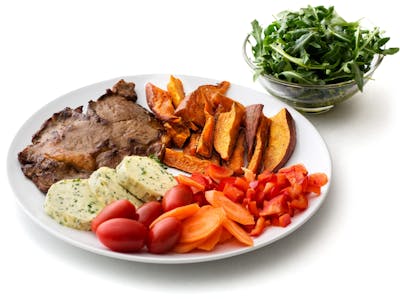 (this meal, including
sweet potatoes: 37 grams)
Our definition
Here's the way we define different levels of low carb at Diet Doctor:
Ketogenic low carb <20 gram carbs per day. This is a ketogenic diet (if protein intake is moderate). This level is defined as below 4 energy percent carbs in our recipes, where we also keep the protein level low or moderate (excess protein is converted to carbohydrates in the body).1 Previously we often called this "strict low carb", but as the word "keto" or "ketogenic" became commonly used we switched to only use this term, for simplicity.
Moderate low carb 20-50 grams per day. This level is defined as between 4-10 E% carbs in our recipes
Liberal low carb 50-100 grams per day. This means 10-20 E% carbs in our recipes
For comparison, a regular Western diet can easily contain 250 grams of carbs or more in a day, most of them bad refined carbs, including sugar.

Your recipe here?
Do you have a great low-carb recipe that you want to share? We can cook it, photograph it and publish it here on the site, with your name on it. Or maybe you have a traditional recipe you want us to make a low-carb version of. Please send us an e-mail at kristin@dietdoctor.com with your suggestions on how to make our recipes better. Alternatively, leave a comment below.
The limit of four energy percent means that you'll stay below a maximum 20 grams of carbs on a 2,000-calorie diet, even if you only choose our very most carb-rich keto recipes.

In most cases you'll end up with far fewer carbs than that, as some of the keto recipes you use are likely to have significantly less than the maximum amount of carbs.

Our keto recipes are also limited in protein. Our rule is that for keto recipes with 4 energy percent carbs we accept a maximum of 25 energy percent protein. For lower carb levels we accept slightly more protein:

3 percent carbs = max 27 protein
2 percent carbs = max 29 protein
1 percent carbs = max 31 protein
0 percent carbs = max 33 protein


If there's too much protein in a recipe to classify it as keto low carb, we instead classify it as moderate low carb. ↩