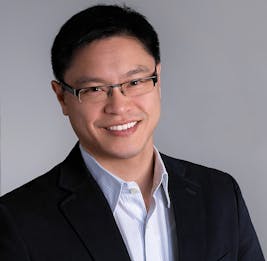 Dr. Jason Fung is a Canadian nephrologist. He's a world-leading expert on
intermittent fasting
and
low carb
, especially for treating people with
type 2 diabetes
. He has written
three best-selling health books
and he co-founded the Intensive Dietary Management program.
Dr. Fung has his own website at thefastingmethod.com.
Dr. Fung graduated from the University of Toronto and completed his residency at the University of California, Los Angeles. He lives and works in Toronto, Canada.
Dr. Fung occasionally collaborates with Team Diet Doctor on fasting related topics. Together we want to make it simple for people to understand and implement intermittent fasting, to improve their health. Below is some of the material with Dr. Fung on Diet Doctor.

About Dr. Fung
Watch Dr. Fung's brief presentation above.
Written profile
The fasting video course
The type 2 diabetes video course
Interviews
Presentations
Guides
Q & A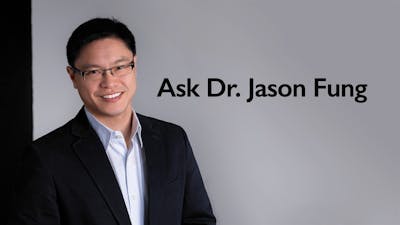 More with Dr. Fung
Dr. Fung is also on Twitter, Facebook, Instagram, LinkedIn and YouTube.
Books

Dr. Fung's books The Obesity Code, The Complete Guide to Fasting and The Diabetes Code are available on Amazon.1
Other publications
BMJ Case Reports 2018: Therapeutic use of intermittent fasting for people with type 2 diabetes as an alternative to insulin
Articles
Potential conflicts of interest
Updated August 21, 2019.
Dr. Fung is a co-owner in the Diet Doctor company.
Dr. Fung receives money for treating patients with kidney disease in hospital for general internal medicine and obesity medicine. He owns parts of his medical practice.
He is also a part-owner at Intensive Dietary Management corporation, which provides education and support for fasting.
Dr. Fung receives money from his books The Obesity Code, The Diabetes Code, The Complete Guide to Fasting and The Longevity Solution, and articles on medium.com.
Dr. Fung speaks at conferences and occasionally receives speaking fees.
He has a YouTube channel discussing nutrition and fasting.
Dr. Fung eats a low-carbohydrate diet and fasts regularly.
Dr. Fung drinks tea daily. He receives consulting fees from Pique Tea.
More
Diet Doctor will not benefit from your purchases. We do not show ads, use any affiliate links, sell products or take money from industry. Instead we're funded by the people, via our optional membership. Learn more ↩