"Intermittent fasting and keto together both changed my life"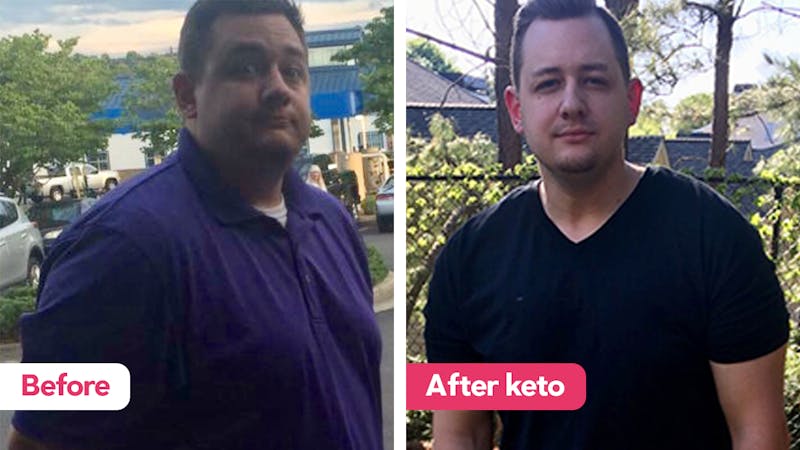 Dwayne is feeling like a completely new person after starting a keto diet and intermittent fasting and dropping 52 lbs (24 kg) in just seven months. Congratulations!
Here he shares a typical day of eating and his journey:
Hi my name is Dwayne, I'm located in Georgia.

I started my journey 7 months ago. I felt miserable in my own skin and decided to make a change. I started intermittent fasting and keto together to help me lose the weight that I desired to lose. In seven short months I'm down 52 lbs (24 kg)! Intermittent fasting and keto together both changed my life. I have more energy, a clearer more focused mind and just ultimately feel a completely different person.

A typical day day of eating consists of:

Two meals a day skipping breakfast.

Lunch: eggs covered in cheese with strips of bacon.

Dinner: hamburger patties covered in cheese with butter, mayonnaise and mustard to top it. I then add a hearty serving of broccoli or asparagus to get in my greens.
Comment
Congratulations, Dwayne! I'm so happy to hear that you have been so successful and are feeling better :-)
Get started
Do you want to try what Dwayne has done? Sign up for our free 2-week keto low-carb challenge!
DD+ MEMBERSHIP
Most popular success stories
All success stories
More
Intermittent fasting for beginners
Keto
Intermittent fasting
Weight loss
Share your story
Do you have a success story you want to share? Send your information, plus before and after photos, to success@dietdoctor.com. It would also be greatly appreciated if you shared what you eat in a typical day, whether you fast etc. More information:
Share your story!