The keto diet: "I started losing weight in such an easy manner"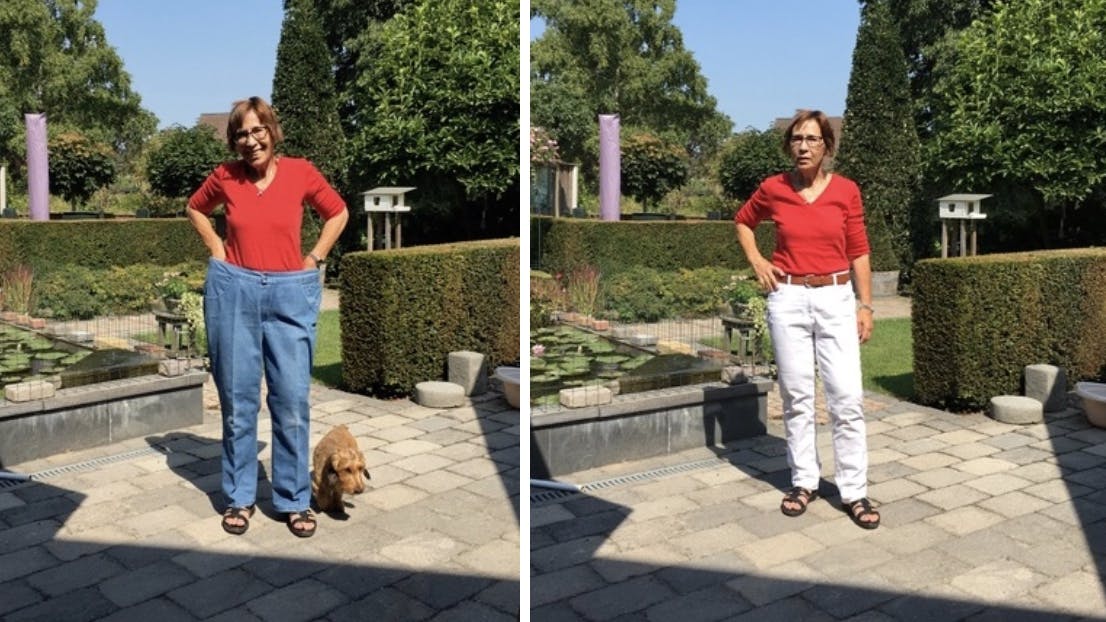 Dita had been dieting on and off for 45 years, trying all the diets out there, but did not get the results she wanted.
Here's what happened when she found the keto diet:
Hello Andreas,

I would like to share my diet history on Diet Doctor. My name is Dita de Winter, I'm 64 years old, my height is 158 cm (5'2″) and I live in The Netherlands.

The first time I started dieting I was around 17 years old, after a remark someone made about my figure. From that time on, I have always been on a diet, and tried different ones. From Weight Watchers to the Bread diet, calorie-restricted diets, shakes and low-fat diets. Too many, and in the end I never succeeded in keeping the weight off or losing weight in specific areas. My legs, and particularly my thighs, have always been a big problem. No matter how much I tried, I never lost much weight in these areas. It was also the first area to pile on weight when I gave up on a diet. Altogether, I've been dieting on and off for 45 years. I always tried to stay below a maximum weight of 80 kg (176 lbs). That was a limit for me.

However, in early 2017 I reached a weight of 80.7 kg (178 lbs), which really alarmed me. Together with the pain in my ankles, knees and hips because of arthritis, I knew I had to make a last effort to finally lose weight. I had a puppy at that time, so I knew I wanted to walk him for hopefully many years to come, and hopefully without pain.

So I started with skipping sweets, baked goods, everything fat and also less meat. After ten months I had lost 10 kg (22 lbs). My legs were a bit less fat, but still they hadn't changed much. I started feeling desperate untill I read an article in my newspaper about a low-carbohydrate, high-fat diet. It was the first time I read about it and in the website www.thenewfood.nl your website was mentioned. You were the inspiration for a lady who lost a lot of weight. I had a look at www.dietdoctor.com and from the first moment I felt this was also going to be my success. The recipes are awesome. I printed them for easy use and I did the 2-week keto challenge which was so easy to stick to. In my entire diet history I never ate so good and satisfying. Together with intermittent fasting according to Dr. Jason Fung, I started losing weight in such an easy manner, I could not believe my eyes every day I stepped on the scale. In the next five months, mind you FIVE months, I lost another 13 kg (29 lbs).

Altogether I lost 24 kg (52 lbs) and I will not have them back ever! Because I lost almost all the weight during the winter months walking around in my winter coat, it was truly surprising for so many people when I, for the first time, walked my dog in my t-shirt and pants. I got so many compliments and I can tell you I never, ever felt so happy.

I now weigh 57 kg (127 lbs), my arthritis is no longer hurting me. I dress the way I always loved, I don't have to worry anymore if it looks good on me, because for the first time in my life it does look good on me! I could not buy ready-made jeans for over 20 years because the proportion between waist and thighs never fitted. I had to make them myself. My thigh circumference has decreased by 20 cm (8 inches) EACH! Can anyone imagine what that did to me? I always felt my thighs "burning" when I walked around. I knew everyone was looking at my thighs. They still are a bit bigger than most peoples', but 20 cm is incredible! I NEVER, EVER managed to lose weight from my thighs and with the keto diet the fat just melted away.

I also had my blood, blood pressure and sugar tested. My bad cholesterol was low and my good cholesterol was very good, no fats in my blood, which made me realize that this is the right path for me.

The year 2018 started so good for me because of this diet, no problem keeping it up. Thank you all at Diet Doctor so much for your inspiration every day again.

With love,
Dita de Winter
Comment
Congratulations on your success, Dita and thank you for sharing!
Get started
Do you want to try what Dita has done? Sign up for our free 2-week keto low-carb challenge!
DD+ MEMBERSHIP
Most popular success stories
All success stories
More
Keto
Lose weight
Intermittent fasting
Share your story
Do you have a success story you want to share? Send your information, plus before and after photos, to success@dietdoctor.com. It would also be greatly appreciated if you shared what you eat in a typical day, whether you fast etc. More information:
Share your story!