Keto Caesar salad
A true
keto
salad classic: moist chicken and crispy bacon are served on a bed of crunchy Romaine lettuce. In our version, we don't skimp on the dressing or the parmesan cheese!
Ingredients
Dressing
½ cup

120 ml

mayonnaise

1 tbsp

1 tbsp

Dijon mustard

½

½

lemon, zest and juice

lemons, zest and juice

¼ cup (2⁄3 oz.) 60 ml

(20 g)

grated shredded Parmesan cheese

2 tbsp

2 tbsp

finely chopped filets of anchovies

1

1

garlic clove, pressed or finely chopped

garlic cloves, pressed or finely chopped

salt and pepper
Salad
12 oz.

350 g

chicken breast, bone-in with skin

chicken breasts, bone-in with skin

salt and pepper

1 tbsp

1 tbsp

olive oil

3 oz.

85 g

bacon
7 oz. (41⁄3 cups) 200 g

(1 liter)

Romaine lettuce

, chopped
½ cup (11⁄3 oz.) 120 ml

(40 g)

shredded Parmesan cheese
This recipe has been added to the shopping list.
www.dietdoctor.com
Making low carb simple
Instructions
Preheat the oven to 350°F (175°C).

Mix the ingredients for the dressing with a whisk or an immersion blender. Set aside in the refrigerator.

Place the chicken breasts in a greased baking dish.

Season the chicken with salt and pepper and drizzle olive oil or melted butter on top. Bake the chicken in the oven for about 20 minutes or until fully cooked through. You can also cook the chicken on the stove top if you prefer.

Fry the bacon until crisp. Place lettuce as a base on two plates. Top with sliced chicken and the crispy, crumbled bacon.

Finish with a generous dollop of dressing and a good grating of parmesan cheese.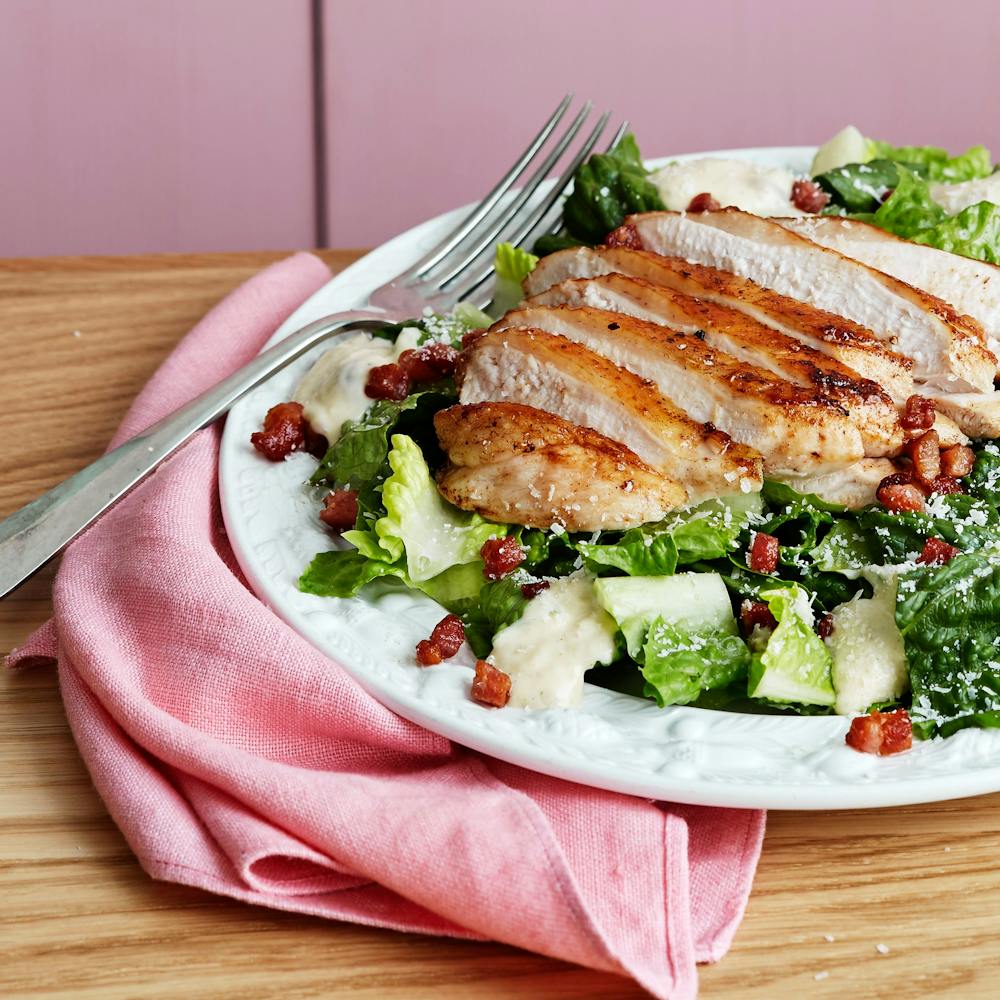 Tip
This recipe works great with chicken leftovers or with a store-bought rotisserie chicken as well. To warm up cold left-over sliced chicken, fry it in a bit of butter for a tasty, warm addition.
If you miss croutons and aren't in a hurry, check out our recipe for low-carb parmesan croutons.