How low carb is spreading throughout the world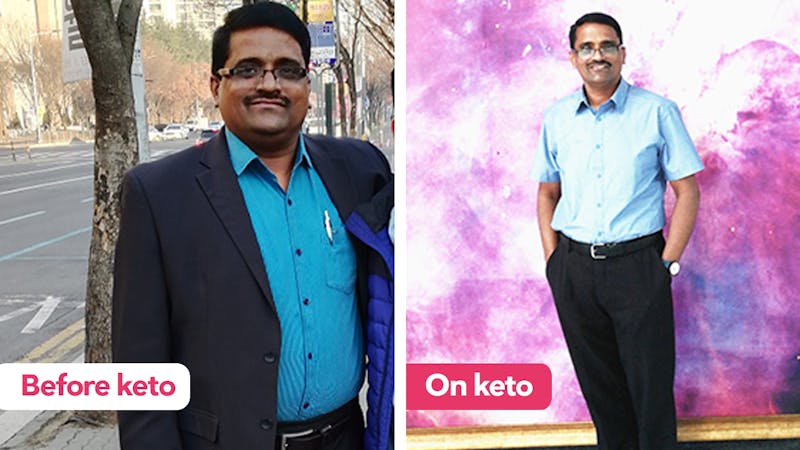 Read Dr. Eswar's story on how he was able to lose weight on a low-carb diet. He also shares many insights on how low carb is having a huge impact in Asia and how people are putting type 2 diabetes in remission.
Dear Dr. Andreas and Diet Doctor team,

Greetings!

It's my great pleasure to introduce myself that I am Dr. Eswar, Senior Scientist, working in Korea. I am from India.

I have been a visiting space scientist to several countries, like the USA, Canada, Japan, Germany, Brazil and India. Last year in May my weight was 105 kilos (231 pounds) and I felt very uncomfortable participating in meetings. I went through the web and searched how to lose weight. One fine day, I came to know that in India an LCHF diet was designed based on Indian traditional food style and then I have seen and compared that with Diet Doctor program.

It's our pleasure to inform you that, recently one year back with your motivation, a modified version of low-carb, high-fat (LCHF) diet along with IF was designed, based on the south India food conditions by Mr. Veeramachaneni Ramakrishna Garu, who has made tremendous efforts with the new diet system to change people's lifestyle and to reverse lifestyle diseases like obesity and diabetes just by changing food habits. With this diet, so many Telugu people have benefited and reversed their type 2 diabetes.

Personally, I lost 32 kilos (71 pounds) on this diet. My previous weight was 105 kilos (231 pounds), now I am 73 kilos (161 pounds). In fact, before starting the diet I discussed this with Dr. Salim Yusuf, ex president of World Heart Federation, and he was positive about this diet.

Top corporate hospital doctors and scientists supported the method of the diet.

Recently, Chongqing Hygeia Cancer Institute, China, presented an outstanding Onco-Nutritionist award for VRK Diet India and did research by their doctoral students on oncology.

In India, the world-famous cancer hospital Basavatarakam Indo-American Cancer Hospital and Research Institute, recognized the importance of Indian VRK diet in controlling the cancer stage and accepted to implement the same at the hospital.

I wish to inform you that I am a reviewer for top-ranked American and UK journals. I have explained your diet plans along with our Indian modified LCHF to the regional people, now they are confidently doing this and getting good results.

So far, nearly 20 million people are doing the LCHF diet and out of them almost 10 million people with type 2-diabetes and CVD risk.

I am very thankful to the Diet Doctor team for giving scientific suggestions.

Name: Dr. Eswar Sunkara
Age: 43 years
Native country: India
Working: Korea
Job: Senior Scientist

Thank you,
Best regards
Dr. Eswar
Comment
Dr. Eswar,
Congratulations and thank you for sharing your story!
I trust you've seen our collection of Indian low-carb recipes here at Diet Doctor?
Best,
/ Andreas Eenfeldt, MD
Top Indian low-carb recipes
All Indian recipes
Most popular success stories
All success stories
Share your story
Do you have a success story you want to share on this blog? Send your information, plus before and after photos, to success@dietdoctor.com. It would also be greatly appreciated if you shared what you eat in a typical day, whether you fast etc. More information:
Share your story!
More
Keto
Lose weight
Type 2 diabetes