The keto diet: "I feel 1000% better"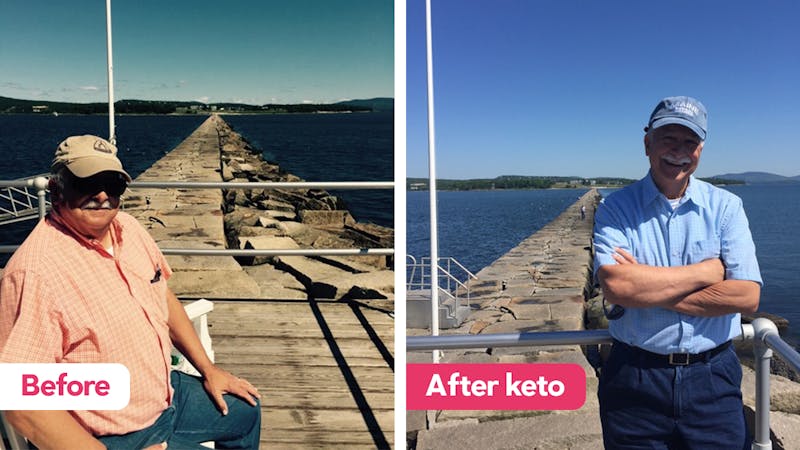 Dave had been eating unhealthily for about 30 years and had tried various diets without any success. When his weight had ballooned up to 249 lbs (113 kg) and he had several other physical problems he decided it was time to stop yo-yo dieting. Not long after he found the keto diet:
I am a 68-year-old male from Chesterfield, VA. For most of my life, I have either worked crazy hours or did crazy travel. Consequently, I did not eat healthily, particularly in the last 30 years. I have tried a lot of diets. I would lose weight but seemed to never be able to sustain staying on the diet. My weight ballooned up to 249 lbs (113 kg) two years ago (that is the before picture that I sent). I managed to cut back on my eating and got down to about 235 lbs (106 kg).

My wife has been trying to get me to eat healthier for more than 30 years, but for the last 20 years, I have been on the road working with clients (I do IT support for an international computer software company). It's really hard to lose weight when you go out with clients frequently. However, last December (2017), I was feeling pretty bad physically. My knees hurt, I was tired easily, and got short of breath going up stairs. I got pretty disgusted with myself and resolved to stop with the yo-yo dieting and get serious.

I started watching videos on Youtube and listened to podcasts when I was at the hotels on the road. A number of the videos and podcasts I watched and listened to were with Dr. Jason Fung. He talked about his book "The Obesity Code". I ordered it and it was waiting for me when I got home. I read it over the weekend and decided I was going to try LCHF. I talked to my wife and she was, frankly, skeptical as I had never been able to sustain a diet long. We went up to our kids for Christmas and told my wife I would start when we left. That was December 31st.

That morning I weighed 230 lbs (104 kg). I calculated my macros and kept count of my protein, carbs, fat and calories (to the extent you can). I kept my carbs continuously under 20 grams/day. The one problem I had was my inability to eat enough protein, fat, and calories that the calculations dictated. In essence, I was also calorie restricted. I also did 18:6 intermittent fasting. If I was not hungry, I would do a 23:1 fast. I also stopped drinking diet sodas on December 31.

I lost 8 pounds (3.5 kg) the first week, 5 pounds (2.5 kg) the second week. During the third week, my wife was sitting with me at the dinner table, and out of the blue she said: "you haven't snacked once since you started the keto". I hadn't and told her I wasn't hungry and had no desire to eat. It was at this point that she bought into keto for me and has been completely behind my effort to fast and eat keto.

At the end of February, I went to my doctor for my physical. I weighed 202 lbs (92 kg). He was ecstatic with me. I had my bloodwork done and when I went back and talked to him about the results, He was equally pleased as my glucose had dropped from 93 to 81 (from my bloodwork the year before) my triglycerides had dropped from 123 to 92, my HbA1c dropped from 6.2 to 5.4%. The insulin had dropped from 6.5 to 3.8, the lab uses an index for insulin resistance and mine dropped from 42 to 30. All of this occurred after just under three months on keto. My cholesterol numbers were pretty terrible, but the doctor indicated that if I continued to lose weight, and eat healthily, they should become more normalized.

I reached my goal of 185 lbs (84 kg) in May. At that point, I increased my carb intake to under 50 g/day and was able to hold my weight between 185 and 192 (84-87 kg). I also had days, particularly when I was with family eating at their homes or had them over, where I was clearly off keto. It normally took me 2-3 days to get back to light ketosis.

In June, my wife and I went back up to Maine where the 'before' picture was taken and took the 'after' photo.

Today, my knees rarely give me any trouble going up stairs, or walking. I don't get out of breath anymore, and I feel 1000% better. When I 'feast' (as Dr. Fung uses the term) I get right back into intermittent fasting and keto.

Another consequence of my doing intermittent fasting and keto occurred when our company had their annual sales kickoff in April. Several of the salespeople that I had traveled with had commented to people about how much weight I had lost. During the kickoff, a number of people took me aside to ask me about how I did it. Several others asked me to write it up and email them where they could learn about fasting and keto. It really was a very positive experience when people would walk up to me and remark how great I looked…lol.

Later this summer, I will be working myself up to trying multi-day fasts. My wife will also be trying this with me.

I do have one serious regret though… I wish I had known about keto years ago. This is a lifestyle I can easily do.

Thank you,

Dave
Comment
Congratulations on your success Dave! An amazing accomplishment, thanks for sharing it!
Get started
Do you want to try what Judy has done? Sign up for our free 2-week keto low-carb challenge!
DD+ MEMBERSHIP
Most popular success stories
All success stories
More
Intermittent fasting
for beginners
Keto
Lose weight
Intermittent fasting
Support
Do you want to support Diet Doctor and get access to bonus material? Check out our membership.
Share your story
Do you have a success story you want to share? Send your information, plus before and after photos, to success@dietdoctor.com. It would also be greatly appreciated if you shared what you eat in a typical day, whether you fast etc. More information:
Share your story!