Man loses over 300 pounds on a low-carb diet, says "If I can do this, anyone can"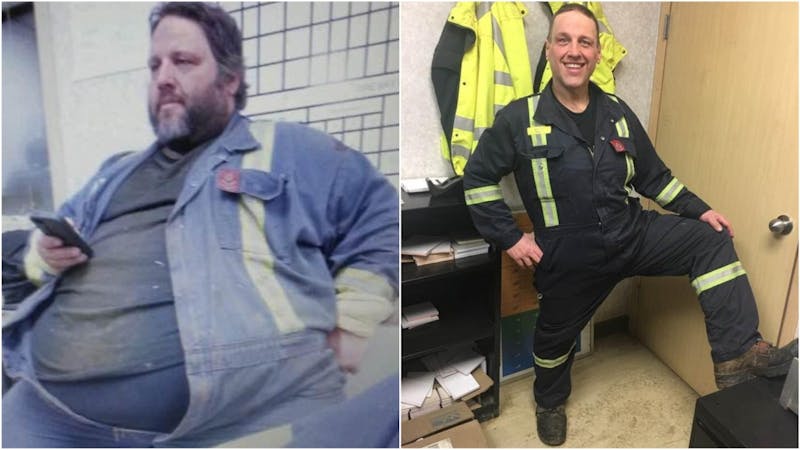 Tony has lost an impressive 326 lbs (148 kg) following a low-carb high-protein diet and walking. Congratulations!
His weight-loss journey started in May 2016 after the wildfire in Fort McMurray. At this time, he had to use two airplane seats during the evacuation, delaying other people from getting to safety. This increased his motivation to attempt a big lifestyle change.
He shares a few words of encouragement for anyone who's in a similar situation to where he was in 2016:
You used to think there was no hope. That it was just total despair that you were that big. That there was no going back. It was almost as if you were just waiting to die, as sad as that sounds, but that's all your life was.

There is hope. I was 41 when I started this, almost 600 pounds. If I can do this, anyone can.
CBC News: Man drops 326 pounds after needing two plane seats in evacuation from Fort McMurray fire
Note that while Tony was eating a low-carb, high-protein diet he was also "eating" hundreds of pound of body fat. So including that, the fuel to his body was actually more like a low-carb, high fat diet.
To keep up the same fuel mix and the same hormonal situation once a more normal body weight is reached, it becomes necessary to tweak the diet a bit. Specifically, you'd then need to increase the amount of fat eaten, to stay satisfied and not hungry after meals.
Get started
Do you want to try what Tony has done? Sign up for our free 2-week keto low-carb challenge!
DD+ MEMBERSHIP
Share your story
Do you have a success story you want to share on this blog? Send it (photos appreciated) to frida@dietdoctor.com, and please let me know if it's OK to publish your photo and name or if you'd rather remain anonymous. It would also be greatly appreciated if you shared what you eat in a typical day, whether you fast etc. More information:
Share your story!
More
Low-carb basics
Weight loss
More success stories