How Richard conquered his type 2 diabetes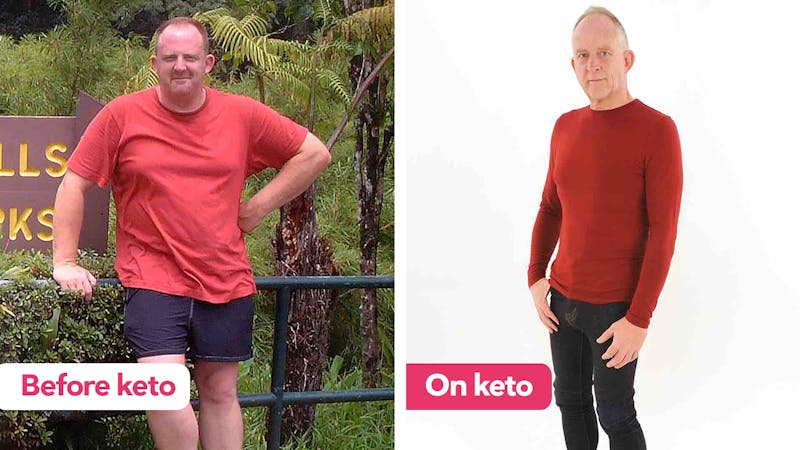 After being diagnosed with type-2 diabetes in 2012 when he was 52, Richard Shaw thought he would be on medication forever with a progressive, "lifelong" illness that affects almost 10% of the UK's population.
After losing a quarter of his body weight using the low-carb, high-fat diet, and making a raft of other healthy lifestyle changes, his type-2 diabetes is in remission and he has come off all medications. He wrote a book called Conquer Type 2 Diabetes chronicling his journey to remission. This is his story:
I was 52 when I woke up one holiday after a particularly heavy night of sweet cocktails and doughnuts to find I couldn't see properly. Overnight, my eyes had shifted out of focus as a result of a dramatic and uncontrolled change in my blood sugar. Tests confirmed I had type 2 diabetes with off-the-scale blood glucose scores – it was a shock.
 
But I was far from alone. Ten percent of the United Kingdom's NHS primary health care budget is now spent on diabetes. By 2035, it's estimated the disease could cost the National Health Service £17 billion a year and that by 2025 five million people could be living with diabetes with another 11.9 million people suffering from pre-diabetes. And in the US there are now 100 million adults living with diabetes or pre-diabetes.

At the start of the process, despite these vast numbers, I knew no one with diabetes, even less anyone who had managed to put it into remission. And I was genuinely baffled by the contradictory advice. There were groups promoting everything from low-carb diets to plant-based diets; there were ground-breaking clinical trials using ultra-low calorie shakes; the NHS was promoting the hopelessly ineffective 'Eatwell Guide' as a way of eating and snake oil salesmen were offering useless packs of dietary supplements and quick fixes.

I came across passionate online advocates for everything from green tea to bullet-proof coffee to cider vinegar and dozens of doctors had written numerous books and celebrity chefs were selling recipe collections promising a new disease-free leaner me. It was a challenge to work out what was true and who to believe.

I was searching for something quite specific, I wanted a 'how-to' book. I was looking for a first-hand account of how someone had put their own full-blown type-2 diabetes into remission. I didn't want a doctor explaining the science or a celebrity chef telling me what to cook or a counselor giving me lifestyle advice; I wanted to know what it had been like for someone who had actually been through the process.

What were the pitfalls? What were the side effects? What did they wish they'd known in hindsight? And above all, what were the chances of this actually working? I couldn't find the book I wanted, so I thought I'd write my own – if it all worked out. A big if.

So, I started with a journal. I'm a perpetual list-maker and keeping a diary about what I did ,helped order my thoughts and gave the process structure. Writing was also unquestionably therapeutic; it fuelled my resolve to see it through, whatever the final outcome turned out to be.

I was also deeply moved and inspired by the thousands of people around the world who were also trying to do the same thing in the face of a medical system built on decades of poor advice that aims to manage the symptoms rather than challenge the underlying cause of this disease. Much of what I did (and what I write about in the book) channels the ruthless determination of those people who refuse to believe that this is a lifelong condition with no prospect of remission.

After debating all the weight-loss options with a friend, I'd settled on a low-carb moderate natural fat diet, banishing all starchy carbs, all processed foods and all refined sugars from my diet. My food was to be high in protein, meat, chicken, seafood and rich in fresh leafy vegetables, moderately high in natural fats and very low in carbs. And I would walk briskly for at least 30 minutes a day. 

I was genuinely surprised by the speed of the results and as the weight started to fall off, I was increasingly passionate about the benefits of a low-carb diet. I became a low-carb evangelist getting up at 4 am most mornings to write furiously for two hours before snatching another hour of sleep and heading into the office. I also became very intolerant of some of the lamentable nutritional advice that popped up on my newsfeed which continues to this day.

10 FOODS THAT ARE GREAT FOR PEOPLE WITH DIABETES lists dates, oats, barley and melon (including watermelon) in it's top 10 recommended foods for people with diabetes. And in HERE ARE 7 DIABETES-FRIENDLY DISHES TO ORDER AT MCDONALD'S the writer suggests that people with diabetes can happily order Egg McMuffins and Double Cheeseburgers without blowing their diabetic diet, I could hardly believe what I was reading.

When I got to my final target weight I was definitely nervous. I certainly looked and felt better and I'd almost finished a first draft of a book, but as my diabetes review date approached I was increasingly anxious about having no final chapter. Despite the fact that I'd managed to lose a significant amount of weight I had no idea what my blood scores were. I wondered how many hours I might have wasted in a fruitless exercise in double jeopardy, aiming for remission and trying to write about it at the same time.

Everything hinged on a simple set of blood tests and I waited a nail-biting week for the results. Having dropped almost a quarter of my body weight in just over five months, the scores came back completely normal.

Part of me didn't know if I should be happy about the remission or celebrate the fact that I had a manuscript that might be worth publishing. I acquired a freelance editor who ferociously tore into my raw text and at his insistence, I waited several more months before having another set of tests and writing the final words of the book.

On reflection though, of course, it never really ends. In a burst of excitement, I wrote to Professor Roy Taylor in Newcastle, the inspirational pioneer of the Diabetes UK-funded DiRECT remission trials to tell him what I'd achieved. An encouraging note came back with some very wise counsel about the years of post-remission maintenance that lay ahead of me. Achieving remission is one thing, maintaining it for a lifetime is a whole different matter.

On the eve of publication the book briefly surged into the number 1 spot in Amazon's 'disorders and diseases' section and it was reprinted nine days after publication. My hope is that it will serve as a record of one person's challenge to put this life-changing condition into remission.

I'm the first to admit that I'm no expert on the pathology of this disease but what I hope to have done in simple, straightforward language is to explain how the journey worked for me. Perhaps one day, I hope, it might be helpful for someone else when they get their diagnosis and want to know what's really involved in attempting to conquer diabetes.

If the book is about anything, it's about the determination to take action in the face of established orthodoxies; there's a final line on the last page of the book that describes where I found my inspiration.

"Most of all, I have been inspired by the thousands of diabetic rebels and refuseniks who have taken their destiny in their own hands and charted their own course through this malignant disease. You are in the vanguard of the revolution in the treatment of type-2 diabetes. One day your approach will be the mainstream. Until then, stay strong."
Richards website: Conquer type 2 diabetes
Richards book: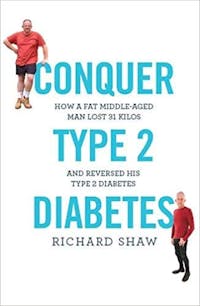 1
Comment
Richard,
I believe you're absolutely right. One day your approach will be mainstream, and that day can not come fast enough.
However, with the help of rebels like you it will come faster.
Best,
/ Andreas Eenfeldt, MD
Get started
Do you want to try what Richard has done? Sign up for our free
2-week keto low-carb challenge!
DD+ MEMBERSHIP
Most popular success stories
All success stories
Share your story
Do you have a success story you want to share? Send your information, plus before and after photos, to success@dietdoctor.com. It would also be greatly appreciated if you shared what you eat in a typical day, whether you fast etc. More information:
Share your story!
More
Keto
Lose weight
Type 2 diabetes
Support
Do you want to support Diet Doctor and get access to bonus material? Check out our membership.
Diet Doctor will not benefit from your purchases. We do not show ads, use any affiliate links, sell products or take money from industry. Instead we're funded by the people, via our optional membership. Learn more ↩