'The beauty of this lifestyle is the effortless maintenance'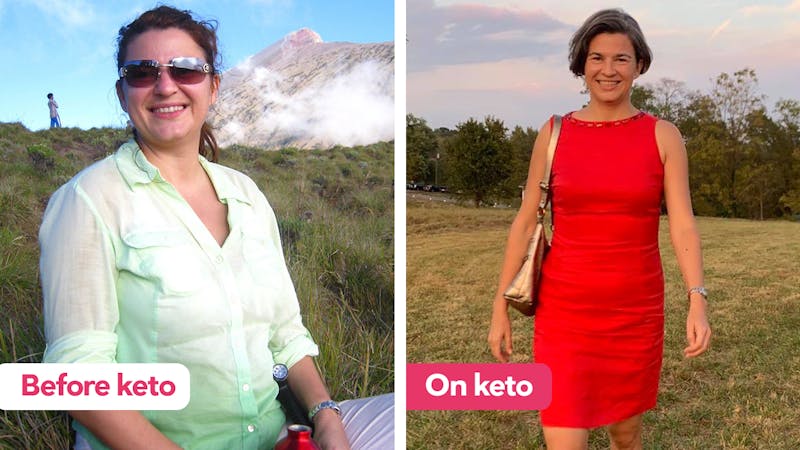 It wasn't until Anna gave birth to her daughter that she started experiencing issues maintaining her weight. After that, despite eating a low-fat, portion-controlled diet and picking up intense daily exercise, her weight wouldn't budge one bit.
Before eating low carb, Anna would usually start her day with oatmeal. It didn't keep her satisfied for long, so by 10:30 am, she was so ravenously hungry that she had to grab a snack.
Lunch was often a salad with bread. In the evening, she'd be starving and try to eat just a small portion of carb-rich foods like pasta, followed by dessert.
"I was banging my head against the wall. I couldn't understand why I wasn't able to control my weight when I was so accomplished in other areas of my life,"
Anna says.
Besides, Anna's blood sugar levels were creeping up, and she started feeling exhausted all the time. The digestive issues that started when she was in university were also getting worse. Anna tried eating more fiber and avoiding fats, but to no avail.
The weight gain also took a great emotional toll on her. She started to wonder whether she would ever feel comfortable in her own skin again. "It makes me anxious just to think about what things were like at the time," Anna says.
How Anna discovered low carb and keto
In 2014, Anna's friend, who was a model, introduced her to low carb. He said that he always used a "miracle" diet of broccoli, fish, and chicken to get ready for photoshoots.
She tried the diet and started losing weight immediately. In just two weeks, she lost 15 pounds (or 7 kilos) and went down to her ideal weight. What's more, her blood sugar stabilized, her gut calmed down, and she had more energy than ever before.
The diet change made her very curious to learn more. Within a short while, she started reading
Why We Get Fat
by Gary Taubes.
"The book made me realize that my friend's advice to not eat salmon, because it had too much fat, wasn't well-founded,"
Anna says.
Her newfound keto interest also led her to Diet Doctor. "I love the solid, reliable advice. I always read new Diet Doctor articles and watch conference presentations about the latest keto research," Anna says.
The best part of keto, according to Anna? She says that "the beauty of this lifestyle is the effortless maintenance." Unlike before, she has looked the same for the last six years that she's been following the diet.
Anna's way of eating keto
These days, Anna eats three meals a day. As she has no problems with repetition, she often ends up eating the same meals over and over again.
Usually, she starts her day with eggs, like an omelet with added cold cuts or leftovers. Sometimes, she cooks a large frittata in the oven on a baking sheet and cuts it into small pieces, which she then goes on to eat over several days.
Later on in the day, she eats lunch and then dinner, and both of these meals tend to look fairly similar. Pork belly, lamb shanks, ribeye, pork shoulder, and pork ribs are some of her favorites.
"I also love cold cuts! I recently bought a whole leg of jamón that I sliced up and just added a bit of oil,"
Anna says.
You can see Anna's favorite meals below.
Anna doesn't think that exercise is necessary for weight loss. In fact, in the two weeks that she lost the 15 pounds (7 kilos), she didn't exercise at all.
"The benefits of exercise are marginal if you eat the wrong diet or overload your system with carbs,"
Anna says.
Nowadays, Anna's improved energy levels have spurred her to run three times per week. She even got certified as a body pump instructor. Exercise feels enjoyable, makes her happy, and helps her manage stress better.
Anna's top tips for people starting keto:
Eat to lose weight. Eat keto foods until full and satisfied. Otherwise, you risk slipping off your keto plan.
It's a marathon — not a sprint. Get ready to change your habits permanently. Clean out any high-carb foods from your kitchen, stock your fridge and freezer with keto foods, and otherwise adjust your life to make sticking to the diet easier in the long term.
Fall small. When you make a mistake, make it a small slip by getting right back on track. The longer you're off the keto wagon, the harder restarting becomes.
Comment
Thanks for sharing your success with us, Anna! I especially appreciate your comment about "fall small." It's not, "don't fall at all." But rather, it's important to realize we aren't perfect, and the key is not letting that derail us. As you said, it's a marathon, not a sprint. Keep up the great work!
Best,
/ Dr. Bret Scher
Most popular success stories
All success stories
Share your story
Do you have a success story you want to share on this blog? Send it (photos appreciated) to success@dietdoctor.com, and please let us know if it's OK to publish your photo and name or if you'd rather remain anonymous. It would also be greatly appreciated if you shared what you eat in a typical day, whether you fast etc. More information:
Share your story!
More
Keto
Weight loss